Chia seeds: the superfood of natural cosmetics
---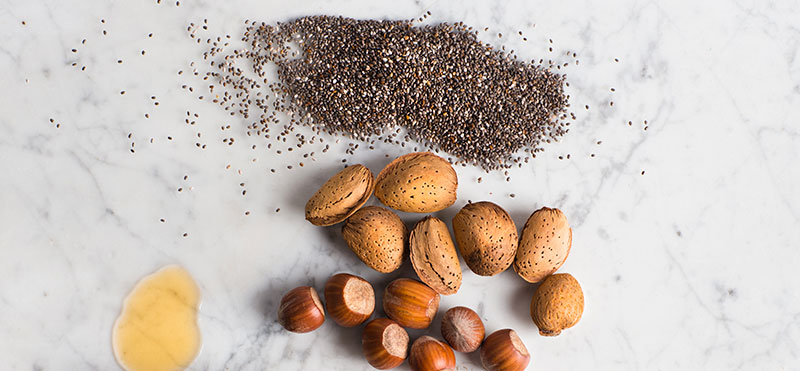 Chia seeds are known for their rejuvenating and revitalising benefits. Read on to discover them!
Chia seeds: a fiber and calcium source
Chia seeds are famous superfood rich in nutrients and vitamins, making it an excellent source of fiber and calcium. For this reason, we recommend you to include it in your diet, adding it to your yoghurts, salads, fruit salads or smoothies, for example. If you prefer, you can give these seeds a jelly-like texture by leaving them in water for at least 15 minutes. Not only are they tasty, but they are also very useful for the digestive system. It's important to include Chia in your diet, but it's also important to use it in your beauty routine. In this way we will benefit of it both from the inside and from the outside.
At Freshly we love to include natural and healthy ingredients in our formulations. Chia seed oil is one of these, precisely because of its incredible properties for skin and hair. Discover its benefits!
Benefits of chia seed oil for skin and hair
Chia oil contains over 60% of anti-ageing omega 3, which helps to increase collagen production, combating wrinkles, acne and blemishes, and leaving skin softer and rejuvenated. It is also ideal for sensitive, dry and irritated skin, thanks to its high content of minerals and vitamins that help to maintain hydration. It contains vitamin E, with anti-ageing and antioxidant properties, able to reduce the negative effects of free radicals. Chia is also rich in tocopherols, phytosterols and essential fatty acids that can reduce inflammation and soothe the skin.
As if that were not enough, chia seed oil is rich in minerals such as calcium, zinc, iron, phosphorus, magnesium and potassium. Their combination helps to increase cellular hydration, brighten and revitalise the skin, and improve muscle activity, decreasing inflammation and swelling. This oil is also ideal for strengthening and gives shine to the hair in a natural way. It also contains linoleic acid, an essential fatty acid that our body cannot produce on its own and have to obtain from the outside. Linoleic acid is known for its anti-ageing and firming properties. Doesn't the chia seem like a good ally for your body?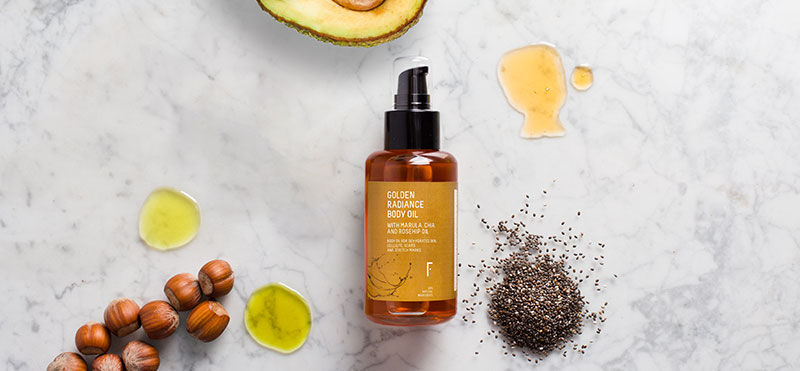 In which natural cosmetics can I find chia seed oil?
Among Freshly products, you can find chia seed oil in the Golden Radiance Body Oil to firm and deeply nourish your skin, in the Nourish Restore Hair Mask to strengthen and give shine to your hair, in the Rose Quartz Facial Cleanser to regulate skin shine and sebum production, and in the Red Velvet Oil Serum to give nutrition, firmness, elasticity, radiance and vitality to your skin.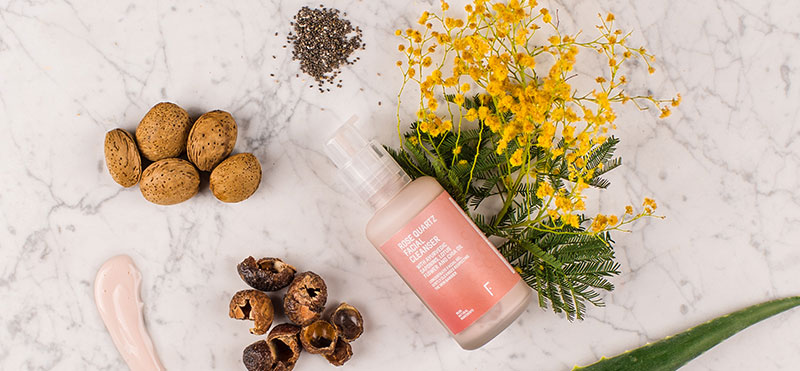 The origins of chia seeds
The chia seeds are round and around 2mm large, and come from a herbaceous plant of the mint family. They were discovered and used for the first time centuries ago by the Aztecs, who considered them a treasure. They offered them as a gift to Chicomecotly, goddess of wheat and fertility, wishing to get a good harvest.
Today, chia oil is obtained by cold pressing its seeds, and is widely used in natural cosmetics for its exceptional benefits.
Leave a comment on this post or on our Blog, and share your impressions and your Freshly Experience with us. Your opinion is very important! Come back soon to our blog, new content comes every week.
We at Freshly Cosmetics create natural cosmetics (all of our formulas contain over 99% natural, sustainable and vegan ingredients) based on scientific knowledge and studies. We aim to make people aware of the effect cosmetics have on their skin. We are scientists with a strong desire to change things and help people take better care of themselves, consciously.
Would you like to join this adventure? Subscribe to our newsletter to receive news and articles like this one and become a cosmetics expert... and more!