GET FREE SHIPPING IN ORDERS FROM 20€* | 24/48 HOUR DELIVERY
Oil Serum vs Enzymatic Serum. Discover the difference!
---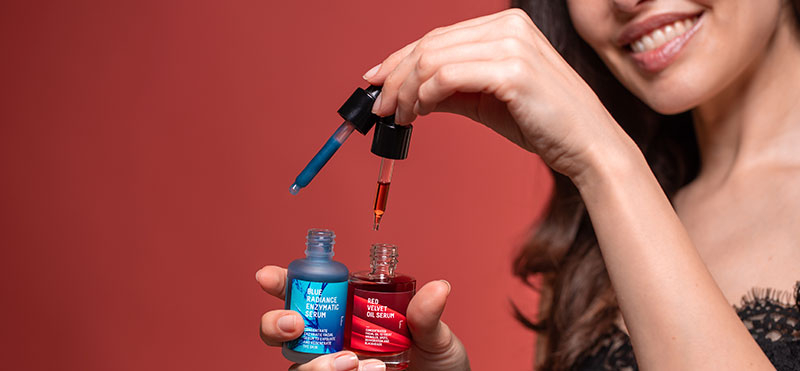 We have created a completely innovative natural oil serum to take care of your skin, and once you've read this post, you'll know everything about how to use it in your night-time skincare routine. If you are a fan of Freshly Cosmetics products and already have your Blue Radiance Enzymatic Serum and your Red Velvet Oil Serum, it's time to learn how to combine them!
What is a natural facial serum?
Facial serums are potent, light-weight formulas designed to deliver a high concentration of active ingredients into the deepest layers of the skin. They are able to penetrate so deeply as they are formulated with ingredients which have smaller molecules, allowing them to be quickly and easily absorbed by the skin.
This is the general definition of natural facial serum, but there are actually several types of it, and Freshly Cosmetics have created 2: the Red Velvet Oil Serum that sold out in just 5 days, and the legendary Blue Radiance Enzymatic Serum.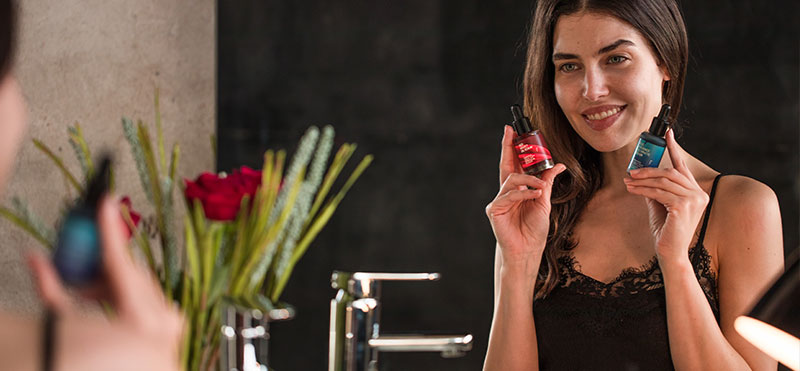 What is a natural oil serum?
This innovative product is the perfect combination between a serum and a facial oil. The Red Velvet Oil Serum combines 15 plant-derived oils that nourish and brighten the skin, with 5 natural active ingredients that treat wrinkles, expression lines, scars, blemishes, redness and irritation. This unique formulation combines the moisturising action of plant-derived oils with an intensive antioxidant treatment, which gives elasticity and firmness to the skin. With a single product you'll get hydrated, luminous, even and smooth skin.
This magic is possible thanks to the combination of linseed, rosehip, virgin chia and marula, black cumin and meadowfoam plant-derived oils, with amazing natural active ingredients such as Wakame Active, Microalgae Duo, Criste Marine Active and Pure Zingiber.
What is a natural enzymatic serum?
The main characteristic of an enzymatic serum is that it gently exfoliates the skin, eliminating dead cells with the enzymes, molecules that we find in nature in pomegranate and papaya. Our Blue Radiance Enzymatic Serum does not contain acids or microplastics, so it does not irritate the skin. It can be used every day to prevent and treat wrinkles, acne, blackheads and blemishes. Thanks to the action of its natural ingredients such as lime caviar, Australian black willow bark silicates, plant-derived baicalin, blue gardenia, probiotic lactococcus and vegan marine hyaluronic acid, you can radiant, even and regenerated skin.
You're probably realising that the oil serum and the exfoliating serum have different functions. The Red Velvet Oil Serum deeply moisturises the skin, treats wrinkles, spots and scars. The Blue Radiance Enzymatic Serum, on the other hand, exfoliates the skin, eliminating dead cells and treating acne, blackheads and blemishes. So, not only are these two products compatible, but they are also complementary!
When and how should I use the natural oil serum?
Would you like to include the Red Velvet Oil Serum your skincare routine? It's very easy! We recommend applying it in the evening, after cleansing and moisturising your face.
If after your cleansing routine you usually use a facial serum or a moisturiser, keep using them before applying the Red Velvet Oil Serum. As we have said before, they are compatible and complementary with any product. Increase the effectiveness of your treatment applying 4 drops of the oil serum to your face and neck with a gentle massage, until it is completely absorbed. The quantity of the product to be used depends on the type of skin of each one.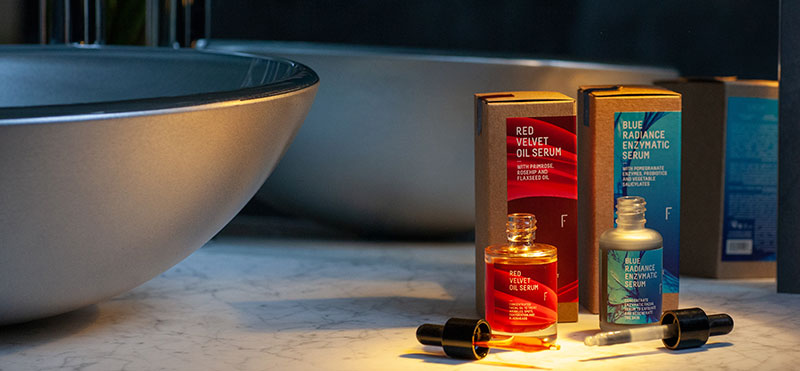 When and how should I use the natural enzymatic serum?
The Blue Radiance Enzymatic Serum is another product that you should be using in your night-time skincare routine, always as the last step. Want to combine it with the oil serum? Apply the Red Velvet Oil Serum first and wait at least 15-20 minutes before using the Blue Radiance Enzymatic Serum. You'll get better results.
Even the application of this enzymatic serum is very simple, just distribute 3-4 drops of it to your forehead, cheeks and chin and spread them over your face with a gentle massage, until they're completely absorbed. The serum should never be rinsed as the enzymes of the Blue Radiance Enzymatic Serum, in fact, will enhance their action throughout the night.
The following morning you'll wake up with revitalised, radiant and smooth skin, thanks to the combined action of the Red Velvet Oil Serum and the Blue Radiance Enzymatic Serum. You know you can find them together? Try the Red & Blue Serums Pack, the best natural ingredients in the same pack to take care of your skin as it deserves.
Leave a comment on this post or on our Blog, and share your impressions and your Freshly Experience with us. Your opinion is very important! Come back soon to our blog, new content comes every week.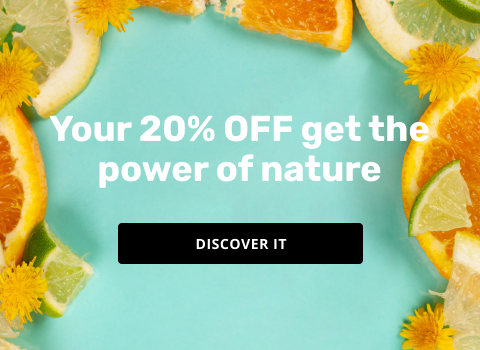 What do you think about it? We'd love to read your opinion!
---
Comments
Tania Navarro Oltra

19 July 2020

Uso de ambos serums

¡Hola! Esta semana he recibido ambos serums (red velvel y blue radiance) y he empezado a usarlos. Los combino usando primero el red velvet y unos 15 o 20 minutos después, el blue radiance, tal y como aconsejáis. Me surge una duda, y es que como el blue radiance debe utilizarse como último paso en la rutina de noche, mi pregunta es, en este caso, ¿la crema hidratante de noche, deja de utlizarse o hay que ponerla después del red velvet y antes del blue radiance? ¿o es mejor no utilizar hidratante de noche y dejar ese paso sólo para la rutina por las mañanas? ¿Qué me aconsejáis, dejar este paso o ponerla entre ambos serums? De momento estos días no estoy usando la hidratante por la noche, una vez hago la limpieza facial aplico ambos serums, y la hidratante la estoy usando sólo de mañanas. Aunque no sé si lo estoy haciendo correctamente, agradecería vuestro consejo. ¡Un saludo!

Freshly el 19 July 2020 ¡Hola, Tania! Soy Maria, del equipo Freshly, ¡encantada de saludarte! Comentarte que si ya aplicas el Blue Radiance y el Red Velvet por la noche, nuestra recomendación es dejar la crema hidratante para la mañana. Los dos serums aportan suficiente hidratación y nutrición al rostro, por lo que creemos que añadir la crema por la noche sería demasiado producto. De esta forma, te recomendamos que sigas aplicando los productos tal y como lo estás haciendo, ¡es genial tu rutina! ¡Un abrazo! :)

Lorena

03 April 2020

Piel seca y rojeces

Hola, es la primera vez que voy a probar vuestros productos porque mucha gente me ha hablado maravillas de ellos. Mi duda es que tengo la piel seca, con escamaciones, y rojeces... ¿Qué tipo de producto me iría mejor? El aceite red velvet? o blue radiance funcionarian? Gracias

Freshly el 03 April 2020 ¡Hola, Lorena! Soy Maria, del equipo Freshly, ¡encantada de saludarte! ¡Qué alegría saber que quieres estrenarte en Freshly! Nos encanta mimaros, por eso más del 99,0% de nuestros ingredientes son naturales y ayudan a mejorar la salud de vuestra piel y cabello. ¡Así que te van a encantar! En tu caso te recomendamos aplicar todas las noches el Red Velvet, un aceite facial que combina los 15 mejores aceites vegetales con 5 potentes activos naturales para aportar a tu rostro nutrición, luminosidad y gran vitalidad al rostro. También para tratar manchas, rojeces, inflamaciones y cicatrices. ¡Además está testado en pieles sensibles, te va a ir genial! ¡Un abrazo!

Ainhoa Legorburu

05 March 2020

Recomendacion para piel seca

Hola, tengo la piel seca y con rojeces y rosacea a veces. He comprado el Red velvet y el serum enzimatico. Como me recomendais ussrlos? O quizas deberia usar solo uno? Gracias.

Freshly el 05 March 2020 ¡Hola Ainhoa! Soy Aïda, del equipo Freshly, ¡encantada de saludarte! No hay inconveniente en que utilices en tu rutina de noche tanto el Red Velvet como el Blue Radiance, ¡ya verás que te irán genial! En caso de que decidas combinarlos, recuerda que deberás aplicar primero el aceite facial y a continuación el sérum enzimático. Para que la aplicación sea más cómoda, te recomendamos que esperes unos 15 o 20 minutos entre cada uno. ¡Alucinarás con el resultado de combinar ambos! ¡Un fuerte abrazo!

Marta Montero

15 February 2020

Oil serum vs enzimático

Buenas!! Tengo la piel grasa y con acné, debería utilizar solo el blue radiance o también el oil serum? Los tengo los dos en casa!!!

Freshly el 15 February 2020 ¡Hola, Marta! Soy Aïda, del equipo Freshly, ¡encantada de saludarte! Comentarte que el producto que te va a ayudar a tratar la piel grasa y el acné es el Blue Radiance, ya que se trata de un serum facial exfoliante que incorpora la máxima concentración de 12 tecnologías naturales para exfoliar, rejuvenecer, controlar la secreción sebácea, hidratar, reducir y tratar arrugas, acné, puntos negros, poros abiertos, imperfecciones y enrojecimiento, consiguiendo un rostro radiante y uniforme. Por eso, nuestra recomendación es que apliques todas las noches el Blue, y puedes añadir un par de veces por semana el Red Velvet. En este caso, aplicarás primero el aceite facial, dejarás pasar unos 15-20 minutos, y por último aplicarás el serum enzimático. Siempre os aconsejamos que escuchéis a vuestra piel, así que te recomendamos probar así, y si sientes que es demasiado producto para tu piel, puedes hacer lo mismo pero en lugar de aplicarlos juntos, un par de días a la semana sustituir el Blue por el Red. Si tienes cualquier duda, recuerda que también puedes escribirnos a través de nuestras redes sociales, o a [email protected] ¡Disfrútalos mucho!

Ruth

15 November 2019

Blue radiance o red velvet?

Yo tengo la piel un poco seca y alguna arruga en frente, ojos y bigote. También alguna manchita de sol, qué producto sería mejor?

Freshly el 15 November 2019 ¡Buenos días! Creemos que te encantará el Red Velvet. Este aceite facial nutre la piel, y trata líneas de expresión, rojeces y manchas. ¡Ya nos contarás qué te parece!

Maria Gomez

13 August 2019

OIL SERUM VS SÉRUM ENZIMÁTICO

Buenas, tengo la piel grasa y con cicatrices y marcas rojas debido a un fuerte brote de acne que tuve de joven. Actualmente apenas me salen granitos aunque sigo teniendo la piel bastante grasa. Para mi caso, ¿cuál de los dos productos, Red velvet oil o Blue radiance enzymatic, me recomendáis? Muchas gracias.

Freshly el 13 August 2019 ¡Hola, Maria! Lo ideal, en tu caso, sería combinar los dos productos, ya que con el Blue Radiance conseguirías controlar la secreción de sebo y evitar una nueva aparición de granitos, aportando hidratación al rostro pero sin generar grasa. Además también trata puntos negros, poros abiertos e imperfecciones. Y, si además añades a tu rutina el Red Velvet, será genial porque este aceite facial trata cicatrices, manchas, rojeces e inflamaciones, entre muchas otras cosas. En caso de que solo quieras decantarte por uno, te aconsejaríamos empezar tratando la piel con el Blue Radiance. ¡Un abrazo!

Raquel Esparza

21 June 2019

Piel mixta, dudas

Tengo la piel mixta, y x la zona de la nariz siempre me aparecen brillos y tengo bastantes puntos negros... Utilizo productos vuestros para limpieza... Q me aconsejáis para ayudar a equilibrar mis brillos en zona nariz?

Freshly el 21 June 2019 ¡Hola Raquel! Para tu tipo de piel creemos que te irá genial nuestro Shine-Control Pack for Oily Skin. Este pack incluye el Agua Micelar y el Tónico Facial, dos productos súper importantes a la hora de la limpieza. Como nos comentas que ya utilizas nuestros productos de limpieza, te aconsejamos incluir ahora los siguientes pasos de este pack: el Dismutase Face Mist, que te ayudará a unificar el tono, reducir la secreción sebácea y aportará la hidratación necesaria para tu piel sin aportar grasa; y por último el Blue Radiance Enzymatic Serum, perfecto para tratar puntos negros, pieles grasas y acné, ya que además actúa como seborregulador y mejora la renovación celular. ¡Te va a enamorar! ¡Un abrazo!