Do you feel your skin dry and dull in the cold months? Discover this body oil!
---
If you thought that only the sun could damage your skin, you're wrong... low temperatures also make it lose elasticity and crack. All this may result in a dry, dehydrated, dull and aged skin.
Did you know that the effect of coldness on the skin produces multiple reactions in your body? On the one hand, it contracts the capillaries, so that not enough oxygen or nutrients reach the dermis. On the other hand, the epidermis does not renew fast enough and causes dead cells to accumulate. In short, the result is a dry, tight and more sensitive skin.
Many times we stop paying attention to our skin in the cold months because it is hidden under layers of clothing. It is a big mistake not to give the care your skin needs in these months. But do not panic! We can fight against these effects by introducing into our routine a body oil that nourishes the dermis in depth and improves the appearance of the skin so that it has a radiant appearance.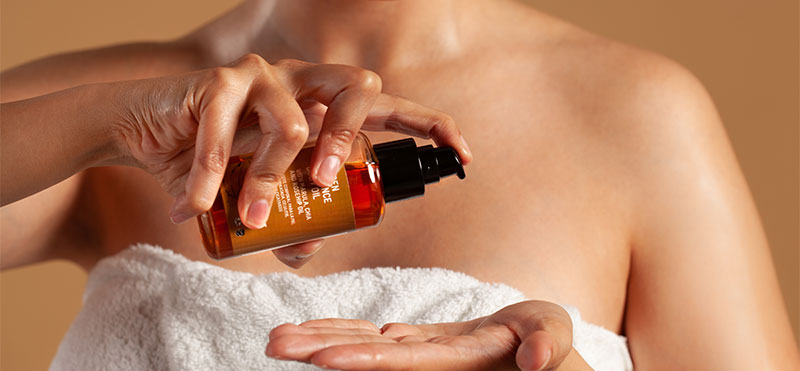 1- Let's start by shower time, avoid a bath gel with soap that dries your skin. In order to have a proper skin care in these cold months is essential that you use a gel, rich in nutrients and oils which, in addition to clean, moisturises and calms your skin.
2- Moisturise after the shower, do not skip this step. We recommend that with the skin still wet apply a body oil with the highest concentration of plant-derived oils possible, such as Maraula, Jojoba or, Macadamia oils. By doing this, the oils will penetrate deeper layers, improving the health of your skin and achieving a more effective and lasting hydration.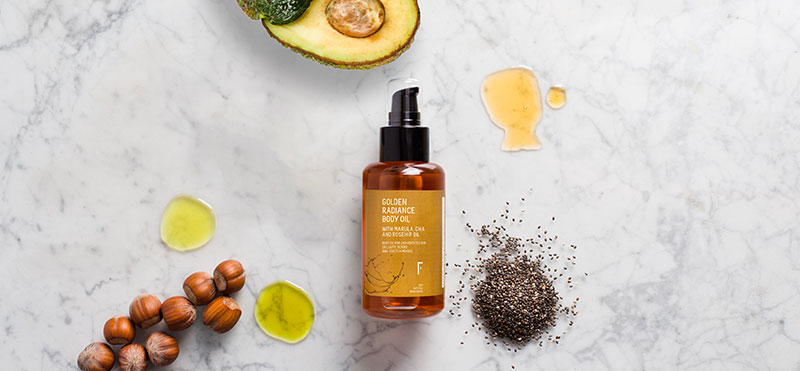 Natural body oils are perfect to treat dry skin at this time of the year, thanks to its high power of hydration and smoothness. Apply a body oil on a daily basis. Add several taps of the product in the palm of your hand and spread it throughout your moist body accompanied by a light massage with circular and ascending movements. This will reinforce the hydrolipidic mantle and stop the loss of water of the skin, avoiding problems derived from dehydration such as itching and peeling.
3- Avoid sudden temperature changes. Hot showers or the heat that is so desirable in winter, makes our skin suffer sudden changes in temperature. Due to the contrast between the coldness of the streets and the heat of our homes our skin can suffer from dryness and irritation. We recommend warm showers alternate with cold water to get a stronger and smoother skin.
4- Other recommendations. Do not forget to exfoliate your skin once a week to facilitate cellular renewal and elimination dead skin cells. It is important that you have products free of plastic particles that contaminate and can irritate your skin. You can try those exfoliants with biodegradable, fine-grained natural particles, which will help in the cellular renewal and the texture of your skin in a delicate way.
We also recommend to use cotton clothing; synthetic fibres can make your skin drier.
Now you know how to fight dry skin. Including in your daily routine a 100% natural body oil such as Golden Radiance Body Oil is the key to look radiant! It nourishes in depth and improves the appearance and health of the skin incorporating an extraordinary concentration of 12 high quality plant-derived oils with a quick absorption.
In addition, this body oil is indicated for all skin types, including sensitive skins. Thanks to its natural ingredients, you can apply it on the whole body. It also incorporates a microalgae technology to sculpt the body, reduce cellulite, antioxidant and prevent skin photoageing. We advise you; if you try it, you won't be able to live without it!
Leave a comment on this post or on our Blog, and share your impressions and your Freshly Experience with us. Your opinion is very important! Come back soon to our blog, new content comes every week.
We at Freshly Cosmetics create natural cosmetics (all of our formulas contain over 99% natural, sustainable and vegan ingredients) based on scientific knowledge and studies. We aim to make people aware of the effect cosmetics have on their skin. We are scientists with a strong desire to change things and help people take better care of themselves, consciously.
Would you like to join this adventure? Subscribe to our newsletter to receive news and articles like this one and become a cosmetics expert... and more!