Here comes Freshly Pets, the brand dedicated to our furry friends!
---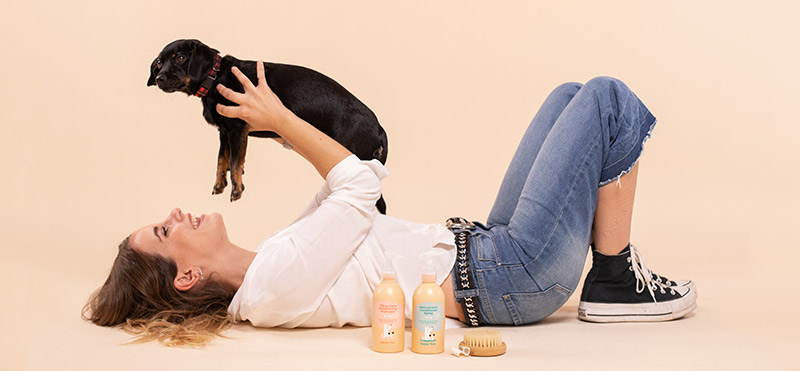 At Freshly we care about the health and well-being of the whole family, and we also refer to our animals, which is why we created Freshly Pets. Love Animals! From today also our furry friends will enjoy the best natural cosmetics.
Natural and innovative cosmetics for dogs
We thought that even our pets deserved a line dedicated exclusively to them, from this idea was born Freshly Pets.
We selected the most innovative natural ingredients to take care of their skin and coat. The pets products are formulated with moisturising, nourishing and repairing cleansers, for a gentle, effective and respectful cleansing of the skin barrier.
Discover the most innovative and gentle shampoo for your dog
The Citrus Care Deodorising Shampoo for dogs cleanses and moisturises the dog's skin and strengthens its hair, thanks to its formulation containing 99% of natural ingredients. This shampoo for dogs includes soy protein, organic aloe vera, flax, a revitalising complex based on argan, avocado, coconut, sunflower oil, and a natural sage deodoriser. Nature and innovation for the care of your furry friends!
This natural formulation, based on healthy and safe ingredients with a citrus scent, respects your dog's delicate skin, moisturises and makes his coat shine. It is suitable for all skin types, prevents irritation and rashes, improves hair growth and neutralises unpleasant odours, thanks to its natural deodorant. The best ally for your furry friend!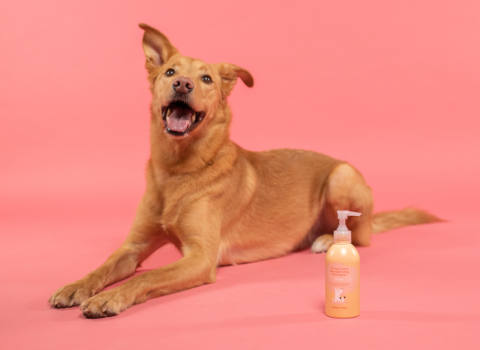 Revitalise your dog's coat
To complete your dog's bath routine, use the Natural Hair Conditioner Spray for dogs. It's a spray conditioner that moisturises, repairs and protects your dog's skin and hair with natural ingredients such as jericho rose,plant-derived inulin, and organic aloe vera.
In addition, thanks to the natural deodorant based on sage oil, it effectively combats microorganisms that cause unpleasant odours. Its natural citrus scent will give energy, vitality and strength to your hair. The Natural Hair Conditioner Spray is easy to apply and can be used every day, both on wet and dry hair.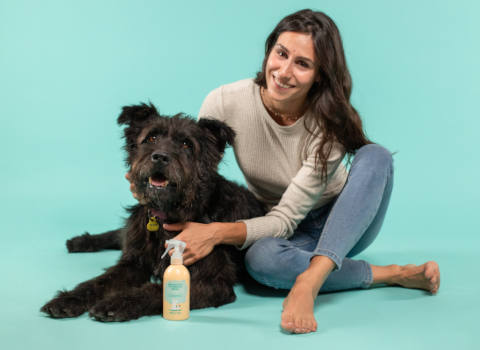 Brush your pet in a sustainable way
The best accessory to complete the bath in a natural and sustainable way? The Bamboo Brush for pets! It is a natural and sustainable brush for dogs and cats, which helps to remove knots and helps the hair change. It is an excellent eco-friendly solution because it is made of bamboo, with hemp bristles. It will become a must in your pet bath-time routine. Freshly Pets for my bestie!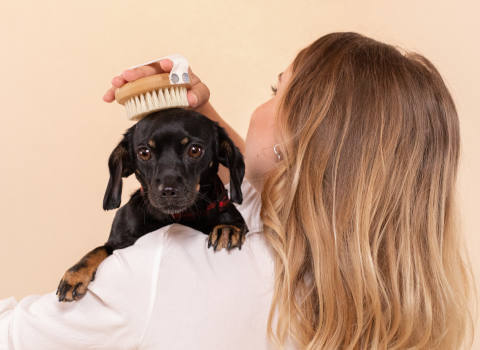 The perfect complete routine for pets
In order to perfectly and completely take care of your dog, we have put the 3 products we have talked about so far in one pack. The Freshly Pets Pack contains the Citrus Care Deodorising Shampoo, the Natural Hair Conditioner Spray, and the Bamboo Brush. The 3 products that will revolutionise your furry friend's bath and make it unforgettable.
How to fight rashes and irritations of the dog's skin?
If your dog has irritations, rashes, itching, stings or allergies, Freshly Pets natural cosmetics are the best choice to calm them down. Thanks to the soothing action of the natural ingredients contained in Freshly Pets shampoo and conditioner for dogs, the appearance and health of your pet's coat and skin will surely improve. Because we love them!
Freshly Pets: the first natural cosmetics brand designed and made especially for pets. Give a cuddle to your furry friend with natural, healthy and innovative products. Run to our website to make a gift to you and to them!
Leave your comment below, and share your impressions and your Freshly Experience with us. We love to know your opinion and your natural cosmetics secrets! Come back soon to our blog... new content is waiting for you every week.
We at Freshly Cosmetics create natural cosmetics (all of our formulas contain over 99% natural, sustainable and vegan ingredients) based on scientific knowledge and studies. We aim to make people aware of the effect cosmetics have on their skin. We are scientists with a strong desire to change things and help people take better care of themselves, consciously.
Would you like to join this adventure? Subscribe to our newsletter to receive news and articles like this one and become a cosmetics expert... and more!