📦GET FREE DELIVERY ALWAYS | 24/48 HOUR DELIVERY
SUPEROXIDE DISMUTASE FACE MIST: WHAT IS IT AND WHAT IS IT USED FOR? AN INNOVATIVE PRODUCT FOR YOUR SKIN
---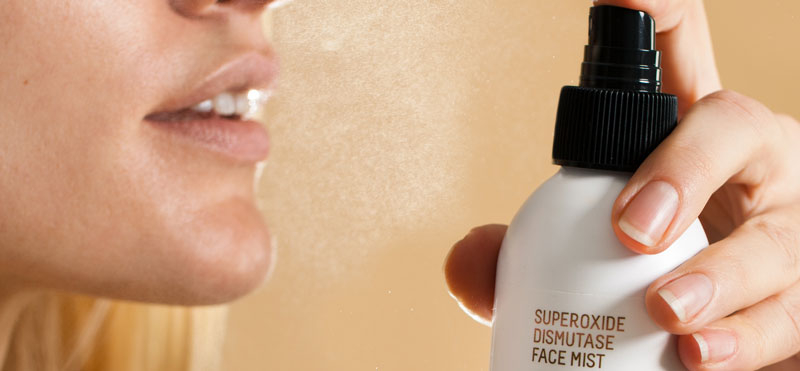 What is it?
The Superoxide Dismutase Face Mist owes its name to the mist that comes off the product when applied directly on your face. This transparent facial mist is sprayed directly on your face getting a very refreshing and pleasant effect, soothing the skin. This facial mist is a must in your skincare routine for its multiple functions. It is considered one of the most innovative treatment products. Its formulation contains powerful antioxidants (Superoxide Dismutase), natural minerals (malachite) and natural hydration complexes. It concentrates up to five natural innovative technologies in one effective formulation.
What is it used for?
The Superoxide Dismutase Face Mist is a unique facial treatment against oxidative stress, dehydration and skin inflammation. It will improve your skin by increasing firmness, unifying tone, regulating sebaceous secretion and reducing shine, blemishes and expression lines. The Superoxide Dismutase Face Mist is suitable for all skin types, even for the youngest and sensitive skins. Thanks to this facial mist you will be able to refresh, calm and keep the skin hydrated at any time of the day.
How to use it
Apply directly spraying the product on the face after cleansing skin. Use it in your morning and evening facial routine.
Routine order: In a facial routine, the mist would be used between the cleansing and the treatment and moisturizing products. For example, after using a micellar water or facial cleanser (to remove makeup and cleanse the skin) and before applying your usual serum and moisturiser.
Application: Place the product between 10 and 20 cm from the face and, with eyes closed, spray directly 2-3 times to cover the entire surface are of the face and neck. Wait a few seconds for the product to be completely absorbed and continue with your usual routine. If you use a facial serum or a specific serum for the eye contour, you could apply it next.
Tips to get the most out of the Superoxide Dismutase Face Mist:
-Moisturise your skin at any time. Your skin will also need hydration throughout the day; using this facial mist will become a habit. Keep it close to you, its quick absorption will refresh your skin whenever you need.
-Get a greater face hydration by applying the mist before the moisturiser as it works as a skin preparer. By doing this, the products you apply afterwards will have greater capacity of penetration and absorption.
-Use it as the final touch in your makeup routine to look more natural. Thanks to its fine and even sprayer your skin will bring to life.
Get the 'glow effect' with the Superoxide Dismutase Face Mist
You will also want to use this facial mist to show off the 'glow' or 'wet effect' that will give you bright and radiant skin while reducing shine and imperfections. The aim of this effect is to create a healthy look that radiates freshness and has a natural finish. The Superoxide Dismutase Face Mist sprays a light and pleasant mist to even out skin tone and reduce sebaceous secretion.
For both young and mature skins, when we illuminate our face the skin looks younger as we are decreasing the signs of skin aging. Therefore, a good tip to enhance fresh and luminous skin is to combine the Superoxide Dismutase Face Mist with the Hyper-Concentrate Eye Contour Serum to apply to the eye contour area to get this 'illuminating effect'. The eye contour serum brings firmness and luminosity to the skin and at the same time acts as an anti-wrinkle treatment by reducing puffiness and expression lines.

Discover what you can achieve with this new approach to facial treatment at Freshly Cosmetics. Get your Superoxide Dismutase Face Mist at the natural cosmetics online shop now! You'll love it!
Leave a comment on this post or on our Blog, and share your impressions and your Freshly Experience with us. Your opinion is very important! Come back soon to our blog, new content comes every week.
What do you think about it? We'd love to read your opinion!
---