This facial routine will only take you 5 minutes!
---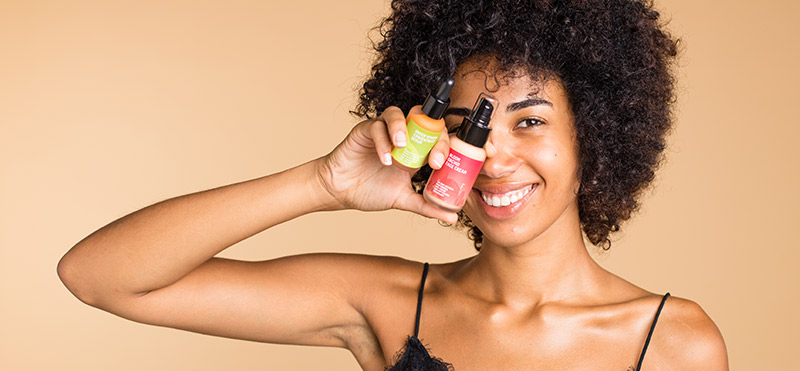 Although we'd rather take our time on our routines, we know that's not always possible. Ideally, we would love to get the maximum benefits out of our facial products, give them time to act on the skin and still be able to take a moment for ourselves. What's the reality? In the morning we are always rushing out the door, counting the minutes before we need to be at work. So, we decided to put aside the complete treatment for the weekend or for those few punctual days when we are more relaxed and instead, focus on finding a basic routine that fits our everyday lifestyle.
We have the solution. The key to your daily care routine is to make it fit your schedule. If you don't know which products to prioritise, you're rushing and miss steps, or you opt directly to skip the routine altogether, do not despair. We propose a routine that you can apply every day and that will only take 5 minutes!
The 5-minute routine
For the fast 5-minute routine you will only need two products. When we're trying to beat the clock, we go directly to skin care essentials: cleanliness and hydration. This is the most basic and practical routine for when you're on the run. Go!
Cleaning: a quick clean to remove dirt and makeup. It is essential to start with this step to leave skin clean and fresh with the help of micellar water. Help yourself to apply the product with a cotton pad. Wipe face in a circular motion, working downwards to cleanse and remove impurities. There's no need to rinse so let the product activate and air dry.  See Fresh Green Micellar Water.
Hydration: after cleaning, apply a moisturiser to keep your skin hydrated 24-7. Hydration is a must in any routine and can easily be applied if you only have 5 minutes. Distribute a touch of product all over the face and gently massage the skin, always start from the inside out until the product is completely absorbed. See Bloom Orchid Face Cream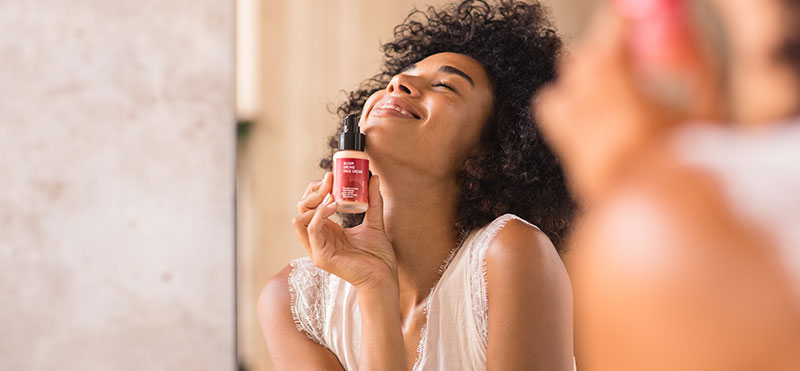 Do you have more time? Maybe 10 minutes?
Maybe you have more time, but you don't want to focus more than 10 minutes on your facial routine. We understand. Just add a couple of steps to compliment your basic routine with a toner and a facial serum leaving you with a more complete treatment.
Toner: the purifying toner will leave your skin fresh. Shake to mix toner's natural ingredients, then spray 3 or 4 times on a cotton pad. Apply the product all over your face and neck in circular motions making sure the product reaches all areas. For oily and mixed skin, pay special attention to the T-zone and areas where oily build-up and acne is more common. In this step you will be purifying the skin, closing pores, and regulating sebum production and the skin's pH. At the same time, you will refresh your face with a pleasant lemon citrus scent. See the Lime Purifying Facial Toner
Antioxidant Serum:introduce the best antioxidant technology into your 10-minute routine This is the third step of the routine, after cleaning (Micellar Water and Facial Toner) and before the moisturising. What is it for? It unifies skin tone, reduces wrinkles and improves skin's firmness and elasticity, effectively blocking heavy metals and PM2.5 particles and preventing environmental contamination from damaging skin tissues. Using the dropper, apply 4 drops distributed between the forehead, cheeks and chin. Massage your face gently in circular movements. Ready! See the Vitamin C Concentrate Serum
Complete routine to do when you're not in a hurry
Performing a complete routine is like celebrating a party at home. It takes place rarely and only on special days when mornings are laid back or when we wake up with time to spare and can really dedicate ourselves giving our skin some extra attention now and then. We will adapt the routine according to the amount of time, but also according to skin type and need. Basic routines of 5 and 10 minutes include basic products for daily use, but for the complete routine we introduce more specific treatment products to combat signs of ageing or oily, acne-prone skin. Here our treatment options for a more extensive routine!
Specific serum for eye contour area: For those who suffer from wrinkles, dark spots, droopy eyelids, or who want to reduce expression lines and combat the dryness eye contour area, this serum is for you. The hyper-concentrate serum provides hydration and luminossity to the eyes thanks to its high concentration of natural active ingredients. Apply it morning and evening throughout the eye contour area.  See Hyper-Concentrate Eye Contour Serum
Start your routine with the healthiest detox plans: with the Antiox Facial Plan you will get to follow a 4-step, 10 minute green routine. Remember to add other facial products to your cart if you have more time and wish to take care of your face with a more complete worry-free, hurry-free routine!
Leave a comment on this post or on our Blog, and share your impressions and your Freshly Experience with us. Your opinion is very important! Come back soon to our blog, new content comes every week.
We at Freshly Cosmetics create natural cosmetics (all of our formulas contain over 99% natural, sustainable and vegan ingredients) based on scientific knowledge and studies. We aim to make people aware of the effect cosmetics have on their skin. We are scientists with a strong desire to change things and help people take better care of themselves, consciously.
Would you like to join this adventure? Subscribe to our newsletter to receive news and articles like this one and become a cosmetics expert... and more!