The Freshly Store is now a reality! Visit us in Barcelona
---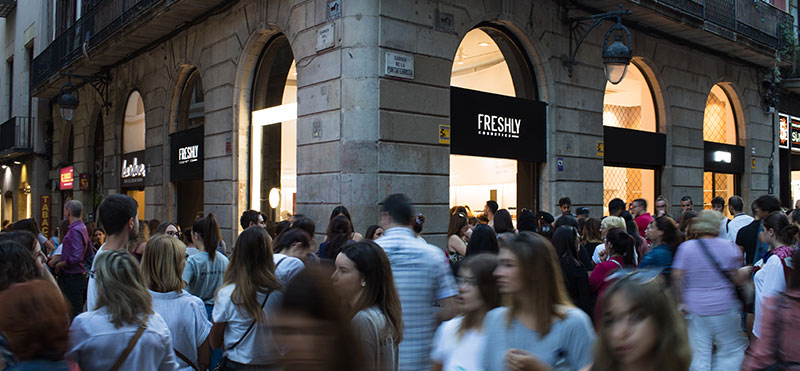 We have been working very hard on this new project that we've been announcing for months. We aim at getting even closer to people, and that's why we decided to open our first store, last 4th October. Same DNA now in real life.
EXCITED AS NEVER BEFORE
We are looking forward to sharing the excitement of that day when for the first time we had the opportunity to meet the Freshly fans. More than 500 people came to Barcelona to live the Freshly Experience, on the opening day of our first physical store.
At 6.00pm local time, the doors of the Freshly Store opened wide to the hundreds of people who were waiting for entering the shop. It was an unforgettable moment of emotion, anxiety, excitement, laughter, tears...a set of sensations that we could not help but share together.
We knew that the Freshly Store was the dream of many who had asked us for it for a long time, but reality exceeded all expectations. We can't stop thanking you for coming in so many last 4th October to attend this event that will make Freshly's history. Thank you!
REVOLUTIONARY CONCEPT...
Our first store will revolutionise the concept of conventional shop, with an innovative design that will give you a unique live experience! We have trusted experts who are dedicated to developing creative ideas, to offer you our products and values even more closely.
And that's not all! You know we also have a refill option for your favourite products? The best chance to save money and recycle! Take your clean and dry aluminium bottle to the Freshly Store and our team will show you how to fill it with Detox Nourishing Shower Gel, Vibrant Refreshing Shampoo and Anti-Frizz Repairing Conditioner.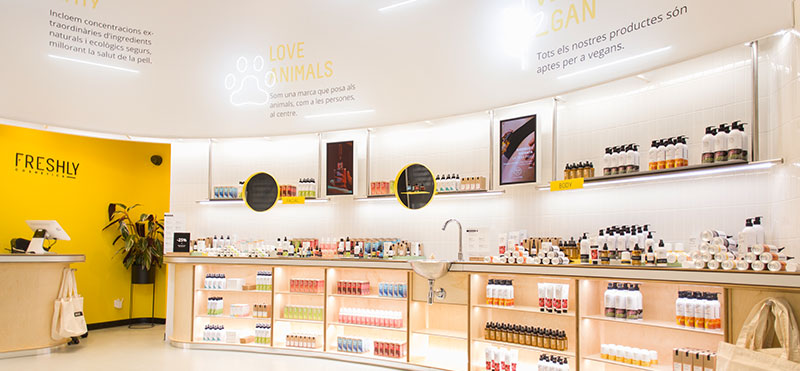 WHERE? ON THE FIFTH BUSIEST STREET IN EUROPE 
The new Freshly Cosmetics shop is located in Calle Portaferrissa in Barcelona, the fifth busiest street in Europe, where more than 13,000 people pass by every day! In the Freshly Store you will find all Freshly products, including the new launches and the Freshly Kids line, for a complete Freshly Experience for everyone the family!
What are you waiting for? If you haven't been to the Freshly Store yet, it's time to come and see us, and discover our natural cosmetics! We are open from Monday to Saturday from 10am to 9pm local time. We are waiting for you!
Come back soon to our blog, new content comes every week.
We at Freshly Cosmetics create natural cosmetics (all of our formulas contain over 99% natural, sustainable and vegan ingredients) based on scientific knowledge and studies. We aim to make people aware of the effect cosmetics have on their skin. We are scientists with a strong desire to change things and help people take better care of themselves, consciously.
Would you like to join this adventure? Subscribe to our newsletter to receive news and articles like this one and become a cosmetics expert... and more!