The Freshly Store is now a reality! Visit us in Barcelona
---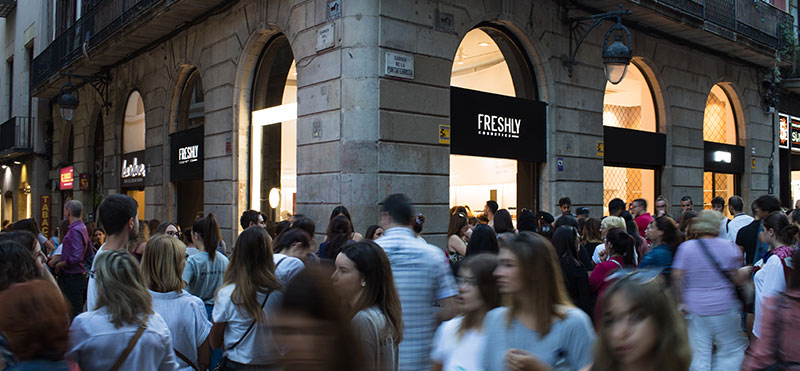 We have been working very hard on this new project that we've been announcing for months. We aim at getting even closer to people, and that's why we decided to open our first store, last 4th October. Same DNA now in real life.
EXCITED AS NEVER BEFORE
We are looking forward to sharing the excitement of that day when for the first time we had the opportunity to meet the Freshly fans. More than 500 people came to Barcelona to live the Freshly Experience, on the opening day of our first physical store.
At 6.00pm local time, the doors of the Freshly Store opened wide to the hundreds of people who were waiting for entering the shop. It was an unforgettable moment of emotion, anxiety, excitement, laughter, tears...a set of sensations that we could not help but share together.
We knew that the Freshly Store was the dream of many who had asked us for it for a long time, but reality exceeded all expectations. We can't stop thanking you for coming in so many last 4th October to attend this event that will make Freshly's history. Thank you!
REVOLUTIONARY CONCEPT...
Our first store will revolutionise the concept of conventional shop, with an innovative design that will give you a unique live experience! We have trusted experts who are dedicated to developing creative ideas, to offer you our products and values even more closely.
And that's not all! You know we also have a refill option for your favourite products? The best chance to save money and recycle! Take your clean and dry aluminium bottle to the Freshly Store and our team will show you how to fill it with Detox Nourishing Shower Gel, Vibrant Refreshing Shampoo and Anti-Frizz Repairing Conditioner.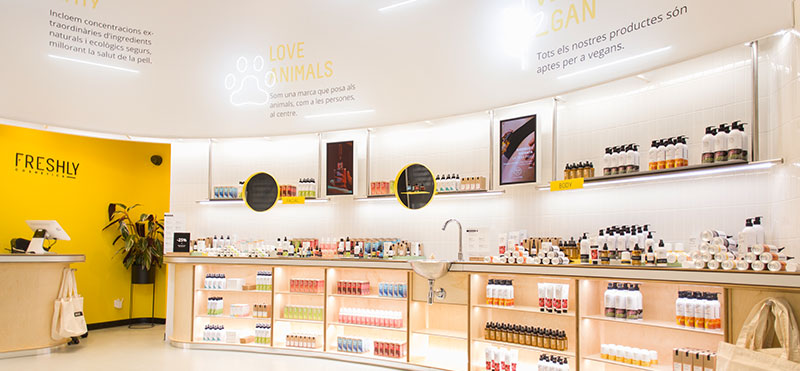 WHERE? ON THE FIFTH BUSIEST STREET IN EUROPE 
The new Freshly Cosmetics shop is located in Calle Portaferrissa in Barcelona, the fifth busiest street in Europe, where more than 13,000 people pass by every day! In the Freshly Store you will find all Freshly products, including the new launches and the Freshly Kids line, for a complete Freshly Experience for everyone the family!
What are you waiting for? If you haven't been to the Freshly Store yet, it's time to come and see us, and discover our natural cosmetics! We are open from Monday to Saturday from 10am to 9pm local time. We are waiting for you!
Come back soon to our blog, new content comes every week.
What do you think about it? We'd love to read your opinion!
---
COMMENTS
X x

27 March 2021

Tienda freshly en Valencia

Pues en Valencia tmb deseamos q habrá is una, q aquí tmb hay muxisimo gente q utilizan vuestros productos

Freshly 27 March 2021 ¡Nos lo apuntamos! No dudes que nos encantaría poder estar en todos los rincones del mundo. ;) ¡Un abrazo enorme!

MARTA

10 December 2019

TIENDA FRESHLY EN MADRID

HOLA, PARA CUANDO UNA TIENDA FRESHLY EN MADRID???

Freshly 10 December 2019 ¡Hola, Marta! No contamos con punto de venta físico en Madrid. Comentarte que recientemente hemos abierto la primera Freshly Store en Barcelona, y esperamos prontito estar en muchas ciudades más, ¡y entre ellas tenemos claro que queremos que esté Madrid! ¡Un abrazo y mil gracias, nos encanta saber dónde queréis una Freshly Store!

Ángela Granero Martin

14 November 2019

procuctos identy

hola muy buenas queria saber si en vuestra tienda vendeis productos de Identy ? muchas gracias un saludo

Freshly 14 November 2019 ¡Buenos días! En la Freshly Store encontrarás todos los productos de Freshly y Freshly Kids, no así los de Identy Beauty. En cualquier caso nuestras compañeras de Identy estarán encantadas de ayudarte. ¡Hasta pronto!

Gabriela Trovero

6 November 2019

Comentarios

Hola equipo de Freshly, Primero felicidades por la primer Store! Muchos éxitos

Freshly 6 November 2019 ¡Mil gracias Gabriela! Esperamos que nos visites mucho por allí, ¡un abrazo!