GET FREE SHIPPING ON ORDERS FROM 20€* | 24/48 HOUR DELIVERY
HOW CAN YOU TREAT CELLULITE AND STRETCH MARKS WITH BODY OIL?
---
Natural products are also useful to treat cellulite and stretch marks! There is a reason why vegetable oils have been used for centuries as a beauty treatment.
Vegetable oils are totally natural when obtained directly from the pressing of fruits or seeds. Their natural composition does not clog pores and allow the skin to breathe naturally. Even though they have a greasy texture, they don't leave a greasy skin sensation. In fact, they are easily absorbed by the skin!
Body oils will be your best friend to improve your skin. Among its many benefits, the Body Oil sculpts and prevents cellulite, and treats scars and stretch marks.
What are cellulite and stretch marks? Why they appear?
First of all, both cellulite and stretch marks are not defects, they form part of many women's anatomy. With a healthy lifestyle and the use of natural products that helps us detoxify our body, we can reduce the signs and effects of cellulite and stretch marks. Cellulite appears in most women after puberty. It's also related to the physiology and anatomy of each woman. Cellulite is a group of fats that the metabolism has not been able to eliminate. As a consequence, they are deposited in different parts of the body. Having more or less cellulite, or not having at all, is a fact that is linked to the elasticity of our skin, so a strong and elastic skin makes it more difficult for fat to become blocked in our metabolism.
Stretch marks are visible marks or lines on the skin caused when the skin changes rapidly and the elastic skin fibres break. Men or teenagers may also have them, it's not only a women's problem. If you use highly moisturising products, such as rosehip oil or marula oil, you can help treat stretch marks. That's why body oils are called "liquid gold". There is no better way to treat cellulite and stretch marks than using a body oil daily in the areas that require more hydration and treatment. What are the benefits of a body oil? It's a highly hydrating product of pleasant application and fast absorption that nourishes, sculpts and prevents cellulite, and increases skin's elasticity and firmness.
The best oil to treat cellulite and stretch marks
The main characteristic of vegetable oils is that they penetrate to the deepest layer of the dermis. These are some of the most prominent vegetable oils we can find:
- Rosehip oil. It has power to treat scars, stretch marks and skin flaccidity.
- Marula oil. This oil is especially rich in antioxidants and highly moisturising. It is used for treating stretch marks, to enhance skin's luminosity and to minimise redness and irritations.
- Jojoba oil. It provides elasticity, smoothness and tightens the skin. It also helps to eliminate the fat content under the skin, working to fight cellulite.
- Olive oil. Thanks to its large amounts of vitamins E and K, it helps to fight dry skin providing hydration and softness.
We are glad to introduce you the Golden Radiance Body Oil from Freshly Cosmetics. It concentrates the 12 best vegetable oils to nourish and hydrate the deepest layers of the skin. It also includes the active ingredient Plankton Complex that stimulates the natural fat burning mechanisms obtaining an effective and anti-cellulitic action improving elasticity and skin firmness.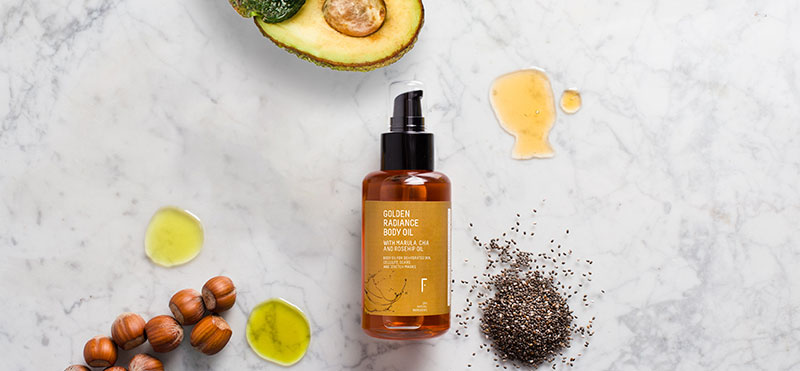 How can you use the Golden Radiance Body Oil?
You should apply this anti-cellulite and anti-stretch mark body oil at least once a day. You will be seduced by the golden effect. To increase its benefits, first exfoliate your skin while enjoying a relaxing bath with the Detox Revitalizing Body Scrub and rinse with cold water. You'll notice the difference! Once you have finished your relaxing moment, with the skin still wet to increase the benefits and improve the application of the oil on our skin, you will apply the body oil. Give small circular massages from the ankles to the abdomen with a slight upward pressure to stimulate blood circulation and so the body oil penetrates better into the skin. By doing this, your skin will be more nourished.
Now you know how to treat cellulite and stretch marks while enjoying the Golden experience!
Do you want to try the healthiest body oil? Enter our online natural cosmetics shop where you can find this and other natural products to look radiant all the year. Let yourself be seduced by natural products!
Leave a comment on this post, on our Blog or on Instagram, and share your impressions and your Freshly Experience with us. Your opinion is very important! Come back soon to our blog, new content comes every week.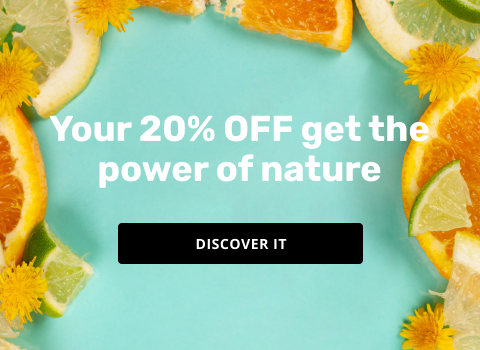 Comments
Lara

18 September 2019

El aceite es apto para embarazadas?

Hola! El aceite Golden Radiance es apto para usar en embarazadas? Gracias!

Freshly el 18 September 2019 ¡Hola! Soy Yaiza, del equipo Freshly, ¡encantada de saludarte! Así es, el Body Oil es apto para el uso durante el embarazo y, además, muy recomendable, ya que previene la aparición de estrías, y trata la apariencia de las que ya han aparecido. ¡Un abrazo!

Teresa

03 August 2019

Estrías y celulitis

Hola!!! Tengo estrías en la zona del culo y algo de celulitis. Que creéis que me irá mejor este aceite o la crema hidratante firming cream? Muchas gracias

Freshly el 03 August 2019 ¡Hola, Teresa! Te irá genial el Golden Radiance Body Oil, ya que es un producto perfecto y formulado para tratar las estrías y la celulitis, gracias a activos como el Plankton Complex. ¡Si te animas a probarlo ya nos contarás qué tal te va! Un saludo

Estefania ram

12 July 2019

Pregunta sobre cicatriz

Hola se puede usar en el tratamiento de cicatrices post operatorio de senos ? Me han recomendado que use aceite de rosa de mosqueta! Y supongo que este aceite contiene

Freshly el 12 July 2019 ¡Hola, Estefania! Creemos que te puede ir genial, ya que el Golden Radiance Body Oil es perfecto para tratar cicatrices, ya que entre otros contiene aceite de rosa mosqueta. Aún así, siempre recomendamos que en estos casos lo comentéis previamente con el profesional que lleva vuestro caso. ¡Muchas gracias!

Cinthia Notario

04 July 2019

Aceite para eliminar estrías

Aun no lo eh probado pero me gustaría probarla para eliminar mis estrías

Freshly el 04 July 2019 ¡Hola, Cinthia! El Body Oil te irá genial para tratar las estrías, ya que gracias a sus componentes como el aceite de rosa mosqueta y el antioxidante astaxantina, y con una aplicación regular y un poco de tiempo, es posible disimularlas y suavizarlas. Además, este aceite corporal mantiene tu piel nutrida y le da un aspecto radiante, ¡así que no dudes en probarlo ya! ¡Un abrazo!

Patricia Barba Romero

29 June 2019

Aceite corporal

Una vez aplicado el aceite en caderas y demás, después del baño con la piel húmeda, luego te secas con la toalla como de costumbre, ¿verdad? Y si vas a salir a la calle (sol) te puedes aplicar la protección solar o tiene un efecto negativo al aplicarlo sobre el aceite?

Freshly el 29 June 2019 ¡Hola, Patricia! Exacto, al salir de la ducha puedes aplicar el Body Oil con la piel húmeda, y secarte con la toalla como de costumbre, pero recomendamos que antes de secarte dejes que se absorba el producto. Por otro lado, si vas a salir a la calle, te recomendamos lo mismo, que primero dejes que se absorba bien el Body Oil y después ya te puedes aplicar la protección solar. ¡Muchas gracias por tu comentario, un abrazo!

Maria

22 June 2019

Información

¿Es compatible con la lactancia?

Freshly el 22 June 2019 ¡Hola, Maria! Te confirmamos que sí puedes utilizar el Golden Radiance Body Oil durante la lactancia. La única precaución que aconsejamos es evitar la zona central del pecho, con la que el bebé está en contacto directo. Pero en el resto del pecho y en otras zonas del cuerpo, sí que recomendamos utilizar nuestro aceite corporal. ¡Muchas gracias por tu interés en Freshly, un abrazo!

Maribel

22 June 2019

Embarazadas

golden Radiance body oil se puede utilizar en embarazadas, en vuestros productos se indican cuáles sí y cuáles no, sería de mucha ayuda gracias

Freshly el 22 June 2019 ¡Hola Maribel! Te confirmamos que el Body Oil se puede utilizar durante el embarazo y, además, es muy recomendable, ya que previene la aparición de estrías, y trata la apariencia de las que ya han aparecido. También comentarte que la mayoría de nuestros productos son aptos durante el embarazo y periodos de lactancia. Los únicos productos que hasta el momento no recomendamos utilizar durante esta etapa es la crema corporal reafirmante, por su contenido en cafeína, y la pasta de dientes, por contener aceite esencial de menta. Esta información no se indica en cada uno de los productos, pero tendremos muy en cuenta tu sugerencia. ¡Un abrazo!

Pilar

31 May 2019

Me gustaria distribuir sus productos

Somos un centro de naturopatia en Marbella y me gustaria saber si trabajais al por mayor o solo venta directa al publico. Gracias

Freshly el 31 May 2019 ¡Hola! Lo lamentamos pero no trabajamos con centros. ¡Aún así, agradecemos muchísimo el interés que tienes por contar con nuestros productos! No dudes de que si algún día ampliamos nuestro sector de tiendas autorizadas, tendremos muy en cuenta tu propuesta. ¡Muchas gracias de nuevo por tu interés y confianza en nosotros! Un fuerte abrazo

Arledys vargas Arrieta

29 May 2019

Precio del aceite por favor

Me parese muy interesante gracias.

Freshly el 29 May 2019 ¡Buenas tardes! El Golden Radiance Body Oil tiene un precio de 26€. Recuerda que si te suscribes a nuestra newsletter obtendrás un 15% de descuento en tu compra. ¡Feliz fin de semana!