How can I reduce my stretch marks?
---
Feel powerful and beautiful no matter what! In this post, we'll explain how to improve the elasticity of your skin, thus reducing the appearance of stretch marks. We love our tiger stripes, and we all have them, nonetheless if you want to learn how to hydrate your skin  with natural oils, so it stretches without scarring, here it is!
Plant-derived oils are totally natural when obtained directly from the pressing of fruits or seeds. Their natural composition doesn't clog pores and allows the skin to breathe naturally. Even though oils can feel greasy, they don't leave the skin oily. In fact, they are easily absorbed by the skin!
Body oils will be your best friend when it comes to hydration. They are a kind of superfood for your skin, as they also allow the skin to stretch without scarring. 
Cellulite and stretch marks. Why do we have them?
First of all, both cellulite and stretch marks are really common. But with a healthy lifestyle and the use of natural products that help us detoxify our bodies, we can reduce the signs and effects of cellulite and stretch marks. 
So let's get down to it, what is cellulite? It's a collection of fats that push against the connective tissue beneath your skin, which can leave the skin's surface with a lumpy, puckered or dimpled appearance. Interestingly, cellulite is more common in women and it tends to appear after puberty. Having more or less cellulite, or not having it at all, is linked to the elasticity of our skin, so a strong and elastic skin makes it more difficult for fat to become blocked and create the appearance of cellulite on the skin's surface.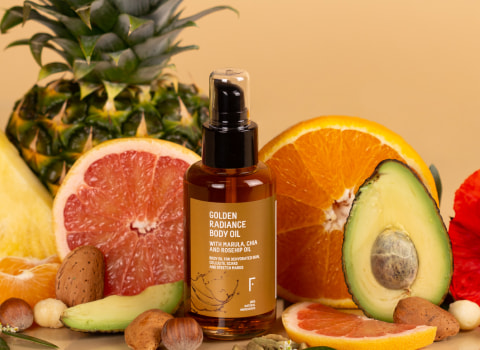 Now onto stretch marks, these are visible marks or lines on the skin which tend to appear when the skin changes in size rapidly and the elastic skin fibers rupture. They can occur on anyone's skin, that is men and women alike. There are certain highly moisturising products, such as rosehip oil or marula oil, that can help to diminish the appearance stretch marks. And so comes the nickname for body oils, which is "liquid gold". There's no better way to treat cellulite and stretch marks than using a body oil to keep the skin super hydrated and improve the elasticity, which in turn allows the skin to resist scarring.
The best oil to improve stretch marks and cellulite
Plant-derived oils are able to penetrate the deepest layer of the dermis. Some of the most prominent plant-derived oils we can find are as follows:
Rosehip oil. It has the power to improve the appearance of scars, stretch marks and skin flaccidity.
Marula oil. This oil is especially rich in antioxidants and highly moisturizing. It's used for fading stretch marks, enhancing skin's luminosity, minimizing redness and irritations.
Jojoba oil. It provides elasticity, smoothness and tightens the skin. It also helps to reduce the fat content under the skin, helping to make cellulite less prominent.
Olive oil. Thanks to the high levels of vitamins E and K, it helps to fight dry skin, providing hydration and softness.
We'd recommend you apply it to your body at least once a day. Apart from being highly effective with skin's elasticity, it also leaves the skin feeling nourished and looking luscious! For best results, we'd first recommend exfoliating your skin with our Biodegradable Raspberry Body Scrub and rinse with cold water. Then apply the body oil onto damp skin. Massage into your skin in small circular motions from the ankles upwards, applying slight pressure to stimulate blood circulation and also to promote a better absorption and penetration of the body oil into the deeper skin layers.
And there you have it! But above all, remember that we all have stretch marks, they are normal, they are common and most importantly they are a part of our bodies, and we should be proud! Hydrated and nourished skin  is always a welcome addition.
Do you want to try the healthiest body oil? Visit our online natural cosmetics shop where you can find this along with a whole host of other natural products that will have you looking radiant all year round!  Make the change to natural cosmetics, you won't regret it, we promise!
Leave a comment on this post or on our Blog, and share your impressions and your Freshly Experience with us. Your opinion is very important! Come back soon to our blog, new content comes every week.
We at Freshly Cosmetics create natural cosmetics (all of our formulas contain over 99% natural, sustainable and vegan ingredients) based on scientific knowledge and studies. We aim to make people aware of the effect cosmetics have on their skin. We are scientists with a strong desire to change things and help people take better care of themselves, consciously.
Would you like to join this adventure? Subscribe to our newsletter to receive news and articles like this one and become a cosmetics expert... and more!