Do you need gift ideas for this Christmas?
---
The Christmas mood is getting fully switched on: home decorations, lights everywhere, special dishes, time to spend with the most important people...and obviously gifts! If you are looking to make these moments even more special, take notes of our amazing gift ideas!
What's the best gift?
- Are you looking for a gift for someone you don't know very well? Don't worry, we have the perfect gift: the Healthy Lips Plan. This pack contains 3 balms to keep your lips healthy, hydrated and protected from cold, wind and sun with high-quality natural ingredients. Everyone would love it!
- Are you looking for a gift for someone who takes great care of their hair? The Haircare Detox Plan is the perfect idea, since it contains the Vibrant Refreshing Shampoo and the Anti-Frizz Repairing Conditioner. With the shampoo you'll free your hair from silicones and sulphates, thanks to natural ingredients such as coconut, menthol and aloe vera. And with the conditioner you can say goodbye to the frizzy effect.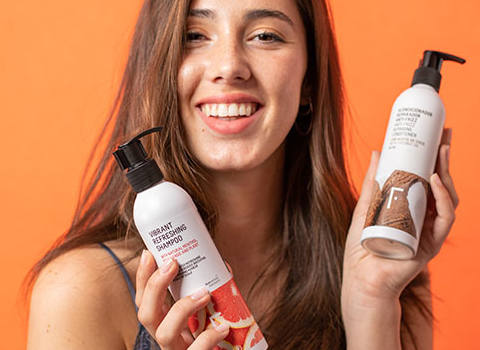 - Are you looking for a gift for someone who spends a lot of time taking care of their skin? Then we recommend you the Red & Blue Serums Pack, the pack that contains 2 Freshly top facial serums for radiant, flawless skin! The Red Velvet Oil Serum is the facial serum that nourishes and brightens the skin, also treating wrinkles, inflammation and redness. The Blue Radiance Enzymatic Serum, on the other hand, is the enzymatic facial serum that increases cell renewal by deeply exfoliating the skin, also treating acne, blackheads and enlarged pores. The perfect facial care gift!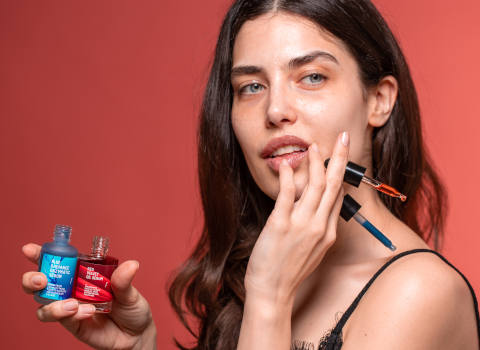 - Are you looking for a gift for someone who's passionate about skincare? The Vitamin Complex Facial Plan is perfect for showing off healthy and radiant skin. The pack contains the Green Vitamin Concentrate Serum and the Bloom Orchid Face Cream, which combine the best antioxidant technology with innovative natural extracts that increase hydration, improve skin smoothness, block pollution and reduce redness and inflammation caused by stress. Serum and cream come together in one pack for a healthy, easy and super-effective skincare routine.
If you're looking for a gift idea for a skincare enthusiast, you can't go wrong with the Super Cleanser Trio! This pack contains the Fresh Green Micellar Water, the Rose Quartz Facial Serum and the Lime Purifying Facial Toner, for a deep, effective and gentle double cleansing routine, in just three simple steps. The skin will be cleansed, purified, moisturised and radiant.
Curious to discover our must haves? 
1. Golden Radiance Body Oil: 100% natural body oil that has sold out several times. The essential product to deeply moisturise skin, treat stretch marks and scars.
2. Hyper-concentrate Eye Contour Serum: One of our best sellers, which helps to treat wrinkles, dark circles and bags, giving a lifting effect to eye contour.
3. Blue Radiance Enzymatic Serum: The enzymatic exfoliating serum that can not miss in your night-time skincare routine to get radiant and even skin in just 4 weeks.
4. Hair Radiance Keratin Spray: The keratin spray that combines 6 plant technologies to detangle, prevent heat damage to hair, combat frizz and treat split ends.
5. Rose Quartz Facial Cleanser: The cleansing gel with a physiological pH that combines incredible plant extracts and a high concentration of saponins, for clean, fresh, even and moisturised skin.
5. Hyaluronic Energy Body Serum: The body serum with 8 exclusive clinical technologies and powerful natural active ingredients to treat varicose veins, reduce water retention, moisturise and tonify the skin.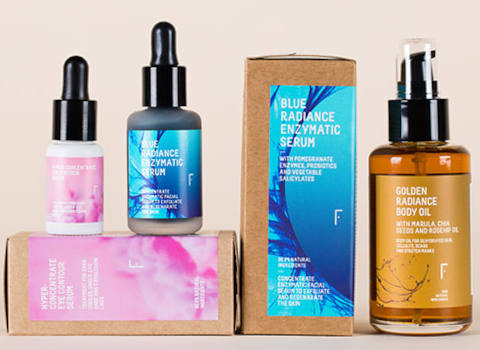 All these gifts are unisex, suitable for all skin types and all ages! Giving natural cosmetics is always the best choice to take care of the health and beauty of people you love. Ah, we almost forgot. We'll take care of the gift packaging! You place your order, choose the option "wrap as a gift" before finalising it, and we'll take care of everything. Your order will arrive ready to be given! What are you waiting for? Take a look at our website and choose to give natural cosmetics this Christmas!
Leave your comment below, and share your impressions and your Freshly Experience with us. We love to know your opinion and your natural cosmetics secrets! Come back soon to our blog... new content is waiting for you every week.
What do you think about it? We'd love to read your opinion!
---
COMMENTS
Marta Carrión Sevilla

14 December 2020

Pelo corto y seco

Hola!! M compre hace un par de semanas el body oil, y estoy encantada, ya que veo que los productos son buenos y funcionan, me gustaría que me ayuda seis con el pelo, lo tengo corto y muy seco, y no se que me podría ir bien, estoy harta de probar productos de peluquería, y no encontrar nada efectivo, espero vuestra ayuda!!

Freshly 14 December 2020 ¡Hola Marta! Soy Raquel, ¡encantada de saludarte! ¡No te preocupes, tenemos los productos perfectos para tu rutina capilar!. Para tu cabello, te irá genial nuestro Haircare Restore Detox Plan, ya que contiene el Vibrant Refreshing Shampoo, que limpia en profundidad pero de forma suave y cuidadosa con el cabello y el cuero cabelludo. También podrás encontrar en este pack, el Acondicionador Reparador Anti-Frizz, que reduce y controla el encrespamiento gracias a la manteca de karité, y que te recomendamos utilizar de medios a puntas y aclarar con abundante agua. Y por último, la Nourish Restore Hair Mask, muy nutritiva gracias a la combinación de 7 aceites vegetales no grasos y que aconsejamos aplicar de una a dos veces por semana en sustitución del acondicionador durante unos 5 minutos. ¡Lucirás un cabello súper hidratado y radiante con ellos! Ya nos contarás todo, pero no dudamos que será amor a primera vista. ¡Un abrazo!

ISABEL CORES FERNANDEZ

23 December 2019

Piel atopica

Tengo la piel atopica, me pica muchísimo, e incluso los ojos se me hinchan mucho, llegandoseme a caer pestañas y mi piel facial esta muy fina y deshidratada, por el uso de corticoides. Me gustaría saber si podría usar sus productos, si la respuesta es si me gustaría me aconsejarán por cual empezar para la cara. Gracias!!

Freshly 23 December 2019 ¡Hola, Isabel! Soy Maria, del equipo Freshly, ¡encantada de saludarte! Comentarte que la gran mayoría de nuestros productos están testados en pieles sensibles y, aunque no son específicos para tratar la piel atópica, conocemos muchos casos de personas con este tipo de piel, a quiénes les van genial. De todas formas, nuestra recomendación es que revises el INCI con los ingredientes, y lo consultes con tu dermatólogo. Si quieres, puedes escribirnos a [email protected], o mandarnos un mensaje privado en redes sociales, contándonos qué es lo que buscas, y te aconsejaremos la mejor rutina para ti. ¡Mil gracias!

Cristina Garcia alvarez

17 December 2019

Cepillo y crema dental

Hola [email protected]! Una pregunta....los cepillos de bambú y la crema dental son aptos para niños también? O solo para adultos? Muchas gracias Me encanta todo lo que he probado de vuestros productos!

Freshly 17 December 2019 ¡Hola, Cristina! Todos los productos Freshly son aptos para su uso a partir de los tres años, así que a partir de esta edad los peques ya pueden usar tanto nuestro cepillo de dientes como la pasta dental. ¡Mil gracias a ti, nos alegra muchísimo saber que te encantan tus Freshly!

Maria

13 December 2019

Cicatrices

Hola buenas! Me acaban de operar de la rodilla y me han hecho tres rajas bastante grandes... he visto que tenéis diferentes productos que ayudan con las cicatrices,.. cuál me recomendaríais 100%? Por otro lado también tengo manchas en la cara por el sol (en verano se acentúan) No se si el red velvet me serviría para ambas cosas? Gracias!!

Freshly 13 December 2019 ¡Hola, Maria! Para la cicatriz de la rodilla te recomendaríamos el Body Oil, que es nuestro aceite corporal que, además de nutrir la piel, trata cicatrices gracias a la acción del aceite de rosa mosqueta y el antioxidante astaxantina. No nos consta contra indicación en que apliques el Red Velvet, que también trata cicatrices, aunque es un aceite facial pensado para aplicar en el rostro, en poquita cantidad, así que creemos que te irá mucho mejor aplicar el Body Oil. Por otro lado, para tratar las manchas del rostro te puede ir genial tanto el Red Velvet, que se aplica solamente de noche y trata cicatrices, rojeces, manchas; además de nutrir y aportar luminosidad, vitalidad y firmeza al rostro. Como también el Green Vitamin, que se puede aplicar tanto mañana como noche y trata las manchas de sol, además de hidratar, y tratar y prevenir los signos del envejecimiento cutáneo. ¡Mil gracias a ti!

Cristina Calderón Márquez

3 December 2019

Black Friday

Muy contenta con mi pedido en el día del Black friday, me llegó súper rápido y además con el pedazo de descuento. Empezé ayer a usar los productos y me están gustando mucho. Feliz con freshly ! Gracias!

Freshly 3 December 2019 ¡Qué alegría, Cristina! Nos encanta saber que has podido aprovechar los descuentos para hacerte con tus Freshlys, ¡esperamos que te encanten y los sigas disfrutando por mucho tiempo más! Muchas gracias a ti, por compartir con nosotros tu experiencia.

Malu

25 November 2019

Tratamiento para la cara.

Hola, estoy decidida a probar vuestros productos, pero tengo dudas, que me recomendaría para la cara , la tengo seca y necesito hidratación, si no la tengo hidratada tengo sensación de picor. Tengo 49 años. Gracias espero vuestra respuesta.

Freshly 25 November 2019 ¡Hola! Creemos que te irá genial el Vitamin Complex Facial Plan. Este pack contiene el Green Vitamin, que trata líneas de expresión y aporta hidratación, y la Bloom Orchid Face Cream que añade un extra de hidratación. Con una aplicación será suficiente para todo el día. ¡Un saludo!

Gemma

20 November 2019

Golden Radiance Body oil

Benvolguts/benvolgudes Us volia comentarr que l'oli del cos Golden Radiance Body Oil he vist que porta una alga. La meva pregunta és si és compatible amb la tiroides. Moltes gràcies Salutacions Gemma

Freshly 20 November 2019 Hola Gemma! Tenim constància que les ingesta d'algues està contraindicada amb algunes malalties de tiroides, però cosmèticament no ens consta que pugui afectar. Per això com en moltes ocasions depèn del seu ús (tòpic, alimentari, ...) i de la quantitat o proporció que hi ha als productes o aliments, us aconsellem consultar el INCI del producte amb el vostre especialista. Mmil gràcies per la confiança! :D

Maria

13 November 2018

Embarazo y lactancia

Hola, me gustaría saber con seguridad si todos los productos de freshly se pueden utilizar durante el embarazo y lactancia, si hay alguno que no, por favor decidme. Muchas gracias

Freshly 13 November 2018 ¡Hola! Todos nuestros productos, a excepción de la Crema Corporal Reafirmante, que contiene cafeína, y la Pasta de Dientes Pure Freshness, que contiene aceite esencial de menta, son aptos para embarazadas. Un abrazo