Renewed. The same, but better. Your eye contour serum, even more effective
---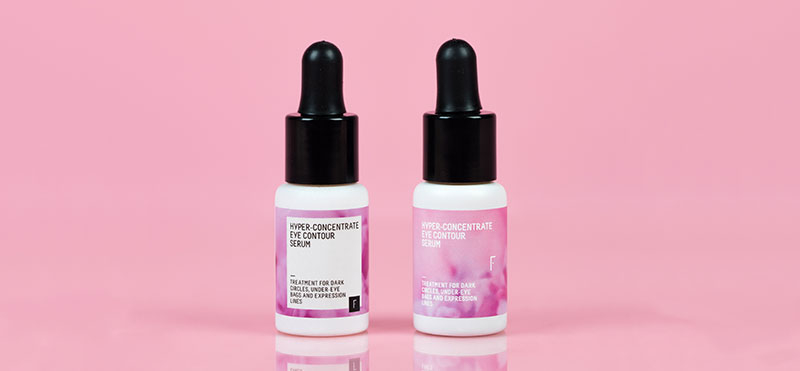 Improving the excellent. We have added even more actives to the Hyper-Concentrate Eye Contour Serum, enhancing its effectiveness even further. If you liked it before, now you'll love it!
What have we improved in our eye contour serum?
The Hyper-Concentrate Eye Contour Serum is more than just a serum: we have invested our scientific knowledge and months of research to develop this new formulation with 99.9% of natural ingredients, 53% of which from organic farming. We have kept its name and packaging but we have renewed its pipette to make the application even more precise.
But now let's talk about its formulation. We have increased its natural active ingredients from 9 to 14, to multiply the benefits and results on a delicate area such as the eye contour. This new formulation reduces the volume and depth of wrinkles, dark circles and puffiness, smoothes out spots and lifts the eyelid with a visible filling and lifting effect after 14 days of application.
Now you'll be curious to know what these powerful and innovative ingredients we have added are, read on to find out more...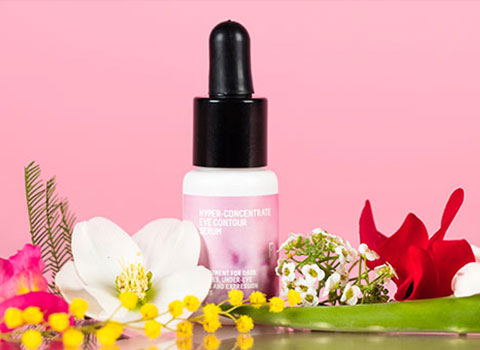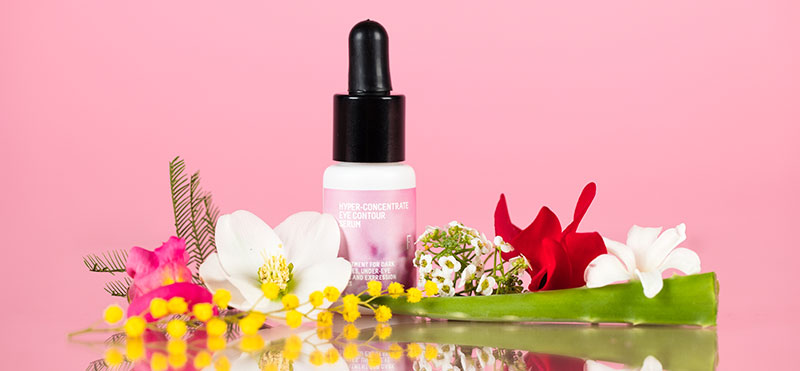 Renewed. The new ingredients of our eye contour
The active ingredients we have added to the renewed Hyper-Concentrate Eye Contour Serum formulation are:
- Ayurvedic Complex: reduces dark circles and bags by providing more compactness and elasticity to this area of the skin.
- Natural amino butyric acid: has a powerful filling effect that smoothes wrinkles and increases the elasticity of the skin, making it soft and even.
- Polysiphonia Brodei: accelerates fat burning up to 64%, thus contributing to the reduction of puffiness and swelling in the lower eye area.
- Plant-derived Biopolymer: provides a surprising lifting effect visible only 5 minutes after application, tones the skin in a natural way, giving it a smooth appearance.
- Hawthorn and jasmine concentrate: helps to fight droopy eyelids.
- Horse chestnut: restructures and tones the skin, preventing premature ageing and treating wrinkles.
And in case the new actives haven't convinced you yet, we have more to tell you... Do you know we have conducted a clinical trial to prove the effects of the renewed eye contour for your skin? Read more to discover it…
Results of the clinical trial of the Hyper-Concentrate Eye Contour Serum by Freshly
The clinical trial on the Hyper-Concentrate Eye Contour Serum was conducted by an independent laboratory on a sample of 20 women between 25 and 45 years. The participants tested the eye contour morning and evening, in its original packaging but without any label or reference to the Freshly Cosmetics brand.
After 8 weeks applying the eye contour with this renewed formulation:
- 79% of users considered the skin tone more even.
- 73% of users noticed a reduction in bags.
- 73% of users saw a decrease in dark circles under the eyes.
- 77% of users noticed a decrease in inflammation around the eyes.
If you liked it before, now you'll love the new formulation! And it's not just us telling you, read the opinions of people who already tried it.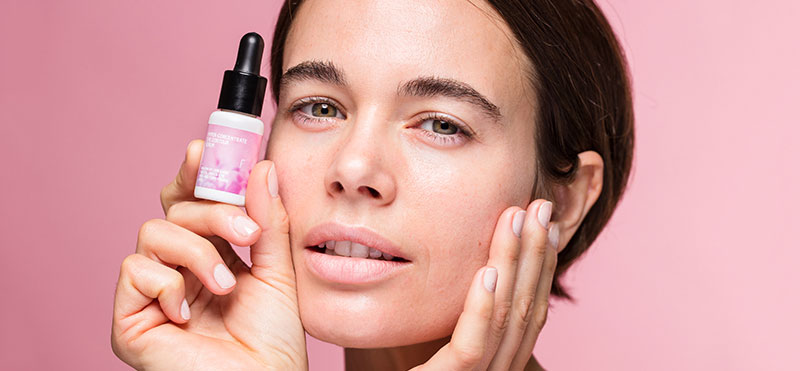 What do people who tried the renewed Hyper-Concentrate Eye Contour Serum think about it?
Read the opinions of people who have used the Hyper-Concentrate Eye Contour Serum during a month.
"The skin in this area is more hydrated and elastic, I notice less wrinkles and dark circles under my eyes".
"It's really effective! I've noticed that the colour of my dark circles has now evened out with the rest of the skin, and the bags are slowly disappearing. I started the treatment with wrinkles in the lower part of the eye and I can see they are now gone".
"It's easy to apply and spread. Being small, I can carry it with me at all times."
"It has a refreshing effect. I notice my bags less swollen and inflamed. It moisturises deeply but absorbs quickly, so you can use it even before makeup".
Our eye serum has received very good feedback proving to be amazing. It may seem impossible but we have managed to improve the excellent, innovating its formulation and improving its benefits for your skin as well. A must have in your day and night skincare routine...now improved! Get the renewed Hyper-Concentrate Eye Contour Serum, if you liked it before, now you'll love it!
Leave a comment on this post or on our Blog, and share your impressions and your Freshly Experience with us. Your opinion is very important! Come back soon to our blog, new content comes every week.
What do you think about it? We'd love to read your opinion!
---