📦GET FREE SHIPPING ALWAYS | 24/48 HOUR DELIVERY
RENEWED. The same, but better. Time for our SKINCARE range
---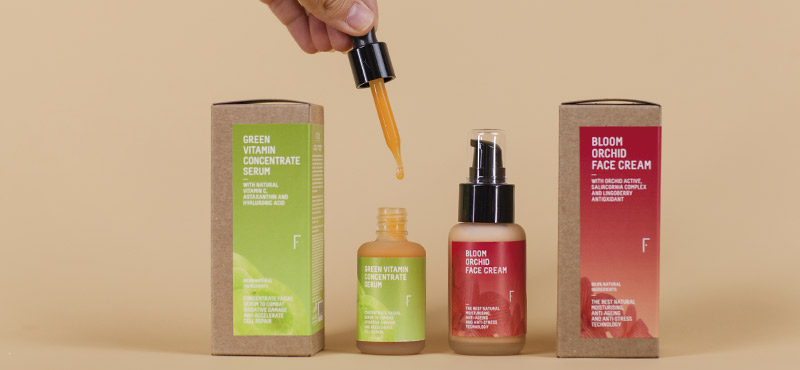 At Freshly Cosmetics we work every day for the innovation of natural cosmetics, that's why we always try to improve our products. We've done with our Vibrant Refreshing Shampoo and Body Flame Firming Cream, and this time it's the turn of skincare. Renewed. The same, but better. The Multi-Antioxidant Concentrate Serum and the Multi-Antioxidant Facial Moisturizer have now become the Green Vitamin Concentrate Serum and the Bloom Orchid Face Cream.
The new formulations contain powerful and innovative plant active ingredients and a higher concentration of organic and natural ingredients, up to 99.9% of ingredients of natural origin and over 60% of organic ingredients.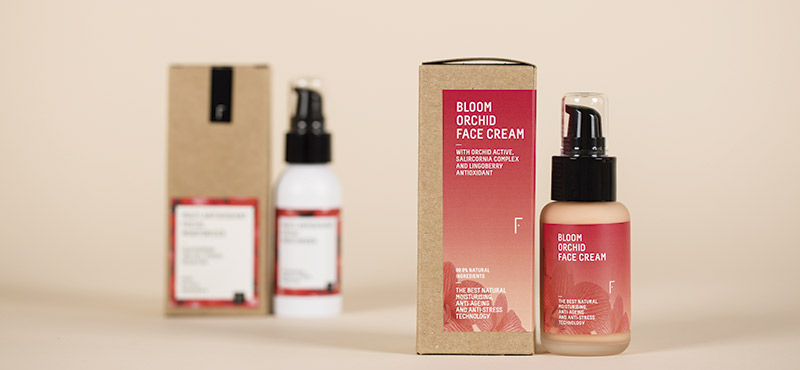 Renewed… what's new? 
Formulation: both products are enriched with innovative active ingredients that enhance their antioxidant, moisturising and repairing effect, to protect, hydrate, soothe and smooth skin, with natural ingredients.
Application: the packaging changes and turns into glass, to be even more sustainable. The Green Vitamin Concentrate Serum now includes a precision pipette that is easier to use and better to control the amount of product to be applied to your skin.
Scent: we added a natural delicious cocktail of 10 fruit and plant extracts including apple, melon, vanilla, mint and apricot.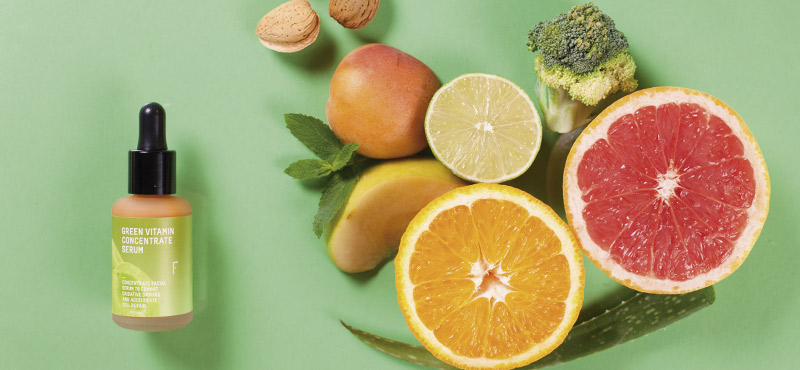 What are the benefits of the new Green Vitamin Concentrate Serum? 
The Green Vitamin Concentrate Serum is enriched with 3 active ingredients to enhance its antioxidant and anti-ageing action. We added the kakadu plum, the largest source of vitamin C existing in nature, which allows to reduce the effects caused by free radicals and to increase the synthesis of collagen and hyaluronic acid, making the skin radiant, tonified and even.
The new formulation also contains black tea that is rich in vitamin B and fatty acids, and has a lipo-filling effect. It helps to smooth wrinkles and expression lines out, giving your skin radiance and smoothness.
Finally, the new serum includes Bidens Pilosa, a powerful plant that fights and reduces the effects of skin ageing, controls sebum secretion and soothes your skin. What more could you ask for?!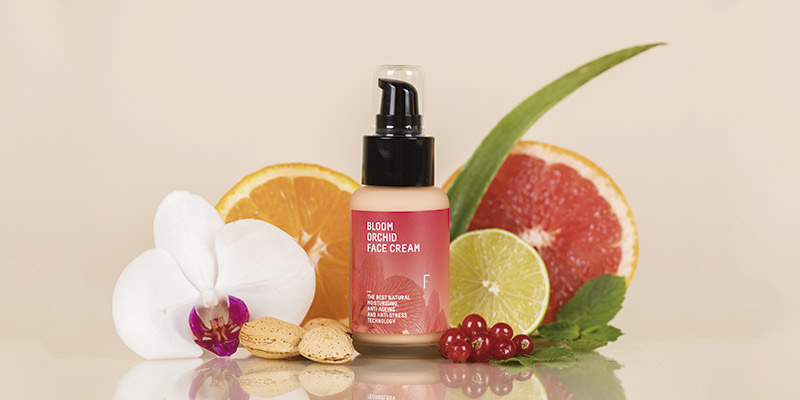 What are the benefits of the new Bloom Orchid Face Cream? 
The Bloom Orchid Face Cream has also been enriched with 3 active ingredients to enhance its moisturising and protective action. We added the Orchid Active, a plant-derived active with a lifting effect that increases the production of collagen and elastin, giving elasticity and tone to your skin.
Another new ingredient of the face cream is the Red Algae, a great seaweed that fights skin ageing, perfect for treating sensitive and reactive skin, as it is able to calm down redness and irritation caused by stress.
Finally, the Bloom Orchid Face Cream contains the Salicornia Complex, a plant complex that promotes subcutaneous hydration for up to 24 hours.
BETTER TOGETHER! Together to multiply their results 
We recommend you to use the 2 products together in your skincare routine, as their combination further enhances their results. With the Vitamin Complex Facial Plan the results are multiplied, since this pack combines the Green Vitamin Concentrate Serum and the Bloom Orchid Face Cream, to always have hydrated, smooth, healthy and radiant skin.
We're sure you're looking forward to trying them, so what are you waiting for? Try the new Green Vitamin Concentrate Serum and Bloom Orchid Face Cream now for a healthy, natural skincare routine. We're sure you'll love it!
Leave a comment on this post or on our Blog, and share your impressions and your Freshly Experience with us. Your opinion is very important! Come back soon to our blog, new content comes every week.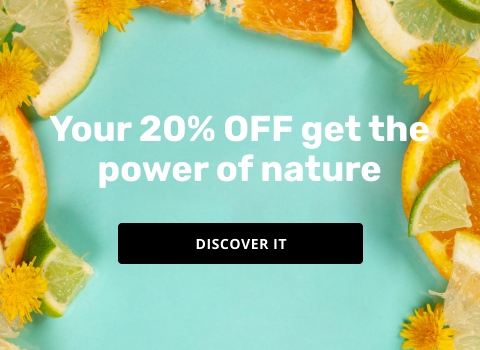 What do you think about it? We'd love to read your opinion!
---
Comments
Maria Buzon jimenez

25 August 2020

Info cremas piel madura

Buenas! Tengo una duda, estoy buscando una crema facial o tratamiento para mi madre, ella tiene 60años y con Manchitas de sol en la piel. Me gustaría que usara cremas naturales y no se si las vuestras son recomendadas para esas edades. Gracias

Freshly el 25 August 2020 ¡Hola Maria! Soy Fátima, del equipo Freshly, ¡encantada de saludarte! ¡Es genial saber que quieres introducir productos naturales para ella! No te preocupes, Freshly es apto para todas las edades a partir de los 3 añitos por lo que la elección dependerá de las necesidades de cada piel. En este caso, le recomendamos empezar la rutina de mañana con el Face Mist que le ayudará a reducir imperfecciones unificando el tono e incrementando la firmeza de la piel. Seguiríamos con el Green Vitamin Concentrate Serum que reduce y evita manchas solares a la vez que mejora la hidratación de la piel y trata los signos del envejecimiento. Por la noche aplicaríamos el Red Velvet Oil Serum que ayudará a eliminar marquitas y rojeces, despertando el brillo natural de la piel. Por último, pasados unos 15-20 minutitos aplicaríamos el Blue Radiance Enzymatic Serum, que exfolia e incrementa la renovación de la piel, eliminando las células muertas de forma que unifica el tono y ayuda a eliminar marquitas de la piel. Esperamos que le encanten todos y que los disfrute muchísimo. ¡Un abrazo a las dos!

Rebeca

04 April 2020

Compra de pack tipo de piel

Hola! Tengo 39 años piel mixta en la zona T seca el resto de la cara y con tendencia a rejects que pack de limpieza facial, crema y serum me recomendais? Un saludo y gracias!!!

Freshly el 04 April 2020 ¡Hola, Rebeca! Soy Yaiza, del equipo Freshly, ¡encantada de saludarte! Por lo que nos comentas, te recomendamos el Facial Antiox Plan. Con este pack, empezarás tu rutina con el Agua Micelar Fresh Green, para desmaquillar, tratar la inflamación cutánea y las rojeces, controlando la secreción sebácea y eliminando todas las impurezas. El siguiente paso será el Tónico Facial, para eliminar impurezas y purificar la piel. Después, en el caso de la mañana, aplicarás la Bloom Orchid Facial Cream, que aporta 24 horas de hidratación y reduce las rojeces del rostro y las manchas. En el caso de la noche, después del agua micelar y del tónico facial, aplicarás el Green Vitamin Concentrate Serum, que está formulado para dar firmeza, luminosidad y tratar todos los signos del envejecimiento. También aportará hidratación a tu rostro, trata manchas, y evita el daño producido por la polución. ¡Un abrazo!

Lourdes Morales Gallardo

30 September 2019

Como utilizarlo junto red y Blue???

Como lo puedo utilizar el serum junto con red y Blue?

Freshly el 30 September 2019 ¡Hola, Lourdes! Qué bien que quieras animarte a probarlo. Nuestra recomendación es que apliques por las mañanas el Green Vitamin Concentrate Serum y por las noches el Red Velvet y el Blue Radiance. ¡Esperamos que los disfrutes mucho! Hasta pronto

Alba Lopez Bracot

18 September 2019

¿Apto en embarazo?

Hola, ¿Siguen siendo estos productos aptos para embarazadas? Pregunto por el bio retinol que ponéis ahí, como no podemos ponernos cremas con vitamina A... ¡Gracias!

Freshly el 18 September 2019 ¡Hola, Alba! No debes preocuparte, ¡tanto el Green Vitamin como la Bloom Orchid siguen siendo totalmente aptos durante el embarazo! Si te animas a probarlos, nos encantará que nos cuentes qué tal te van. ¡Feliz día!