GET FREE SHIPPING ON ORDERS FROM 20€* | 24/48 HOUR DELIVERY
This powerful trio combines 3 facial masks perfect to treat, nourish, revitalise, soothe and purify the skin. The pack includes the Energy C, an antioxidant facial mask that includes a large concentration of vitamin C and antioxidants; the innovative Cherry Blossom mask, which repairs, nourishes, treats the most sensitive skin thanks to an extraordinary combination of salicornia, vivacious, Mexican agastache and microalgae; the Emerald Clay, a purifying facial mask formulated with active charcoal, clays, seaweed, plant enzymes that manages to clean, purify and control sebum secretion. Your 3 essentials to treat the main skin concerns. Join multimasking, combine the 3 Freshly masks and give your skin what it really needs to look radiant and healthy
50 ml | Glass pot | Dermatologically tested and suitable for sensitive skin
This powerful trio combines 3 facial masks perfect to treat, nourish, revitalise, soothe and purify the skin. The pack includes the Energy C, an antioxidant facial mask that includes a large concentration of vitamin C and antioxidants; the innovative Cherry Blossom mask, which repairs, nourishes, treats the most sensitive skin thanks to an extraordinary combination of salicornia, vivacious, Mexican agastache and microalgae; the Emerald Clay, a purifying facial mask formulated with active charcoal, clays, seaweed, plant enzymes that manages to clean, purify and control sebum secretion. Your 3 essentials to treat the main skin concerns. Join multimasking, combine the 3 Freshly masks and give your skin what it really needs to look radiant and healthy
50 ml | Glass pot | Dermatologically tested and suitable for sensitive skin
Why do you need this pack?
The Energy C Facial Mask stimulates collagen synthesis and cellular regeneration, giving a natural lifting effect that improves your skin elasticity, thanks to the excellent combination of fruits rich in vitamin C, antioxidants and plant-derived amino acids.
The Cherry Blossom Facial Mask gives immediate hydration, combats the harmful effects of UV rays, detoxifies and has an anti-stress action on skin, treating inflammation and providing a feeling of calm, thanks to the combination of powerful plant-derived oils, microalgae and plants.
The Emerald Clay Facial Mask purifies, cleanses and controls sebum secretion in 14 days thanks to the excellent combination of active charcoal and kaolin and hectorite clays, thus reducing open pores and treating acne.
Give your skin what it needs with the latest techniques
Try multimasking! The areas of your skin are very different, there are more delicate, more dry and oily ones, that's why they need different care. There's nothing better than combining different facial masks to achieve the best result! Personalise your skincare according to your skin type and play with the texture and colours of the 3 facial masks of the Magic Mask Trio! An energising facial mask, a soothing mask and a purifying mask in one pack. Everything you need for your face!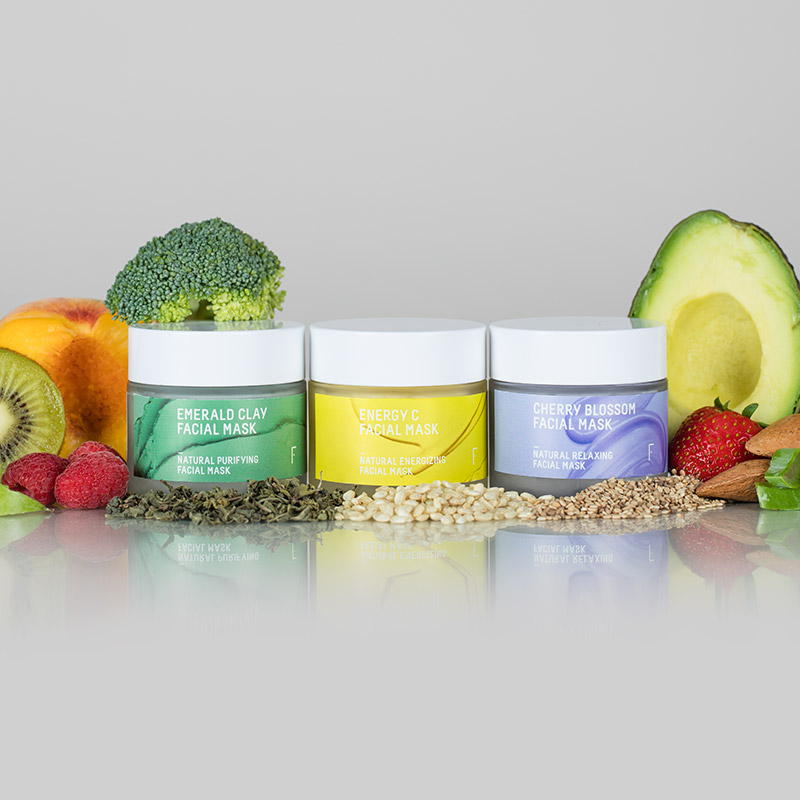 Complete your routine