HOW CAN I GET LESS EYE WRINKLES & EYE BAGS?
---
Let's get down to  business. Did you know that the first signs of skin ageing start to appear around the eyes?  These are the so-called crow's feet, tiny wrinkles that appear on our eye contour. 
Why do the first wrinkles appear around the eyes?
It's pretty simple, the skin around the eyes is 5 times finer than that of the rest of the body, so it is a delicate area and the early ageing signs appear faster. But hey, let's not talk about ageing as a bad thing, because it isn't, let's just embrace and take special care of the areas that are more fragile. 
Here is why the eye area is more delicate:
The eye contour tends to dehydrate much more easily than other areas of the face, accelerating the appearance of wrinkles and signs of skin ageing.
The eye contour has a tendency to have puffiness, which is why dark circles, bags, drooping eyelids and expression lines can appear.
Very often, the eye contour area lacks elasticity due to a loss of collagen, a protein that prevents sagging, wrinkles and other signs of skin ageing, which decrease after you are 25. 
Early ageing signs can be seen in the eyes, but hey, this is not alarming, wrinkles show where smiles have been, so instead of treating it as a thing that should be at all times avoided, let's just give extra love to the areas that need it the most.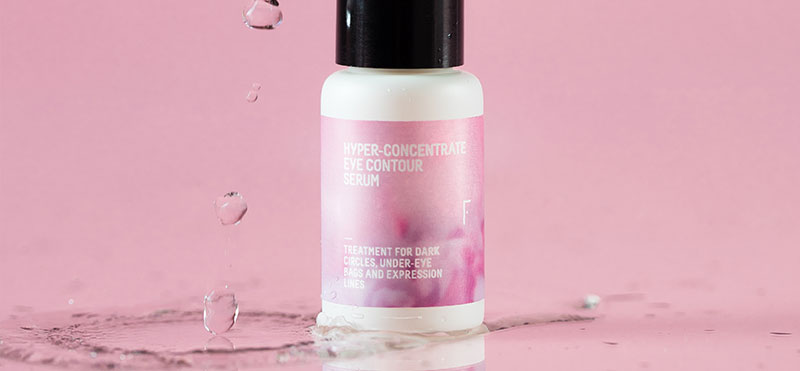 Why do the first wrinkles appear around the eyes?
The eyes never lie! So if you have any of the puffiness, dark circles, expressions lines, and you want to take care of them, this is for you:
Eye contour serum - 15ml
Price
35,95 €
Regular price
Provides extra care and smoothes the eye area
Firms, hydrates eyelids
Minimises dynamic and static expression lines
Helps with puffiness
Prevents uneven pigmentation
Brightens the gaze
Let's talk about specific results:
Treats uneven pigmentation
Reduces spots by up to 54%, as well as melanin in hyperpigmented areas.
Reduces puffiness and dark circles
Thanks to its anti-inflammatory action, it reduces puffiness and dark circles under the eyes and gives a feeling of freshness, giving the area a rested and relaxed appearance. 
Acts as an eyelid lifter
Raises the eyelid by up to 27%, producing a lifting effect that reduces the surface area of wrinkles by 60%.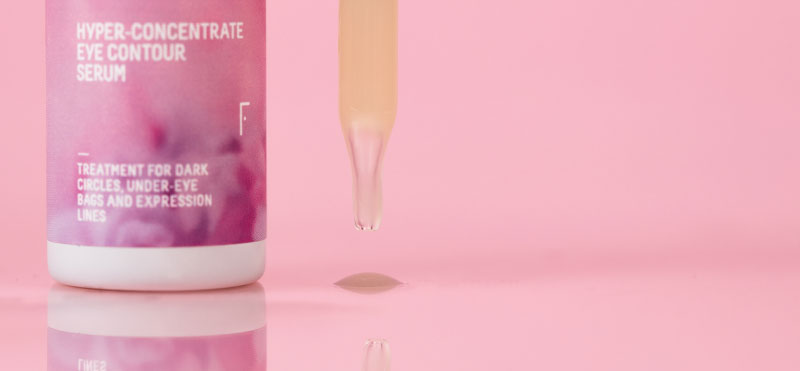 The Hyper-Concentrate Eye Contour Serum is suitable for all skin types, including the most sensitive.
How to get rid of bags under the eyes
Sleep 8 hours. 
Apply sunscreen, always. 
Avoid smoking or drinking 
Water. Water. Water. A lot.
Keep the area hydrated with a good eye contour 
Here's how to use one
Apply it to clean skin during your AM-PM routine, after cleansing but before moisturising.
Apply one drop of the eye contour to your clean fingers and glide the product through the eye area. 
Spread the product all over the eye contour area by gently tapping it and letting it absorb completely.
You are all set! Give your eye area extra love with natural products, good for you, great for the planet. Oh and remember: The eyes are the window to the soul, keep them extra happy! 
Freshly wants to tell you something! At Freshly we keep on learning every day how to make decisions that bring us closer to a better future. Sometimes we are called dreamers, but what we really have is an optimistic vision and clear path for reaching that tomorrow.
Would you like to join this adventure? If you're here, it's because you are a demanding person when it comes to taking care of your body and the planet. By subscribing to the newsletteryou will receive articles like this one to continue learning, as well as news and exclusive discounts. Are you up for it?