7 REASONS WHY YOU SHOULD BE USING VITAMIN C ON YOUR SKIN.
---
Quick & easy guide to submerge into Vitamin C wonders.
Green Vitamin Concentrate Serum 
Vitamin C is wanted and adored by all skincare lovers, in fact together with retinol and SPF, forms the holy trinity of most used products. We are convinced that whether you're just dabbling in skincare or you are the most knowledgeable friend about it, we bet you have heard wonders about the powerful antioxidant. But are you actually using any Vitamin C products? Is that a no? Keep reading. If it's a yes, you are doing things right.  
Let's start from the beginning. Shall we?
FRESHLY FACTS:  Why vitamin C
Ingredient:  Antioxidant, Ascorbic acid.
Benefits: Protects against free radicals, radiant complexion, reduces expression lines. 
Who should use it:  Not recommended for hypersensitive skin
When/ how often should we use it: Recommended every other day. Skin vitamins are always welcomed. 
Don't use with: Benzoyl peroxide, Retinol, AHAs/BHAs, Niacinamide.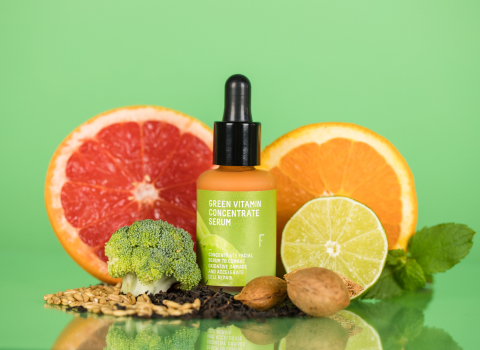 Let's dive into the 7 reasons for using vitamin c on the skin:
Promotes collagen production: When applied topically vitamin C encourages collagen production resulting in a plump and glowy complexion. The extra boost of collagen helps dull skin that has lost its elasticity and can help slow down skin ageing.
Revitalizes sun-damaged skin: Compatible with sun exposure, unlike other actives such as AHA or BHA, Vitamin C can be used together with your sunscreen. We recommend adding it to your morning routine, layered with an +30/50 SPF.
Lightens brown spots: Got dark sun/ acne/ ageing spots? No problem, vitamin C interferes with the production of pigment in the skin, fading dark spots ( improvements can be seen in 3 weeks)
Fights lines and wrinkles: Vitamin C aids in skin regeneration, so when applied constantly, the active helps with skin elasticity resulting in the reduction of expression lines. 
Protects against environmental stressors: Air pollution causes skin damage and favours skin ageing. Vitamin C protects your skin from the free radicals we are exposed to constantly: pollution, UV radiation etc. Stop the premature skin ageing process with the powerful antioxidant. 
Evens out tone and minimize redness: Vitamin C has proven to be the perfect warrior against redness patches. It helps to repair damaged capillaries that cause discolouration. Providing an even tone. 
Hydrates thirsty skin: Perfect for skin that needs a boost of moisture. Dull skin or extremely dry complexion will absolutely adore Vitamin C. It also helps skin retain water, so it prevents super dry or extremely oily skin.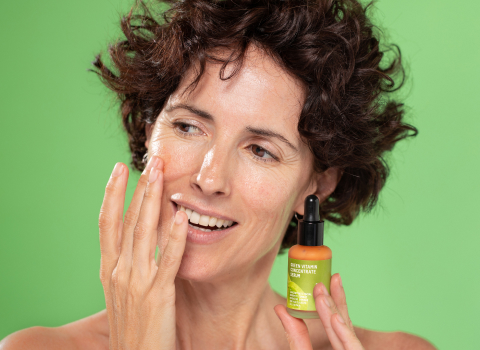 Convinced? We recommend you incorporate Green Vitamin Concentrate serum into your daily skincare routine, a hearty warrior against free radicals & dull skin. 
A note:
To preserve your Green Vitamin Concentrate serum store it in a dark place, without sun exposure. If you want to improve your vitamin C intake, we also recommend acerola, which will help you boost your vitamin C levels.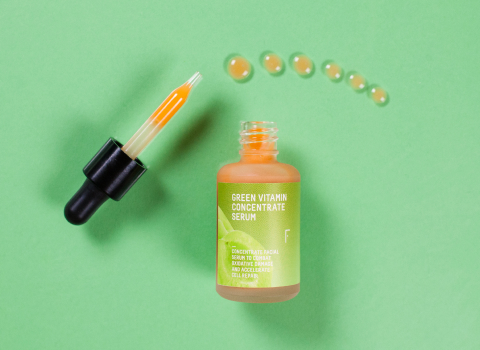 What do you think about it? We'd love to read your opinion!
---