📦GET FREE DELIVERY ALWAYS | 24/48 HOUR DELIVERY
5 TIPS TO CONTROL FRIZZY HAIR!
---
What is frizz?
Who hasn't had a day with unmanageable hair? If your hair curls easily, your hairstyle is difficult to control and at the end of the day you end up with a careless look; you have to know that this not only happens to you. This is produced by the frizz effect. It is caused because of the static electricity produced by hair friction, so your hair loses its natural form.
Why does frizz happen?
Frizz is mainly caused by dehydration. When your hair is dehydrated, it becomes brittle and breaks more easily, causing frizz. Environmental conditions and changing weather also damage your hair. Humidity, wind, rain or low temperatures damage the cuticle, the outer part of the hair, causing your hair to lose its shape and control. A regular exposure to sunlight, the use of hair dyes and the heat of hair dryers and straighteners we use every day also cause a dehydrated and dull hair. You should pay attention! Dry hair, hair with damaged cuticles and curly hair are the first to suffer from frizz.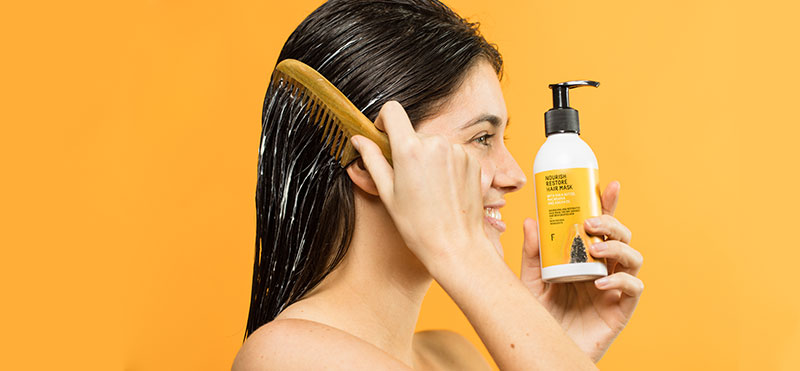 5 Tips to avoid hair frizz
1- Read the label of the products to avoid annoyances. You won't have to change your shampoo every now and then. Avoid hair products that contain sulphates and silicones. These ingredients end up drying out the scalp and damaging the cuticles, as well as leaving your hair clumped and without a body. If you wash your hair daily with a sulphate shampoo you should know that you remove the natural oil from your hair and this is how you facilitate frizzy hair. The best option is to use a natural shampoo free from silicones and sulphates.
2- Use a special anti-frizz natural conditioner that hydrates your hair and helps restructure dry and damaged hair while increasing its resistance, nutrition and hydration at the same time. With a conditioner free from sulphates and silicones you will be able to maintain the original structure and shape of your hair. Apply it on the mid-lengths and tips, which are the areas that suffer the most dehydration. If you have thin hair, don't apply it on the roots, it could leave a dirty look. Also, if you have oily hair, it is not necessary to use the natural conditioner in each wash.
3- Use a natural detangling spray to moisturise your hair when right after washing it. This spray makes styling easier, protects your hair from thermal damage, and fights frizz.
4- Use a nourishing hair serum is ideal to reinforce the hair fibre and provide protection against external agents. It gives more shine and immediate smoothness to your hair. Include in your daily routine a hair serum. Apply it on wet hair without the need for rinsing.
5- If your hair needs an intensive hydration, use a natural hair mask at least once a week. What will we get with the application of a natural mask? Deeply nourish your hair, restore the shine of the hair fibre and repair the damage caused by free radicals - all by wrapping your hair in the best natural perfumes!
6- Other useful tips to combat the frizz effect are to finish the wash with a jet of cold water, so the cuticles are sealed, dry the hair well with a towel without rubbing so as not to charge the hair with static electricity, and brush your hair to detangle before washing.
Discover all the Freshly products to detoxify your hair from silicones and sulphates! Try the Haircare Intense Detox Plan to fight frizz, boost shine, nourish and soften it.
Leave a comment on this post or on our Blog, and share your impressions and your Freshly Experience with us. Your opinion is very important! Come back soon to our blog, new content comes every week.
What do you think about it? We'd love to read your opinion!
---