NOURISH RESTORE HAIR MASK, THE HAIR MASK THAT WILL RESTORE AND PROTECT YOUR HAIR
---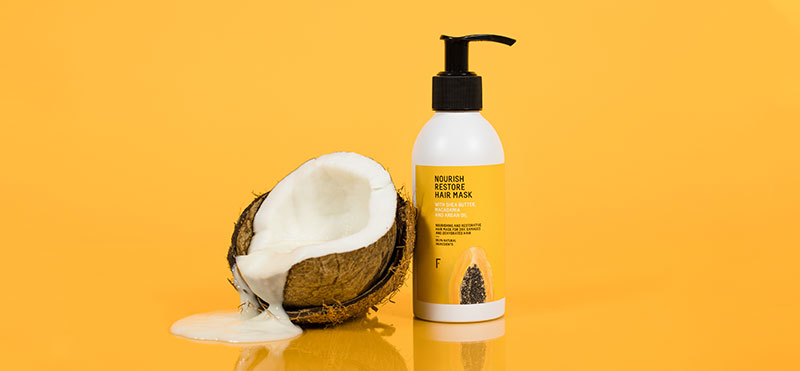 Are you looking for a nourishing, repairing, anti-fall, and protective hair mask all-in-one? An unprecedented treatment that will nourish, repair and protect your hair with a high concentration of the most natural plant-derived oils, resulting in a revitalised hair, hydrated and with more shine and health. It is the Nourish Restore Hair Mask.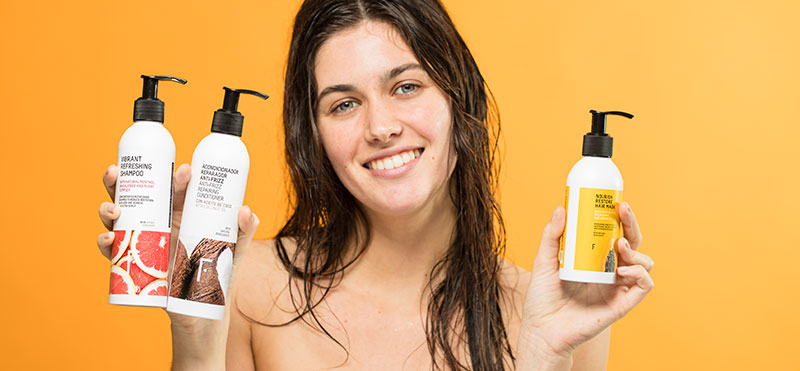 This mask nourishes in depth. Dry and dull hair is an obvious sign that your hair needs some care. The intense hydrating action of a hair treatment rich in high-quality non-greasy plant-derived oils counteracts the lack of hydration of dry, damaged, and dehydrated hair. It restores the shine of hair fibre up to 88.5%!
It repairs damaged hair. Pollution and PM 2.5 particles directly impact the natural keratin. These heavy metals deposit on the hair and leave it rough and dull. If we add to this the damage of other external agents such as solar radiation, chlorine or salt, especially in summer, this repair mask will become an essential part of your hair routine! For both dry and oily hair, it works by repairing damaged hair sealing and compacting hair cuticle.
Let the product sit! Think carefully about the day of the week that you will apply your hair mask as you will need a little more time than usual. Not suitable for the impatient! It won't do you any good to apply and rinse immediately because you haven't given the natural active ingredients time to penetrate the hair fibre. If you want to notice the effects, let it work for 3-5 minutes! On those days when you have more time, you can even extend it to 10 minutes to boost the benefits. Take advantage of this time to perform a body exfoliation or lather your body. And finally, rinse with plenty of water to remove the residues of up to 7 non-greasy plant-derived oils that you have applied on your hair. And remember, repeat this routine at least once a week!

Exotic cocktail! Chia, argan, macadamia, rosehip, avocado... Mix the oils!
Plant-derived oils are the key ingredient in every hair mask. And you might ask, what is it about oils that work like magic? The key is in the combination of these and their concentration. Their natural origin assures an intense hydration without the use of silicones, so you don't block the pores and have healthier hair.
These oils act on the hair treating split ends and protecting it against free radicals. Natural active ingredients such as avocado oil, almond oil and shea butter penetrate the hair fibre, protecting it from UVA and UVB rays and preventing the degradation of keratin, which is what causes frizz and loss of shine. The Nourish Restore Hair Mask has a high concentration of the best plant-derived oils included in the same formula. These are some of the most outstanding:
- Chia seed oil is rich in antioxidants and restores hair shine after two applications.
- Argan oil contains vitamin E, Omega 3 and omega 9, and provides high nutrition to your hair.
- Rosehip oil improves hair fibre protection and increases shine.
- Macadamia nut oil increases hair's resistance from the root. It also strengthens and rejuvenates your hair.
Innovative technology for dull and dry hair
A hair mask is not only powerful because of the concentration of plant-derived oils in its formula, but also because of the innovative active ingredients that are incorporated. Freshly Cosmetics, once again surprises with its innovative formula. Soy Complex and Active Keracyn have been introduced in this hair mask. Two natural active ingredients obtained from soy and artichoke to increase hair fibre, reduce hair breakage, and maintain the shine and softness of a nourished and healthy hair.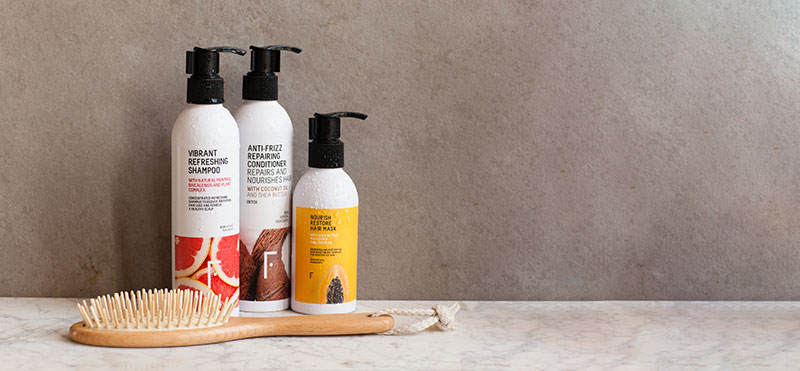 Get the most out of your Nourish Restore Hair Mask with the Haircare Restore Detox Plan. How?Making the hair that grows from the roots to be as healthy as possible, using natural products. What will you find in this pack? The Vibrant Refreshing Shampoo perfect to detoxify your hair from sulphates and silicones. Anti-Frizz Repairing Conditioner to control frizz and provide antioxidants to your hair. And finally, the Nourish Restore Hair Mask to deeply moisturise your hair thanks to the combination of 7 high quality plant-derived oils. It's time to have a hair full of health from root to tip!
Buy the new Nourish Restore Hair Mask! Get it from the Freshly Cosmetics online natural cosmetics shop and get rid of damaged, dull hair.
Leave a comment on this post or on our Blog, and share your impressions and your Freshly Experience with us. Your opinion is very important! Come back soon to our blog, new content comes every week.
We at Freshly Cosmetics create natural cosmetics (all of our formulas contain over 99% natural, sustainable and vegan ingredients) based on scientific knowledge and studies. We aim to make people aware of the effect cosmetics have on their skin. We are scientists with a strong desire to change things and help people take better care of themselves, consciously.
Would you like to join this adventure? Subscribe to our newsletter to receive news and articles like this one and become a cosmetics expert... and more!