How to have perfect eyebrows?
---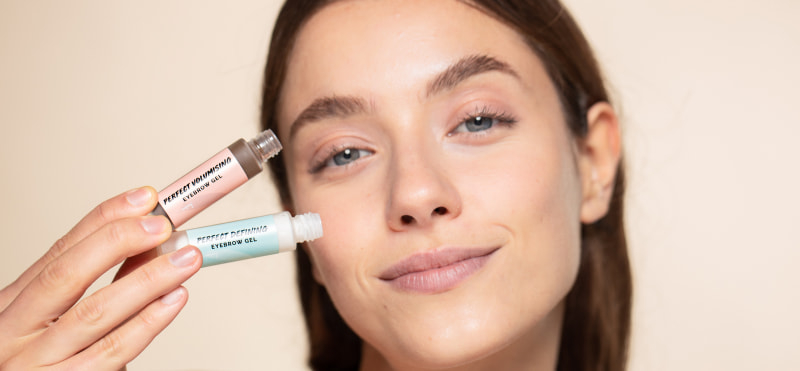 There are multiple things you can do to get voluminous brows, starting with the number one eyebrow rule: Do not plug them yourself (if you're not an expert, of course) you can take off a hair here and there, but do not shape them with tweezers. Just keep it at a minimum. Alright? 
Now the fun bit, eyebrow products, in particular tinted or clear brow gels. With brows, there's no right or wrong, you can literally go for a bold voluminous brush using a tinted brow gel to fill in any little spaces and add volume. You can always choose or a swipe of clear gel brow to keep them in place.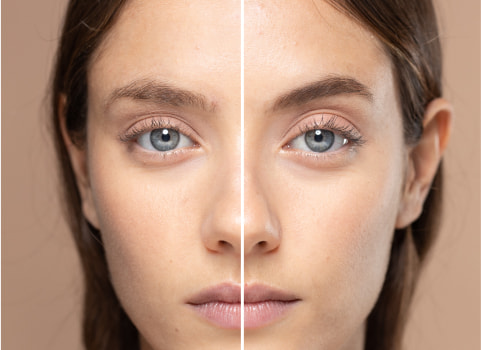 Apply your products right! Huge tip. When it comes to brow gels, the technique is everything (and their formulation, obvs) To get a natural finish,  apply your products in a flicking upward motion following the direction of your hair, so your eyebrows look lifted. 
Start light and build it up! That's key. To make them look as natural as possible, start with a light flicking brush, and go from there. Dark is good, but we've got to do it right, so it looks like your brow. 
And last but not least, start applying your product from the centre of the eyebrow, so it looks more realistic and less "clumpy". This can often happen when we apply tinted brow gels on the parts that we naturally don't have as many hairs, that is,  the beginning and the tail of the brow. 
Now here's a little brow guide, to help you choose if you want to go for a sleek finish or voluminous brows. You make the rules! 
Clear Eyebrow Gel
A clear gel is perfect for those that are looking for a quick fix. If your eyebrows are kind of rebellious, this will bring them back to where they belong. It actually looks like you've got them freshly done. It also works wonders if you are trying to do a bold makeup look where you need brows as still as possible.  Also, if you want to shape your brows without adding colour, just a slight lift, this is definitely your thing. 
Time for the Perfect Defining Eyebrow Gel, also known as a clear brow gel will give you the effect you're looking for. We've decided to give the product a fancy name to match all the fancy ingredients it has. Here's the vegan recipe for perfect brows.  
 • Rice Wax, to provide extra hydration, we want glossy brows. 
 • Castor oil, stimulates growth. 
 • Chia oil, provides shine and strength.
 • Silver lime, lifts and thickens lashes.
 • Purple Gromwell, an anti-inflammatory soothing active (perfect to tamp down redness when you get your brows done)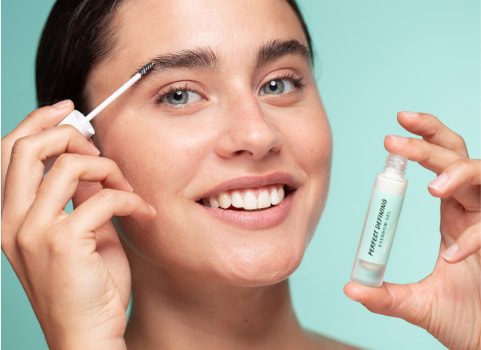 Tinted Eyebrow Gel
We've all felt the struggles of funky eyebrows or bald little spots here and there. And the truth is that brows shouldn't be perfect (how boring!) give them character, fluff them, move them around and feel confident rocking a bold brow look. 
Now if we want to give them an extra something and make them stand out, you've got to do it right with a tinted brow gel that helps both cover those tiny spots and give them some colour. 
The Perfect Volumising Eyebrow Gel will definitely meet your brow standards. Powered by vegan natural goodness, this gel is ready to provide a flexible hold with a natural pop of colour that will most likely become a must in your makeup routine.
If your brows are over-tweezed, it takes up to four months to see them fully grown again. Here's where our tinted eyebrow gel comes into play. Comb the inner part of the eyebrows upwards, the middle part outwards and the end downwards.
Now, you could also use a pencil to cover those spots, but the results are not as natural as the ones with a brush. As far as colour goes, we've got two shades a dark one and a lighter one.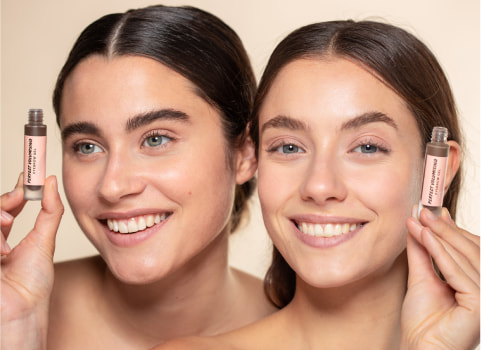 Should I get the clear or tinted eyebrow gel? 
Here's a little help if you are not quite sure what gel to choose. A tip, get both, you never know your brow mood! In fact, both gels provide moisturise, strengthen and repair eyebrows, making them healthier, stronger and shinier with every application.
Their natural formulas contain vegan waxes and vegetable oils rich in vitamins, antioxidants, fibre, and minerals that also stimulate eyebrow growth.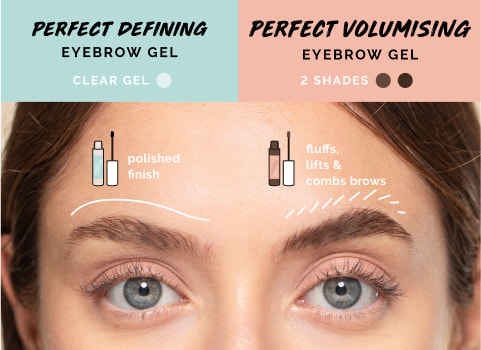 If you like this post, don't forget to leave us a comment and make sure to share it with all of your brow lovers! For more info on the latest makeup trends, come see us again at freshlycosmetics.com
What do you think about it? We'd love to read your opinion!
---