ALL YOU NEED TO KNOW WHEN SWITCHING TO A SHAMPOO FREE FROM SULPHATES AND SILICONES
---
Hair detox process is the procedure by which your hair is freed from silicones and sulphates. Thanks to natural ingredients your hair will recover its natural processes and will make the new hair, that is growing, to be as healthy as possible.
Why is it necessary a hair detox process?
Conventional hair care products contain silicones and sulphates that are very aggressive to your hair. Why is this? Sulphates are powerful detergents that not only dissolve dirt, but also eliminate the natural oils that our body produces. Their continued use can cause problems of irritation, itching, dryness or even hair loss. Silicones act as emollients and cuticle sealants. They tend to accumulate residues in each wash. In the long run, this situation causes the hair to become dirtier more easily, generating a dependency on the use of shampoos which in turn deteriorate the hair fibres and scalp.
To free our hair from all these aggressive ingredients it is necessary to use hair natural products that contains plant-derived ingredients such as organic coconut oil, rooibos tea, horse chestnut or aloe vera; and detoxifiers, such as the natural active ingredients of apple vinegar, pomegranate and verbena..
We warn you that this detox process is not instantaneous. It takes time for your hair to completely detach from these substances and start working naturally. That's why we will help you with your hair detox process by explaining its 4 stages:
Stages of hair detox process
- Previous stage: before starting to use a shampoo without sulphates or silicones you should know that silicones create a layer that prevents contact of the hair fibres with the outside, not allowing moisture to penetrate them, so internally the hair is dry and dull. Let's free your hair!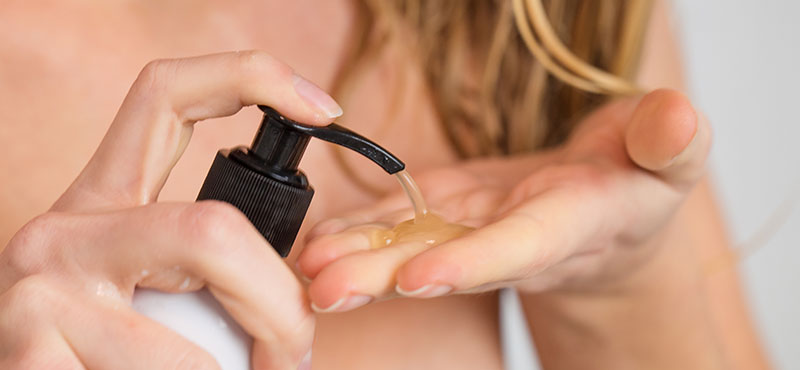 Haircare Detox Plan
- Detox stage: once you start the hair detox process applying on your hair a natural shampoo like the Vibrant Refreshing Shampoo, you will notice that it does not foam. This is one of the characteristics of natural shampoos, but their cleansing power is equally effective. The first few days your hair will have a "frizz" effect, harsher than normal, which actually corresponds to the natural look of your hair once it has detoxified from silicones and sulphates. Your hair will gradually create oils that will naturally hydrate your hair..
During this detox stage and throughout the washings, we recommend the application of our Detox Anti-frizz Repairing Conditioner. If you use this conditioner you will get a manageable and hydrated hair thanks to the contribution of natural high-quality ingredients. We have something more! To make this detox process more bearable, apply the Nourish Restore Hair Mask twice a week, replacing the use of the conditioner on those days, to provide extra nutrition and protection to your hair.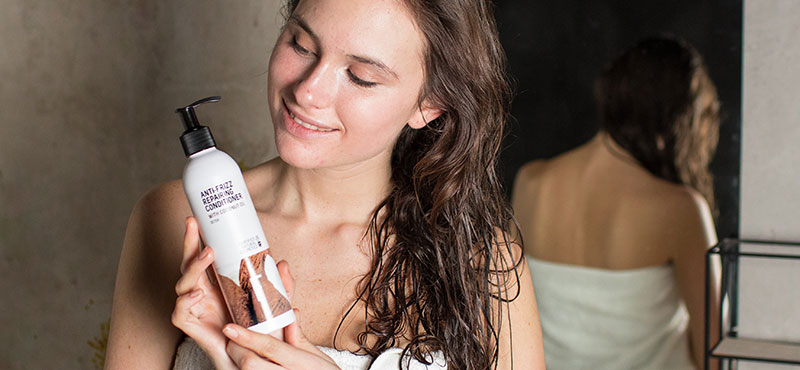 - Post Detox stage: after 2 or 3 weeks detoxifying your hair, you will begin to notice your hair much healthier, with a silky look and a "push up" effect after having freed us from the accumulation of silicones. You will also notice that the itching on the scalp is reduced, your hair will be stronger, and the fall will diminish. Even though this is not the last stage, you will love your hair!
- Final stage: you can finally see the benefits of your hair detox process after a few months. You must be patient; every effort has its reward! Your hair will recover all its natural functions and will look healthy, strong, natural and shiny. You will also notice that your hair is clean for longer.
Once all these stages are over, your detox process will be over. Remember that all Freshly products are suitable for daily use and it is advisable to be consistent in your hair routine to always have a healthy hair.
Leave a comment on this post or on our Blog, and share your impressions and your Freshly Experience with us. Your opinion is very important! Come back soon to our blog, new content comes every week.
We at Freshly Cosmetics create natural cosmetics (all of our formulas contain over 99% natural, sustainable and vegan ingredients) based on scientific knowledge and studies. We aim to make people aware of the effect cosmetics have on their skin. We are scientists with a strong desire to change things and help people take better care of themselves, consciously.
Would you like to join this adventure? Subscribe to our newsletter to receive news and articles like this one and become a cosmetics expert... and more!
COMMENTS
MixNub

3 March 2020

i am looking for help

hi guys :). I am looking for help for me and my girl. i am from France

Freshly 3 March 2020 Hi! I'm Maria, from the Freshly team, nice to meet you! We will be happy to help you, you can write to us at [email protected] or at @freshlycosmetics_fr on Instagram. We're sure that you would love all the Freshly products! Thank you!
No se han podido cargar las demás opiniones