Let's talk about mental health
---

When we talk about self-care, we rarely focus on our mental and emotional well-being and that is a mistake. Anxiety, depression, stress, and self-esteem issues are very prevalent problems in our society. According to the office for national statistics one in 5 adults experienced some form of depression in early 2021 in the UK. 
Let's talk about it, let's raise awareness and normalise going to therapy!
A good mental state needs work. It doesn't happen from day to night but practice makes perfect and mindfulness routines can really change the way you feel. 
Let's start with self-care. Taking care of yourself and setting time aside for your thoughts, passions or loved ones can be the start of a healthy mindset. Doing things that fill your heart can be a meditative practice that can improve the way you feel. We are creatures of habit, so when we follow a healthy routine eventually we end up feeling more accomplished. 
The impact of mental health on physical health
It's all linked. Your skin knows what's up. If you take good care of your mental health your skin will most likely follow ( as long as you don't have any hormonal change or issue involved in the equation). Here are some healthy self-care tips & tricks to make you feel relaxed and at ease. 
· Take into consideration your feelings. Listen to yourself, is there something bordering you internally? Talk to someone. It can be friends or family at first, but also a therapist that can guide you through this journey. 
· Follow a routine that makes you happy. It can be your skincare routine for instance, a safe place where you can relax, put on some nice tunes, think about your day or what good things you've accomplished. Focus on YOU. Make those little routines something you look forward to every day. 
· Stress and anxiety can affect your skin, in fact, they do. When feeling stressed or anxious we recommend leaving everything  you're doing and taking 10 minutes to go on a walk, go outside, clear your mind, talk to your therapist or write your feelings down. 
· Understand your skin and body and take control. As we said, mental health manifests through your body in the form of rashes, breakouts or even headaches. Link those to your mental health and try to focus on it first. One issue at a time. Mindfulness is a good practice to channel anxiety or stress. Pick a moment of your day to focus on your feelings. 
· Caring for yourself is an act of kindness. We spend our days doing things for others. Work, children, friends, partners. Make sure you are loving yourself at least once a day. This can manifest in many forms: a nice meal, some exercise, reading, designing . You name it! But pampering ourselves and making more of what fills our soul makes us produce Oxytocin, a hormone that encourages psychological and emotional mechanisms that help us connect better with ourselves.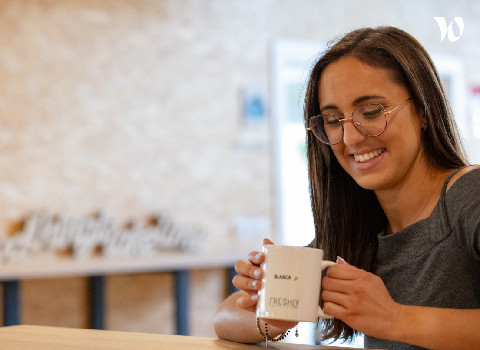 FRESHLY RECOMMENDS
Here are some apps, books and activities our team loves when it comes to relaxing time. 
APPS: 
· happyfy:  Reduce stress while learning life-changing habits. 
· Headspace: The meditation app for a mental reset. Perfect for anxiety moments. 
· BetterHelp:  Talk to qualified therapists within the comfort of your home. 
BOOKS: We could recommend a few books on the topic, but we believe that reading about what really makes you happy is what will create the healthy routine we were talking about. Our tip for you is that you start reading that book you have been putting off. 
ACTS OF KINDNESS FOR YOU FROM YOU
Self-care routine: skincare love, a good old bath, a fresh cut, a new show, joining a club, a weekend with friends, a weekend for you. A good meal, your fav restaurant. Nice toasty fresh sheets, decaf coffee. Listening to podcasts. Turning off your phone, connecting with others. Exercise and feel good about your body. A trip to the mountains. You name it. Make sure you accomplish one every day, without pressure. 
That 's it.  Happy mind, happy life! Please talk to someone if you are struggling. The outcome can be highly beneficial. FRESHLY LOVES YOU.
What do you think about it? We'd love to read your opinion!
---