Why should you use a bamboo Toothbrush? Discover its benefits!
---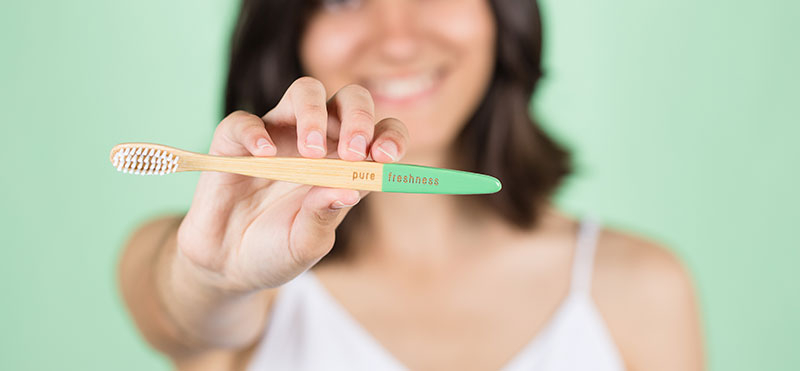 Did you know that…?
Plastic toothbrushes represent 1% of the waste in our oceans. We're used to changing them every 3-4 months, so every year we throw away more than 4.5 billion plastic toothbrushes.
What's the problem with conventional toothbrushes?
Conventional toothbrushes are made of different types of plastics so they cannot be recycled and they take more than 400 years to decompose, ending up in our oceans, damaging marine life. But hey, we've got good news, you can change that! 
Bamboo Pure Freshness Toothbrush: an eco-friendly choice
At Freshly Cosmetics we follow a healthy, eco-friendly and natural lifestyle, taking care of people, animals and the environment. We created a sustainable choice for all of you that are wanting to change your habits, the bamboo Pure Freshness Toothbrush, an eco-friendly alternative to traditional plastic toothbrushes.
The Pure Freshness Toothbrush is a natural, vegan, eco-friendly and cruelty-free toothbrush made out of biodegradable bamboo with Nylon 6 bristles. Bamboo is a flexible and resistant plant that grows very quickly and has antibacterial properties that allow cultivating without using toxics. We use Nylon 6 which allows avoiding the use of animal bristles. We like taking care of every detail, so we've designed a packaging that is 100% recyclable and plastic-free. 
The brush, effectively cleans your teeth and mouth, thanks to its ergonomic design and flexible bristles for the best oral hygiene.
The Pure Freshness Toothbrush and the Pure Freshness Toothpaste will take care of your gums and teeth, respecting the planet. Get them together in the Pure Freshness Pack, and enjoy!
Do you know the benefits of our bamboo toothbrush?
- It reduces the environmental pollution and plastic waste in our oceans.
- It uses eco-friendly materials like bamboo.
- The antibacterial properties of bamboo allows cultivating the plant without using toxics.
- Protects marine life
Do you know the benefits of our toothpaste?
- It includes natural xylitol which has an anti-caries and re-mineralising action.
- It reduces the growth of plaque thanks to the natural Inulin and Oligosaccharides Alpha-Glucan prebiotics.
- It whitens the teeth, hydrates and keeps the mouth healthy, thanks to vegan hyaluronic acid and organic coconut oil.
How to properly recycle your toothbrush
Separate the bristles from the handle using tweezers, then put them in the non-recyclable waste bin. After removing the bristles, place the bamboo in a composting or organic container and after a few months, it will be completely decomposed.
Leave a comment on this post or on our Blog, and share your impressions and your Freshly Experience with us. Your opinion is very important! Come back soon to our blog, new content comes every week.
We at Freshly Cosmetics create natural cosmetics (all of our formulas contain over 99% natural, sustainable and vegan ingredients) based on scientific knowledge and studies. We aim to make people aware of the effect cosmetics have on their skin. We are scientists with a strong desire to change things and help people take better care of themselves, consciously.
Would you like to join this adventure? Subscribe to our newsletter to receive news and articles like this one and become a cosmetics expert... and more!