Why should you use a bamboo Toothbrush? Discover its benefits!
---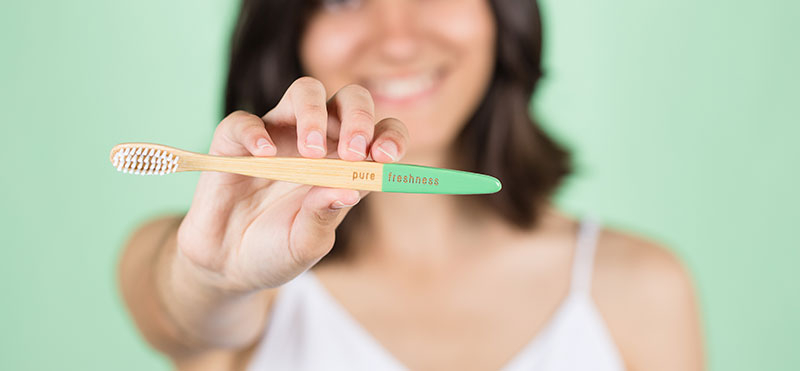 Did you know that…?
Plastic toothbrushes represent 1% of the wastes in our oceans. We're used to change them every 3-4 months, so every year we throw away more than 4.5 billion plastic toothbrushes.
What's the problem with conventional toothbrushes?
Conventional toothbrushes are made of different types of plastics so they cannot be recycled and they take more than 400 years to decompose, finally ending up in our oceans, damaging marine life. But we also have good news... We can stop it!
Bamboo Pure Freshness Toothbrush: an eco-friendly choice
At Freshly Cosmetics we follow a healthy, eco-friendly and natural lifestyle, taking care of people, animals and environment. That's why we wish to stop pulling our oceans with plastic toothbrushes. We created the new bamboo Pure Freshness Toothbrush, an eco-friendly alternative to traditional plastic toothbrushes.
The new Pure Freshness Toothbrush is a natural, vegan, eco-friendly and cruelty-free toothbrush made of biodegradable bamboo with Nylon 6 bristles. Bamboo is a flexible and resistant plant which grows very quickly and has antibacterial properties that allow to cultivate it without using toxics. We use Nylon 6 that allow to avoid animal bristles. We like taking care of every detail, so we made a plastic-free and 100% recyclable or compostable packaging for the new Pure Freshness Toothbrush.
It effectively cleans your teeth and mouth, thanks to its ergonomic design and flexible bristles for the best oral hygiene.
The Pure Freshness Toothbrush and the Pure Freshness Toothpaste will take care of your mouth, respecting the planet. Get them together in the Pure Freshness Pack, and enjoy!
Do you know the benefits of our bamboo toothbrush?
- It reduces the environmental pollution and plastic waste in our oceans.
- It uses eco-friendly material as the bamboo.
- The antibacterial properties of bamboo allow to cultivate it without using toxics.
- It has a biodegradable handle that easily deteriorate.
- Sea animal will eat less plastic.
Do you know the benefits of our toothpaste?
- It includes natural xylitol which has an anti-caries and re-mineralising action.
- It reduces the growth of plaque thanks to the natural Inulin and Oligosaccharides Alpha-Glucan prebiotics.
- It whitens the teeth, hydrates and keep the mouth healthy, thanks to vegan hyaluronic acid and organic coconut oil.
How to proper recycle it?
Separate the bristles from the handle using pliers, then put them in the non-recyclable waste bin. After removing the bristles, place the bamboo in a composting or organic container and after a few months it will be completely decomposed. The Pure Freshness Toothbrush is the best choice for your smile, and for the planet.
Leave a comment on this post or on our Blog, and share your impressions and your Freshly Experience with us. Your opinion is very important! Come back soon to our blog, new content comes every week.
What do you think about it? We'd love to read your opinion!
---
COMMENTS
Cristina

1 March 2021

Spedizione

Ciao, mi chiedevo, ma se molta gente si convertisse a questo spazzolino e quindi facesse partire delle spedizioni con destinazione dall' altra parte del mondo, non causerà in ogni caso molto inquinamento? O è comunque conveniente facendo il paragone con l'inquinamento da spazzolini di plastica?

Freshly 1 March 2021 Ciao Cristina, sono Klaudia del Freshly Team. È sempre bello ricevere queste domande e notare che altre persone tengono all'ambiente tanto quanto noi. Come avrai letto nell'articolo, oltre al fatto che gli spazzolini in plastica impiegano fino a 500 anni per decomporsi e che in media ne gettiamo oltre 4 miliardi e mezzo, c'è da considerare il fatto che per produrli viene usato il petrolio. Sono ormai tante le alternative ai classici spazzolini in plastica e siamo sicurissimi che ti troverai molto bene con il nostro Pure Freshness Toothbrush. Un abbraccio

Ana

29 September 2019

duracion del cepillo

mi primera pregunta es saber cuanto dura este cepillo y la segunda es donde los podemos encontrar y si hacen envios , adonde los pueden enviar?

Freshly 29 September 2019 ¡Hola, Ana! Aunque dependerá un poquito de los usos que le des, calculamos que el cepillo te puede durar entre 3 y 4 meses aproximadamente. Puedes conseguirlo en nuestra web, hacemos envíos a toda España, y distintos países de Europa. ¡Te va a encantar! Un abrazo

ADRIANA INES CANDUCI

14 June 2019

Comercializar lÍnea

Mi socia y yo queremos comercializar la línea de cepillo de dientes y pasta dentífrica ...la idea es de manera exclusiva en Argentina....de haber posibilidades seguimos en contacto.Muchas gracias.Elena Granados y Adriana Canduci

Freshly 14 June 2019 ¡Hola, chicas! Por el momento no trabajamos en Argentina, ¡esperamos poder hacerlo pronto! Mil gracias por vuestro interés en nuestro cepillo y pasta de dientes Pure Freshness. ¡Feliz día!