DOUBLE CLEANSING ROUTINE, WHAT IS IT AND HOW TO DO IT
---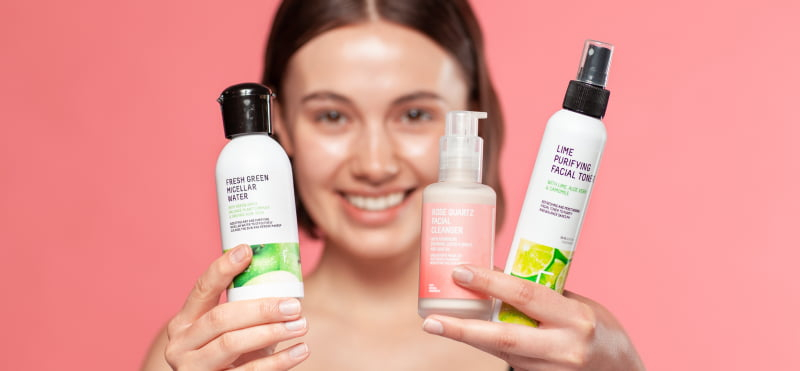 The double cleanse is already a must in the skincare routine world but,   but what exactly is it? What does it consist of? and what are its benefits? If you want to know all of the secrets, keep reading 
What is a double facial cleansing?
In order to make our facial skin look healthy, luminous, fresh and soft, a good cleansing is essential; not only to remove makeup but also to eliminate residues, sweat traces of makeup and all that jazz.
The double cleansing routine comes from Asian beauty rituals. It consists of applying two products instead of one to carry out a proper facial cleanse. Firstly, apply a water- or oil-based cleaning product to remove makeup and impurities. Usually these products (makeup remover, balm, or micellar water) do not need rinsing. After this, you should apply a product containing soap, such as a cleansing gel, that needs to be rinsed out with water in order to complete the double cleaning routine. You can choose what works best for you, if an oil-based product or a water one.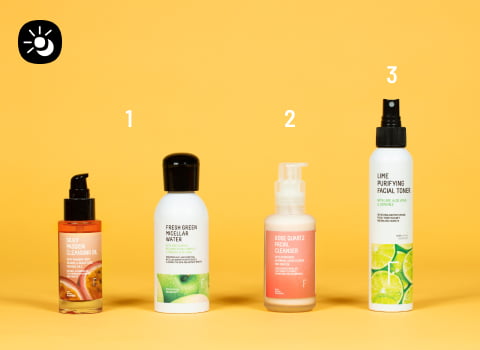 Double cleansing routine step by step
Ready for a step by step double cleansing routine with the perfect products?
The Super Cleanser Trio contains the Fresh Green Micellar Water, the Rose Quartz Facial Cleanser and the Detox Purifying Facial Toner, The newest addition to the double cleansing routine is the Silky Passion Cleansing Oil. The 4  products you need for a perfect facial cleansing routine.
Let's dive into it! 
Step 1: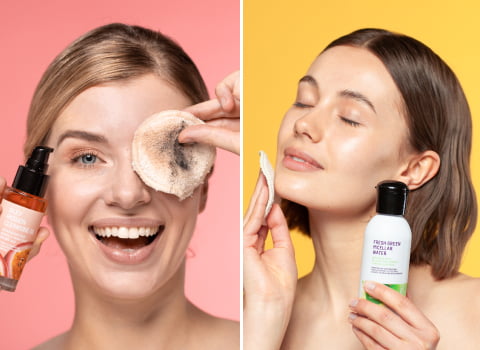 First apply Fresh Green Micellar Water or the Silky Passion Cleansing oil to your skin. Both products, gently remove impurities and traces of makeup, respecting the skin barrier It's up to you if you prefer an oil-based product or a water-based one! 
Apply the products on a reusable cotton pad such as our Reusable Organic Cotton Pads, press gently on a specific area and with soft circular motions cleanse your entire face, including the eyes. Avoid unnecessary friction so as not to irritate or redden the skin due to rubbing.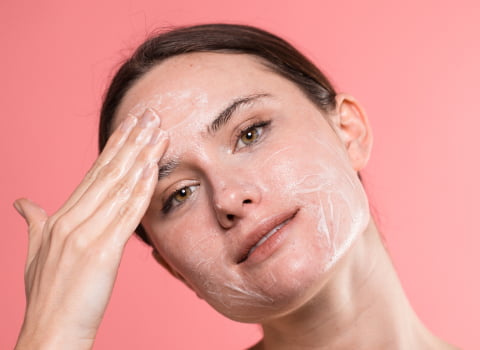 Step 2:
Next, use the Rose Quartz Facial Cleanser for a deep cleansing. Apply two pumps on your hands and rub them a little; then, apply the product on your face previously damp with gentle circular massages. You will stimulate blood circulation and make your skin look luminous.
Then rinse out the product with plenty of water to remove all types of residue and leave the skin completely clean. You will notice that your face is fresh, soft and smooth, with fewer open pores and oil-free. This product also helps to control sebaceous secretion thanks to lotus flower extract.
In addition, you'll notice your skin nice and healthy as it does not irritate or tightens. This product does not contain soap or synthetic surfactants. Its great cleansing effect is due to the natural saponins that cleanse in depth while respecting the delicate facial skin barrier.
Step 3: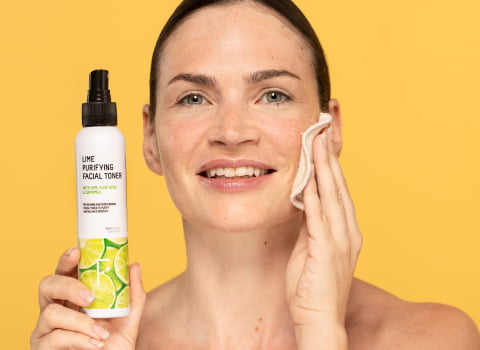 Complete your cleansing routine with Lime Purifying Facial Toner. This toner has ecological aloe vera extract, burdock, and lime acting as a purifying and toner improving the skin's ability to detoxify. Apply the tonic using a reusable cotton pad, on the side you've not yet used. You will be able to balance the pH of the skin, close pores, refresh and purify the skin. Now you are ready to continue with the next step: hydration.
Benefits of the double cleansing routine
The benefits of a double cleansing routine are innumerable, since it performs a deeper cleansing avoiding that any type of residue, makeup, or sweat remains in your skin.
By doing a double cleansing routine you will illuminate, revitalise, and improve the texture of your skin, fighting dull skin. Moreover, with a completely clean face, your skin will be able to absorb the products that you apply afterwards more easily. Another important fact is that you prevent the accumulation of oil and the appearance of pimples caused by dirt and makeup residue.
A note: Use all the products mentioned with the Reusable Organic Cotton Pad to help the planet thrive by not generating extra residues. Plus they are soft and washable! Together with the Reusable Organic Cotton Pads to achieve an even more complete double cleansing routine. What are you waiting for? Try it now!
Leave a comment on this post or on our Blog, and share your impressions and your Freshly Experience with us. Your opinion is very important! Come back soon to our blog, new content comes every week.
Freshly wants to tell you something! At Freshly we keep on learning every day how to make decisions that bring us closer to a better future. Sometimes we are called dreamers, but what we really have is an optimistic vision and clear path for reaching that tomorrow.
Would you like to join this adventure? If you're here, it's because you are a demanding person when it comes to taking care of your body and the planet. By subscribing to the newsletteryou will receive articles like this one to continue learning, as well as news and exclusive discounts. Are you up for it?