EASY AND EFFECTIVE NIGHT ROUTINE IN 4 SIMPLE STEPS
---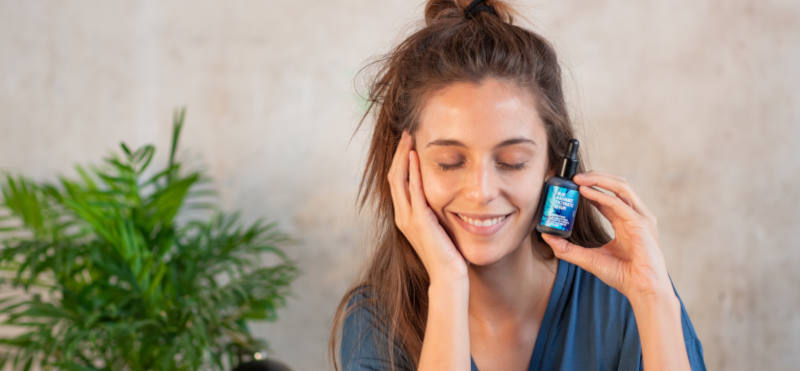 Every morning, when the alarm rings, you perfectly know what to do. You wake up, you take a shower, you clean and hydrate your face, you put on your clothes...etc. But at night? Do you have an established routine? Or are you one of those who comes home exhausted, has dinner and goes to bed? This should change... Your skin also needs care at night. Leave the laziness apart! In 3 simple steps and very short time you'll get the best skin ever. Curious to know how? Pay attention to what's coming!
Simple and effective night routine
Step 1 - cleanse
Before going to bed, it is essential to cleanse your face, not only to remove makeup, but also to eliminate traces of pollution, sweat, sebum and impurities accumulated on skin during the day. All these factors, adding stress, have a negative impact on skin. That's why we have to take care of it every night, applying a natural cleansing gel formulated with plant-derived saponins. How? It's very simple: moisten your skin and massage the gel all over your face, then rinse with warm water. This way you will be able to remove all these residues accumulated on your skin.
* Tip: for even deeper cleansing, use natural micellar water before the cleansing gel. Apply it on a reusable cotton pad and pass it all over your face, insisting on the makeup areas.
Step 2- tonify
Every night it is necessary to use a facial toner after the cleansing gel, to refresh and soothe the skin. This product also helps to eliminate the remaining impurities and toxins, to close the pores and tonify the skin. If you use a purifying toner, you will be able to restablish the pH and moisturise your skin. It will also help the moisturising products that you apply later to better penetrate your skin.
Step 3 - nourish
After cleansing and tonifying your skin, apply 4 drops of Red Velvet Oil Serum over your forehead, cheeks and chin and spread them over your face with a gentle massage. This oil is a real revolution, thanks to its formulation that contains more than 15 plant-derived oils and 5 natural active ingredients to treat wrinkles, expression lines, scars, spots, redness and inflammations. This is the perfect combination to get hydrated, firm, luminous and revitalised skin. Haven't you tried it yet? 
Step 4 - exfoliate
Exfoliation helps your skin to regenerate and look refreshed. You can deeply exfoliate your skin daily without damaging it, thanks to the Blue Radiance Enzymatic Serum. This enzymatic serum eliminates dead cells with only natural ingredients, and boosts skin renewal, giving you radiant, younger-looking skin. This will be the last step in your night routine as your skin will be moisturised and ready to regenerate more easily while you sleep. The next morning remember to cleanse well!
Before you go, we'd like to give you 2 tips:
- Sleep on your back: there are studies that ensure skin can age faster if we sleep in certain positions. If you sleep on your stomach or side, you may cause more wrinkles on your face, neck and cleavage due to the pressure you exercise on them while sleeping. To avoid this, try to sleep on your back as much as possible.
- Put a hand cream so that before sleeping, especially in the cold months, you apply it comfortably. Your hands will never be dehydrated.
With these simple steps, in a few weeks you will notice the results and feel your skin radiant. Don't forget to stop by the natural cosmetics online store to get all the products mentioned in this post.
Leave a comment on this post or on our Blog, and share your impressions and your Freshly Experience with us. Your opinion is very important! Come back soon to our blog, new content comes every week.
We at Freshly Cosmetics create natural cosmetics (all of our formulas contain over 99% natural, sustainable and vegan ingredients) based on scientific knowledge and studies. We aim to make people aware of the effect cosmetics have on their skin. We are scientists with a strong desire to change things and help people take better care of themselves, consciously.
Would you like to join this adventure? Subscribe to our newsletter to receive news and articles like this one and become a cosmetics expert... and more!