Exfoliating facial serum, what is it and why should you love it?
---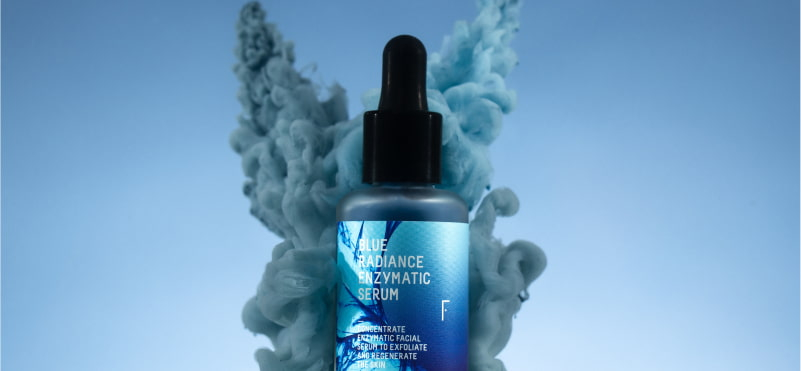 We've been talking about it a LOT, but a serum that works overnight to provide an overall skin glow up deserves all your attention. What makes it special, are the enzymes that the serum contains, that work on increasing the cycle of cell renewal, performing a deep exfoliation while respecting the skin barrier and reducing the signs of ageing. All of this will help to achieve younger, radiant and uniform skin in 4 weeks.
How does an enzymatic exfoliant work on the skin?
There are physical exfoliants, acids and enzymes. On the one hand, physical exfoliants or body scrubs are those that incorporate granules and visible particles based on microplastics (not respectful with the environment as they are insoluble in water) or based on natural ingredients such as bamboo powder or Raspberry seeds (a more respectful option offered by natural cosmetics). They both eliminate dead cells by friction with the action of rubbing the particles on wet skin but are inefficient in areas such as the face because they act very superficially without renewing the skin in a deep and uniform way. On the other hand, acidic and enzymatic exfoliants remove the cells more uniformly, treating all areas equally and they can be applied directly to the face, just like a regular cream, without the need to rub. However, the main problem with exfoliants with synthetic direct acids is that they can be quite aggressive on sensitive skin. 
Acid exfoliants incorporate, for the most part, BHA acids (betahydroxyacids) that when applied to the skin can cause irritation. To avoid this reaction, and to avoid applying aggressive ingredients on the skin, it is best to use a natural enzymatic exfoliant that is totally suitable for daily use, and where you will not find glycolic, lactic, citric, malic, mandelic or salicylic acids, which are some of the most common synthetic ingredients when it comes to exfoliation with acids.
In this case, the enzymatic exfoliation of the skin is carried out by a non-irritating alternative. In natural cosmetics, probiotic complexes are used with the ability to eliminate dead cells together with enzymes, such as pomegranate or papaya that are used to slowly degrade dead cells and increase cell renewal. This will result in healthy, rejuvenated skin and free of imperfections. Remember exfoliating your skin means: keeping your acne at bay, reducing blackheads and open pores. 
This natural exfoliating serum improves the appearance of ageing signs such as fine lines or wrinkles while acting as a moisturising serum. Its blue colour, coming from gardenia blue, is a natural pigment that blends with the skin combating free radicals and increasing facial smoothness and hydration. 
Leave a comment on this post or on our Blog, and share your impressions and your Freshly Experience with us. Your opinion is very important! Come back soon to our blog, new content comes every week.
We at Freshly Cosmetics create natural cosmetics (all of our formulas contain over 99% natural, sustainable and vegan ingredients) based on scientific knowledge and studies. We aim to make people aware of the effect cosmetics have on their skin. We are scientists with a strong desire to change things and help people take better care of themselves, consciously.
Would you like to join this adventure? Subscribe to our newsletter to receive news and articles like this one and become a cosmetics expert... and more!