Get glowy, golden skin with the Glow Edition Body Oil
---
Summer is coming, and who doesn't want to flaunt golden and glowing skin this season? Well, oh boy, have we got something special for you: a 100% natural oil that deeply nourishes and hydrates your skin, reduces the appearance of stretch marks and scars, all the while giving you a shimmering finish!.
Glow, glow, glow!
There's nothing like having a natural, glowing complexion, but sometimes due to factors such as sun exposure, dehydration or delayed cell renewal, our skin can look dull and dry. The key to keeping your skin nourished, soft and visibly healthy, is consistency. That's why having a routine that you stick with is so important. We'd always recommend exfoliating your body twice a week. Followed up with our Golden Radiance Body Oil when you get out of the shower, while your skin's still damp. But if you are one of those (like us!) who, in addition to a deep hydration, want a natural glowing finish and a bit of extra oomph, then the Glow Edition Body Oil is for you! It has a golden shimmering finish that will leave you Ibiza-golden-hour ready!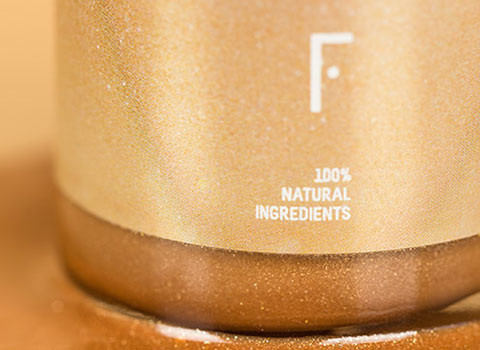 We absolutely love it  (and our skin does too), but not just because we say so (also that) but because it's backed by our Freshly Fans, it's been one of our bestsellers over the past year! You just can't get enough!
While some moisturisers and body lotions act on the top skin layers, body oils are able to penetrate much deeper into the skin layers, for an intense hydration. Now that plus the addition of a golden shimmer, who can resist!
Chia seed oil is ideal for those with sensitive skin, as it has a high concentration of omega 3.
Musk seed oil is great for scars and stretch marks.
Jojoba oil provides elasticity so that if your skin is stretched, the tissues won't tear, preventing stretch marks.  
Babassu oil has softening properties which work well for skin affected by eczema or itchiness. 
Macadamia oil contains a high amount of antioxidant vitamin E which acts as a cell regenerator. 
Here are just 5 of the oils it contains, but if you want to know more about the remaining oils, click here to learn more about them in depth. 
Glow Edition Body Oil, with 100% natural micas.
The Glow Edition Body Oil doesn't include glitter or microplastics, but instead natural micas found in minerals. It's the ideal combination of natural ingredients to deeply nourish your skin and offer a luscious and even complexion, in addition to the shimmering finish that we love! Its easy application, incredibly fast-absorbing texture and delicious scent, will surely make you fall in love. This is your glowy body oil!
Last summer, the Glow Edition Body Oil sold out in record time: 1 every 3.2 seconds!
Now, it's your time to glow up! The Glow Edition Body Oil is finally back this year with more variation of micas to maximise the glow effect! Run to the web and get yours, before it runs out.
We love to hear from you! Share your impressions, routines, and feedback on our natural cosmetics in the blog comments or via Instagram.
Freshly wants to tell you something! At Freshly we keep on learning every day how to make decisions that bring us closer to a better future. Sometimes we are called dreamers, but what we really have is an optimistic vision and clear path for reaching that tomorrow.
Would you like to join this adventure? If you're here, it's because you are a demanding person when it comes to taking care of your body and the planet. By subscribing to the newsletteryou will receive articles like this one to continue learning, as well as news and exclusive discounts. Are you up for it?
COMMENTS
Elisabetta cerutti

12 Junio 2019

body glow online purchase

when would it be available online? Thanks

Freshly 12 Junio 2019 Hi, Elisabetta! Yes, it will be available online. Hope you love it!
No se han podido cargar las demás opiniones