Dry and frizzy curls? Learn how to care for your curly hair with this routine
---
Hello Curly! If the word 'curly' has made your heart skip a beat then it means you know what we're talking about! But let's break this down into parts to explain what this 'curly' thing is and why this is what you need.
If you have curly or wavy hair, you're sure to have noticed at some point (or maybe always) that your hair is frizzy, dry, coarse, rough, dull... Perhaps you're lucky enough to have better-defined curls or waves, but also always seem to have those rogue strands or flyways that are impossible to tame and you never quite know whether they're actual frizz or caused by static electricity. You're bound to have tried foams, creams and countless other products formulated with petroleum derivatives that only result in your curly hair becoming even more fragile. Maybe you've even resorted to wearing your hair up all the time as it's impossible to control!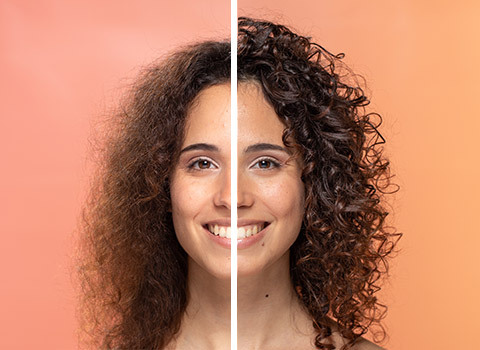 Why is curly hair more fragile?
We know what you're saying! It's easier for curly hair to have that coarse and dehydrated look because of its natural curved shape. This curve makes it difficult for the sebum to travel uniformly along the length of the hair strand, so it's harder to keep it hydrated. And did you know that the only thing applying conventional products does is to make your hair even weaker? Sure, they give it shape, but they work on the outside of the hair strand, without properly caring for it and leaving it dried up, dehydrated and without its natural protection.
No matter what type your wavy or curly hair is and however porous or thick it is, what it requires is natural hydration. Whether you have type 2, 3 or 4 curly hair, what it needs is TLC right from deep inside the hair fibre so that each and every strand is healthy and hydrated.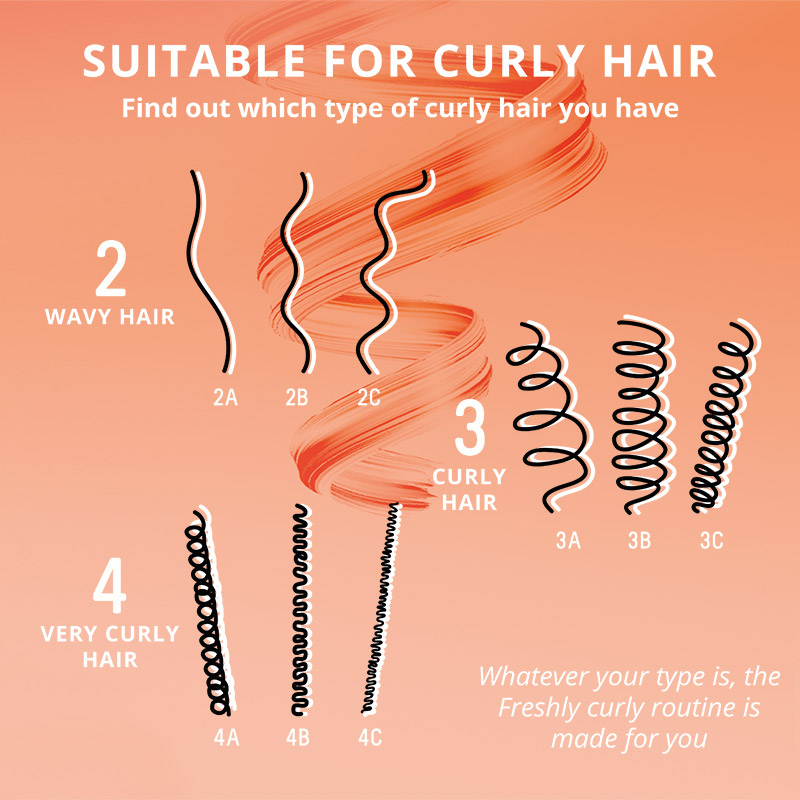 How to look after curly hair with a routine using natural active ingredients
To look after your hair fibre from the inside, the best nourishment you can give it, so it looks healthy and hydrated, with well-defined curls and waves with no frizz, is with natural active ingredients from seeds such as flax and chia, and from trees, such as argan and kendi. And we've some good news for you, as the Wonder Curls Routine is everything your hair needs! Here we explain how to care for your curly hair and how – at last – to feel proud of your locks. It's now time for you to make the most of your curls and shout "I am also Curly!"
Discover Freshly's Wonder Curls Routine now!
The Wonder Curls Routine will give your curly tresses the extra special care they need. But to better understand why your hair needs it, you should really know why it becomes weakened so easily.
The solution for curly hair is hydration
As we said at the beginning, wavy and curly hair has something in common: the natural curves stop the sebum, or the hair's natural oil, from travelling easily along the length of the strand. This means that the hair becomes weak, increasing its fragility and making it break easily. The result is that the hair tries to find humidity from the environment, separating and producing frizz. It's simply its way of hydrating itself. This means that what your hair needs is lots of TLC and hydration. Lots of hydration.
Having got this far, it may be that you have some queries, but that's why we're here: we want you to ask us anything you like. You can write to us at the end of this post, in the comments box, and we'll answer you as soon as possible. We love reading your questions!
OK, so let's move on to explain the Wonder Curls Routine and how it will allow you to enjoy your curly hair to the full once again. And you'll love its fragrance with the incredible blend of avocado, pear, melon, sandalwood and vanilla notes. Sheer, indescribable pleasure!
What is the Wonder Curls Routine and what does it consist of?
The Wonder Curls Routine basically consists of 2 products for naturally curly or wavy hair. However, we recommend that to boost your hair's hydration even more you should incorporate a natural mask without silicons or sulphates at least once a week, and that whenever you wash your hair you use a conditioner after shampooing.
Wash your hair with a natural shampoo like Freshly's, and massage only your scalp. When you rinse it off, gravity itself will make the shampoo spread through all your hair without you having to do anything. Next, apply a natural conditioner and – a useful tip – use this moment to detangle your hair with your fingers or a wooden brush with separated bristles. This will make it really easy for you to get through any knots and tangles and prevent the breakage of fragile hair.
Without rubbing, dry your hair with a towel, preferably a microfibre one, simply wrapping your hair in it or even plopping it with a cotton T-shirt. This will generate the least amount of friction possible, respecting each of your curls or waves so they don't frizz.
Two products for naturally curly or wavy hair
Now apply the Curly Vibes Defining Cream. This curl cream, made from natural active ingredients that are especially indicated for curly hair, will make your locks super manageable, delivering shine and silkiness with definition. And what makes it so special? Two innovative active ingredients called wave plant complex and flax active. If you want to know more about what each active ingredient does, check out the Curly Vibes Defining Cream page where we give details of each of the ingredients. It also contains plant-based oils such as pequi, inchi, chia, kendi, and organic flax seed and organic argan. It's nothing short of a revolutionary wave and curl cream that you're sure to fall in love with.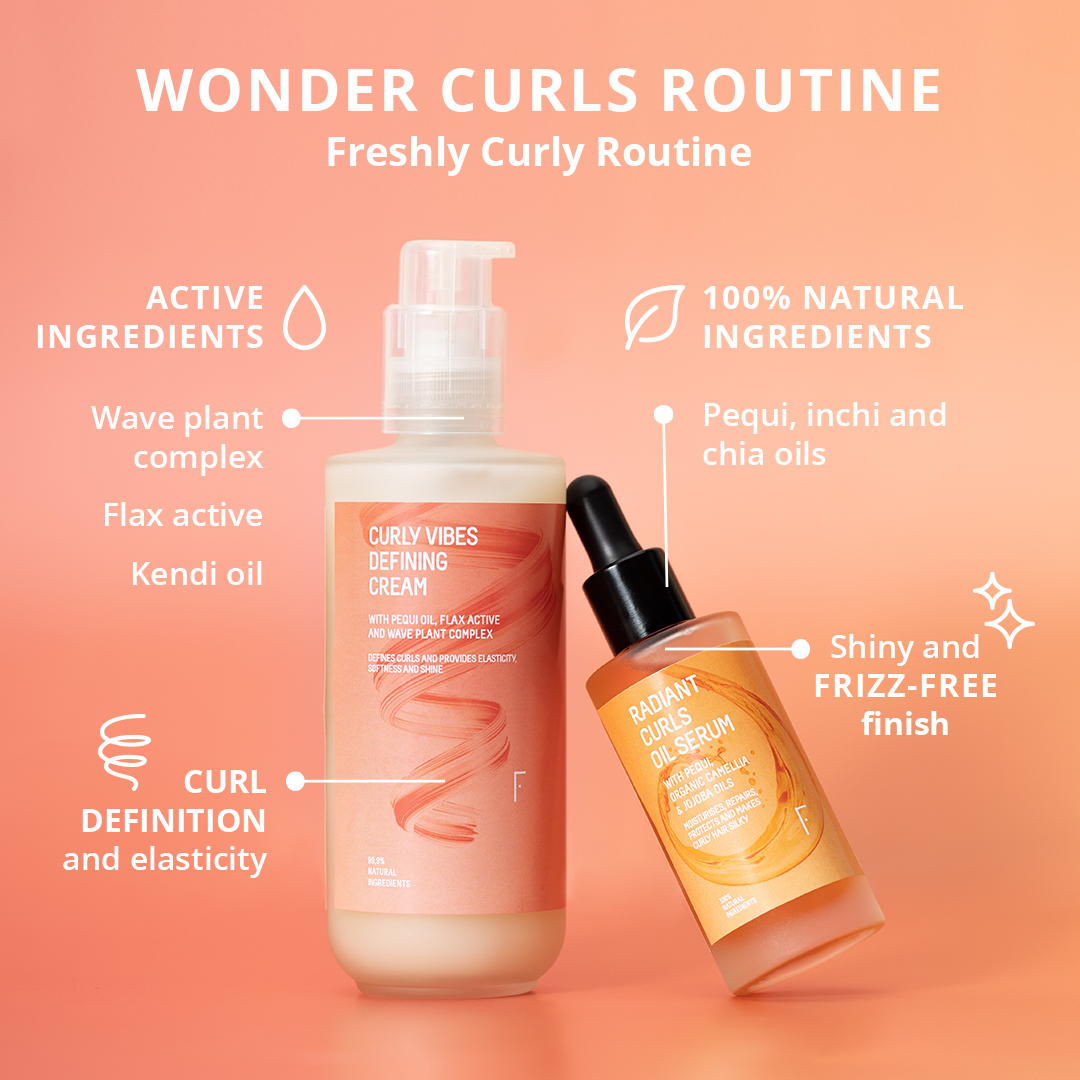 You can apply the cream using the pulsing method, applying it to very wet hair and working it evenly from the middle to the ends: this ensures you coat each strand of hair. With your hair still wet but not dripping, you can apply more cream using the scrunch method, which is what all of us with curly hair have done all our lives to shape our curls, taking a section of hair from the ends to the root and squeezing it like a sponge. This will enhance the curl even more while applying the cream.
And as the cherry on the cake of the Wonder Curls Routine, apply Freshly's Radiant Curls Oil Serum for wavy and curly hair. This oil serum, just like the curl cream, contains pequi oil, an amazing ingredient that boosts natural curl definition by 36%, reducing frizz by 34%, just – wait for it, because you're going to love this – 24 hours after application. After only one application you'll see a 95% improvement in shine and after the second, resistance to breakage will have improved by 27.5%. Check out what those who've tried it have to say, because it's truly incredible!
The best thing about Radiant Curls Oil Serum is that you can either apply it to damp hair after the cream or to dry hair whenever you feel your hair needs it. Pump one or two drops onto your palm, rub your hands together, and work it in from the ends to the roots as if you were scrunching your hair, giving your hair a natural boost.
Will the Wonder Curls Routine be your favourite Freshly routine?
The Wonder Curls Routine is unique in its concentration of natural ingredients and innovative technologies, designed especially with you in mind. It means that at last you can say goodbye to sulphates, silicons and parabens and, in general, to ingredients that leave a residue in your hair that only damage it and leave it more fragile.
Get the Wonder Curls Routine now and become the curly person you've always wanted to be, proudly showing off your curly or wavy locks.
Leave your comment below, and share your impressions and your Freshly Experience with us. We love to know your opinion and your natural cosmetics secrets! Come back soon to our blog... new content is waiting for you every week.
We at Freshly Cosmetics create natural cosmetics (all of our formulas contain over 99% natural, sustainable and vegan ingredients) based on scientific knowledge and studies. We aim to make people aware of the effect cosmetics have on their skin. We are scientists with a strong desire to change things and help people take better care of themselves, consciously.
Would you like to join this adventure? Subscribe to our newsletter to receive news and articles like this one and become a cosmetics expert... and more!