Frizzy, undefined curls? Find out what your hair needs and show off your curls
---
Hello Curly! If the word curly has made your heart skip a beat that means you know what we're talking about, but let's break it down to explain what curly is and why it's for you. If you have curly or wavy hair you've surely noticed sometime (or every day) that your hair is frizzy, dry, rough, dull... Maybe you have curls or waves more or less defined, but with those little hairs always there ready to give you a "divine aura" of hair, that you don't know if it's frizz or electrified hair. Or, on the contrary, your curls are crying out for definition and elasticity. You've probably used mousses, creams, styling products and so many other products to define, add shine and flexibility to your hair with the best of intentions but, probably without knowing it, their petroleum-based formulas have made your curly hair even more fragile. We know what it's like, so we want to help you understand your hair's needs and give you the tools to help you achieve a healthier looking mane, maximize your curls and keep frizz at bay.
Why is curly hair more fragile?
We get it! Curly hair looks this coarse and dehydrated because of its natural curved shape. This curve makes it difficult for sebum to travel evenly throughout the hair so it has a hard time staying hydrated. Also, did you know that applying these conventional products, formulated with petroleum derivatives, only makes your hair weaker? They do shape it, but they do it externally and momentarily, without taking care of it and repairing it from the inside, which is what it really needs. In the long run, your hair is left dry, dehydrated and without its natural protection.
What do curly and wavy hair need?
So, what your wavy or curly hair needs, whatever type it is, whatever its porosity and density, is natural moisture. Whether your curly hair is type 2, 3 or 4, what it needs is care from the inside, from the hair fiber so that each and every strand is healthy and hydrated.
CURIOSITY. By the way, don't you know what your curl type is? Here's a guide to help you identify it and learn more about your hair.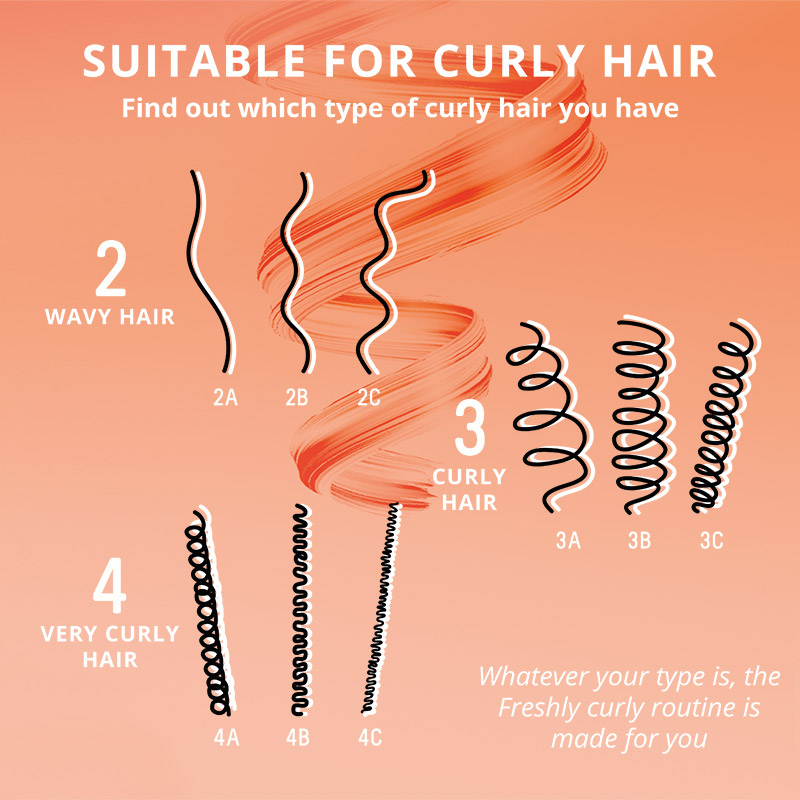 If you want your curls to look better than ever and pamper them as they deserve, it's best to eliminate sulfates and silicones from your routine, and in general, ingredients that leave residue on your hair, because what they do in the long run is make it more fragile.
What can I do to care for and improve my curls and waves? Natural ingredients!
As we've already mentioned, the solution for curly hair is hydration. To take care of your hair from the inside out, the best nourishment you can provide to keep it looking healthy, hydrated and your curls and waves well-defined and frizz-free are natural active ingredients and technologies like the ones listed below:
-Flax and chia seeds
- Oils of... 
baobab
jojoba
camellia
almond
avocado
pequi
-Shea butter
Because these ingredients are more easily recognized and accepted by our body and thus manage to nourish and strengthen the hair fiber, while repairing the cuticle, ideal for your curls and waves!
And yes, we know, now you're thinking; "OK, I know what my hair needs, what to avoid and some of the ingredients that will work for it, but... the products on the market don't work for me or don't have the natural ingredients you've discussed in this article... what do I do?" We have the solution! Discover the power of natural technology with the Natural Curly Hair Power Plan: shampoo, co-wash, curl and wave cream and oil, this isn't (just) a natural curly hair routine, it's that extra dose of pampering your hair deserves and of course, it features the natural ingredients we've discussed in this article. Unlock its natural power with a healthy curly routine! I want it!
We at Freshly Cosmetics create natural cosmetics (all of our formulas contain over 99% natural, sustainable and vegan ingredients) based on scientific knowledge and studies. We aim to make people aware of the effect cosmetics have on their skin. We are scientists with a strong desire to change things and help people take better care of themselves, consciously.
Would you like to join this adventure? Subscribe to our newsletter to receive news and articles like this one and become a cosmetics expert... and more!