Micellar Water: Clean or remove make-up?
---
Micellar Water: What is it?
Micellar water is a cosmetic product used to cleanse your face. It is mainly composed of water and its name comes from the innovative "cleaning" role of micelles. Micelles are tiny chemical structures with the ability of attract dirt from the skin like a magnet. In natural cosmetics, these are natural micelles. Micellar water also contains additional extracts with antioxidant, anti-inflammatory, soothing and moisturising properties.
What is micellar water used for?
Micellar water will cleanse and remove makeup from your face. It is so efficient that you will not need to use any additional products such as a cleanser or makeup remover. Its powerful and effective activity acts on the entire face, including eyes and lips. Micellar water can be used at any time of the day as often as necessary: in the mornings and at night, after the gym to eliminate sweat or after sunbathing to refresh the face. Compared with other cleaning products, micellar water is suitable for all skin types, even for the most sensitive skins. The best thing is that it doesn't dry out the skin or leave any sticky residue. In addition to cleaning and removing impurities, it leaves your skin feeling soft and hydrated.
Micellar water is a versatile product, capable of cleaning and removing makeup, allowing a complete cleansing  in a practical and comfortable way. Now we will show you how to use the Micellar Water according to whether you opt for to use it as a cleanser or make-up remover.
Do you know how to cleanse your face with the Fresh Green Micellar Water?
It's very easy! We'll explain to you how:
When? We can do cleansing routine in the morning and at night. It's a must and your skin will thank you for it.
In the morning: you're probably familiar with the need to clean your face before going to sleep, but it's also essential in the morning. Even when you've just woken up, you must clean your face to remove the excessive sebum generated during the night. The  Fresh Green Micellar Water should be applied to the face with the help of a cotton pad and there is no need to rinse! It doesn't dry out skin and refreshes the face so you can use it throughout the day.
At night: even if you don't wear makeup, your skin accumulates impurities and is affected by the daily impacts of pollution and solar radiation. So before going to sleep it is almost mandatory to cleanse the face to remove accumulated dirt. The Fresh Green Micellar Water, will leave your skin clean and hydrated, thanks to effective antioxidant extracts.
How to use: Apply the product on your face using a cotton pad, gently rubbing in a circular motion, moving down to the cheeks and onto the chin to clean and remove impurities.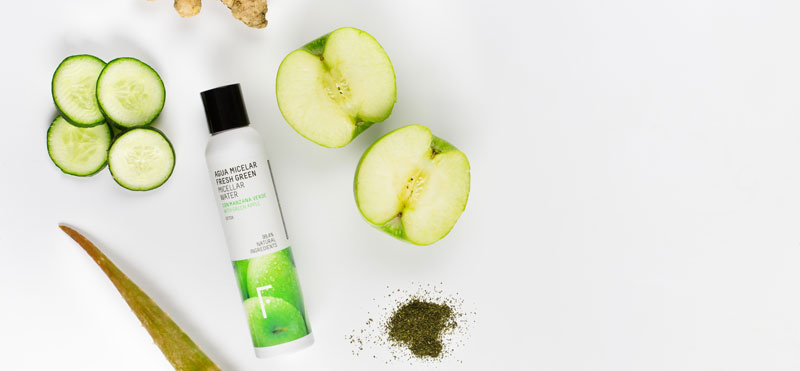 Do you know how to remove makeup with the Fresh Green Micellar Water?
Makeup? Don't worry! Fresh Green Micellar Water is designed to completely eliminate lmakeup from your eyes and lips, even the waterproof one.
When? It is essential to remove the makeup before going to sleep to remove traces of dirt that may have been accumulated during the day. This way the skin is able to breathe and has no barriers to clog it.
How to use: First we recommend starting with the eyes. Moisten two cotton pads with the Fresh Green Micellar Water and gently press over the eyelid for a few seconds. This will allow the natural micelles to act on your skin. Then, we move the cotton pad along the root of the eyelashes to the tips. Do the same with the lips, cleaning from the corner of the lip towards the centre. Finally, remove the rest of the makeup from your face. It is always best to try to clean in soft, circular movements to increase circulation to these areas and avoid aggressively pulling the skin.
It is recommended to apply the Micellar Water with a cotton pad that has enough capacity to absorb the water and can be easily applied to the skin. The cotton pad is the most commonly used tool for facilitating the application but you can also use washable and reusable discs, vegetable sponges or microfiber towels.
Do you want to start cleaning and removing makeup with a natural product, respecting the skin barrier? Get the Fresh Green Micellar Water in Freshly Cosmetics online store.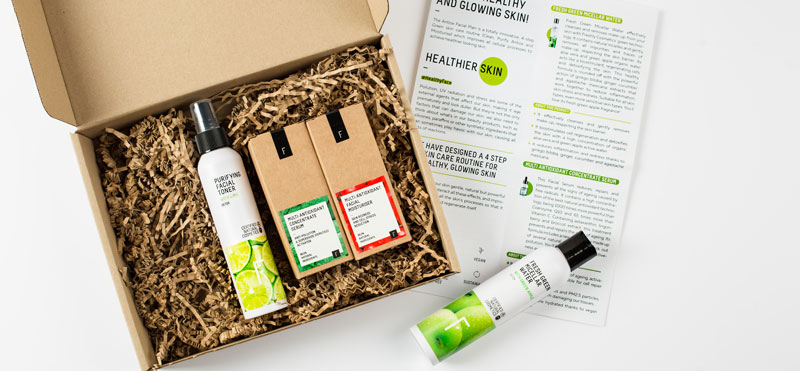 For best results, we recommend you to try a complete skincare routine in order to show off radiant, beautiful and healthy skin. For this we recommend using the Antiox Facial Plan, a pack that contains four essential products to purify, refresh, hydrate and protect against oxidative damage.
Leave a comment on this post or on our Blog, and share your impressions and your Freshly Experience with us. Your opinion is very important! Come back soon to our blog, new content comes every week.
What do you think about it? We'd love to read your opinion!
---
COMMENTS
Jessica Cepeda

8 June 2021

Uso del producto

puedo usarlo todos los días para limpiar el rostro? O es malo para la piel?

Freshly 8 June 2021 ¡Por supuesto que sí! :D Recuerda que recomendamos realizar limpieza facial dos veces al día antes de cada rutina. Además, los Freshly están elaborados con ingredientes naturales totalmente respetuosos para nosotros y todo lo que nos rodea. ¡Mil gracias por escribirnos! :D

Maria

30 September 2020

Agua micelar

Me dijeron que después de usar el agua micelar tengo que lavarme el rostro y usar mis cremas...me lavo la cara o no?

Freshly 30 September 2020 ¡Hola María! Soy Raquel, ¡encantada de ayudarte! Con nuestra Agua Micelar no hace falta realizar un aclarado después de su uso. En el caso de que vayas a utilizar después nuestro gel limpiador Rose Quartz, recomendamos tener el rostro mojado, por lo que después del Agua Micelar, tendrás que realizar un aclarado para tener tu rostro listo para el siguiente paso en tu limpieza. ¡Mil gracias por escribirnos!

ELISABET ARTACHO

15 January 2020

Agua micelar

He leído que después de aplicar el agua micelar hay que aclarar con agua porque deja unos residuos que no deben quedar en el rostro en último lugar. Es cierto??

ELISABET ARTACHO

15 January 2020

Agua micelar

He leído que después de aplicar el agua micelar hay que aclarar con agua porque deja unos residuos que no deben quedar en el rostro en último lugar. Es cierto??

Freshly 15 January 2020 ¡Hola Elisabet! No es necesario aclarar el producto ya que está formulado con ingredientes naturales ¡beneficiosos para la piel! Éstos contienen propiedades antiinflamatorias, seboreguladoras, equilibrantes entre otros, que ayudarán a que la rutina y la limpieza sea de lo más cuidadosa con la piel posible, haciendo que la propia limpieza también trate a la piel. ¡Esperamos haber resuelto tus dudas! ¡Un fuerte abrazo!