How to improve the appearance of spots and blemishes? Tips and tricks to get facial acne under control
---
Do you have pimples, marks, blackheads, redness, pustules, or dilated capillaries on your facial skin? Don't panic! The appearance of marks on the face can be due to factors that affect our skin, and we need to identify them to treat them correctly.
Why does my skin have irregularities and marks?
The cause of the appearance of marks and alterations on the face can vary depending on the type of skin each person has. Therefore, oily or acne-prone skin reacts differently from sensitive skin that also shows symptoms of rosacea or couperose.
There are various factors that can influence this. Some are external, such as sudden changes in temperature or climate, pollution, or radiation, while others are internal, such as hormonal changes, our daily skin cleansing routine, microbiota imbalances, or bacterial overgrowth.
All these internal and external factors can lead to irregularities such as pimples, marks, and redness. In addition, there are other causes, such as those related to acne, rosacea, and couperose. To restore and achieve the healthy, even, and smooth appearance you desire for your skin, it is necessary to use products or treatments formulated with effective yet gentle ingredients for your skin. Below, we reveal some of the most interesting ingredients to reduce irregularities, marks, and signs of acne, rosacea, and couperose.
Natural Actives for Smooth, Even, and Luminous Skin
Natural ingredients offer a multitude of benefits and properties for our skin. At Freshly, we select effective natural actives that pamper and respect your skin. These are your essentials!
1- Eliminate skin bacteria and reduce marks with azelaic acid
Azelaic acid is a natural ingredient used in natural cosmetics that helps the skin renew itself more quickly, reducing the appearance of pimples and blackheads. It is a natural active ingredient obtained from cereals such as wheat, rye, and barley, and it has antibacterial, anti-inflammatory, and depigmenting properties. Its potent action focuses on reducing signs of acne and skin blemishes while controlling sebum secretion. Azelaic acid eliminates the bacteria that cause acne and rosacea, making it a powerful ingredient that will help restore your skin's healthy appearance.
2- Honokiol magnolol and its anti-inflammatory properties
Honokiol magnolol is a natural active ingredient that provides softer, cleaner, firmer, less inflamed, and calmer skin thanks to its antibacterial, anti-inflammatory, antioxidant, and antifungal properties. It is a perfect active for sensitive areas and skin on the face, offering relief from redness, irritations, and itching.
3- Reduce acne with maritime pine and cleome flavonoids
Maritime pine and cleome flavonoids are two powerful natural actives that reduce sebum production and skin inflammation in acne-prone skin. As a result, they reduce the number of open pores and the appearance of new blackheads.
4- Calm redness with saffron flower, probiotic complex, and troxerutin flavonoids
Saffron flower, probiotic complex, and troxerutin flavonoids have properties that reduce skin redness and decrease the length of blood vessels. They act as soothing agents for hypersensitive skin. Specifically, troxerutin flavonoids improve microcirculation and reduce the permeability of capillaries responsible for couperose.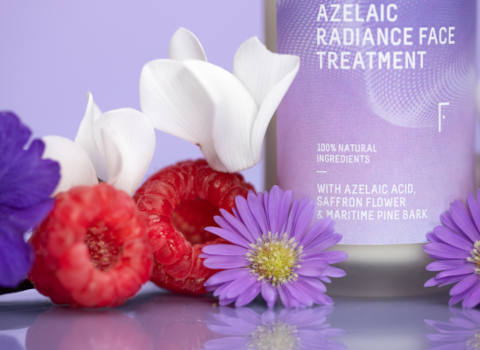 Facial Treatment for Acne, Marks, and Reactive Skin
At Freshly Cosmetics, we have combined these 7 powerful natural actives to create a treatment that provides your skin with everything it needs to reduce pimples, blackheads, marks, redness, pustules, dilated capillaries, inflammation, itching, or burning, as well as the signs caused by acne, rosacea, and couperose. The Azelaic Radiance Face Treatment is a revolutionary product in natural cosmetics that contains 7 100% natural technologies with one goal: achieving a smooth and even complexion.
Why Do People Love Azelaic Radiance Face Treatment?
It is a facial treatment with a lightweight gel-cream texture that provides smoothness and luminosity to the skin thanks to natural ingredients such as 10% azelaic acid, saffron flower extract, or the potent anti-inflammatory complex honokiol magnolol.
Suitable for all skin types, even the most sensitive ones, thanks to its oil-free and fast-absorbing texture that does not dry out, irritate, or leave a greasy feeling. You will notice its effects on your skin gradually, with visible results in 14 days! Add it to your daily morning and evening facial routine, applying it to clean, dry skin all over your face.
Evidence: Results of the Clinical Test for Freshly's Facial Treatment for Marks and Irregularities
To verify the effectiveness of this innovative Freshly product, we want you to see its results in volunteers with marks and irregularities on their faces. In an independent clinical study of Azelaic Radiance Face Treatment, the following results were obtained:
91% of users would recommend the product to a friend looking to treat imperfections.
100% of users would purchase the product when it becomes available.
After 2 weeks:
90% of users noticed their skin was more renewed and luminous.
85% of users had fewer pimples, blackheads, and other imperfections.
80% of users reported fewer imperfections on their skin.
80% of users indicated that their imperfections reduced more quickly.
85% of users noticed an overall improvement in their skin's appearance.
95% of users felt that the formula was gentle and respectful to their skin.
What do you think? Do you want to try it too?
Share your thoughts, routines, and experiences with natural cosmetics in the comments section below or on Instagram. We love reading your comments!
Freshly wants to tell you something! At Freshly we keep on learning every day how to make decisions that bring us closer to a better future. Sometimes we are called dreamers, but what we really have is an optimistic vision and clear path for reaching that tomorrow.
Would you like to join this adventure? If you're here, it's because you are a demanding person when it comes to taking care of your body and the planet. By subscribing to the newsletteryou will receive articles like this one to continue learning, as well as news and exclusive discounts. Are you up for it?