How to improve the appearance of spots and blemishes? Tips and tricks to get facial acne under control
---
 Let's be honest, acne is not a pleasant thing to have on our face, but hey, we all have it or have had it at some point in our lives. We know that there are multiple myths about acne and how to treat it,  using toothpaste ( please don't) is not one of them. Depending on your skin type pimples have to be treated differently. Want to learn how to keep acne at bay and avoid pimples, blackheads and the aftermath? Keep reading! 
WHY DO WE HAVE ACNE?
The appearance of imperfections can be due to both internal or external factors, such as pollution or temperature changes, or it can happen due to hormonal changes or habits. Acne appears when the pores of our skin are blocked with oil (sebum), dead cells or, you called it, bacteria. Bacteria can trigger inflammation and infection resulting in more severe acne. 
Acne, rosacea and couperose are skin inflammations that can be the cause of pimples, blackheads, spots, redness, especially in the most sensitive and reactive skin types.
How to get rid of acne?
Those are the most asked questions: How do I get rid of acne? How do I avoid getting pimples? Why do I have blackheads on my face? Well, the first thing you need to know is that acne doesn't come and go like magic, it needs gentle care and the right actives (of course). Want to know the best ingredients to help your breakouts calm down? Read on!
When choosing anti-acne products you should be checking these ingredients.
Azelaic acid to help with bacteria build-up
Azelaic acid is a natural ingredient that helps the skin regenerate quickly, reducing the appearance of blackheads and pimples. It is a natural active ingredient with antibacterial, anti-inflammatory properties which, applied regularly, reduces imperfections and blemishes. Oh and it controls sebum secretion, so it's kind of an anti-acne hero. Azelaic Acid eliminates the bacteria that cause acne and rosacea, restoring brightness and softness.
Honokiol magnolol to prevent acne inflammation
Honokiol magnolol is a natural active ingredient with antibacterial, anti-inflammatory, antioxidant and antifungal properties, which calms inflammation, soothes the skin and leaves it soft, smooth and firm. It is the perfect ingredient for more sensitive skin and facial areas, as it calms redness, irritation and itching.
Reduce acne with maritime pine and cleome flavonoids 
Maritime pine and cleome flavonoids are two powerful natural active ingredients that reduce sebum production and skin inflammation, shrink enlarged pores and thus prevent the appearance of blackheads.  
Azelaic Acid face treatment 
 We know that trying to read the ingredients list in every product can be overwhelming and difficult. So we decided to make it easy for you: all the anti-acne actives you should be checking in one product: Azelaic acid treatment. 
This treatment contains all of these actives together in the same formula to perform on the skin avoiding excess sebum and acne. It's not a moisturiser, it is a skin treatment formulated for breakout-prone complexions.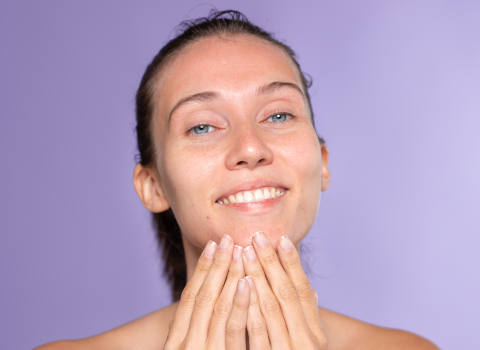 Routine for acne-prone skin
Now, acne needs a specific routine to be fully controlled. Although one product can make a huge difference, the combination of a whole routine is what will maintain your skin clear for longer. 
The most important thing for acne-prone skin is a good cleanse. When we refer to cleansing, we mean lifting impurities away without ruining our dermal barrier, which means roughly cleansing the  "good" oils that we naturally have on our skin and need. 
Cleansing 
You want a gentle yet ultra-efficient cleanse that leaves skin soft rather than "squeaky clean" and you want to do it daily ( multiple times a day). We suggest doing it on your AM or PM routine. When looking for cleansers, always go for those that contain natural saponins that are not as harsh or stripping as conventional soaps. 
The Rose Quartz facial cleanser is the best way to start and end your day as it regulates sebum, cleanses respecting all our "good oils'' and leaves skin in a better nick to layer the rest of your skincare products.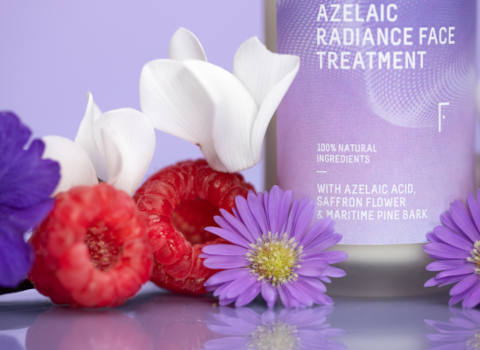 Exfoliation for acne-prone skin. What's enzyme exfoliation?
Another thing that acne-prone skin needs is exfoliation, but not harsh particle rubbing exfoliation ( been there, done that) we're talking about enzyme exfoliation. 
But what's that? Well, enzyme exfoliation works more gently than AHA chemical exfoliants, which basically shed skin cells and speed up the natural process that our skin follows to exfoliate. 
Acne-prone skin needs exfoliation to gently and evenly remove the uppermost layers of our skin, to improve blood flow and skin tone. The Blue Radiance enzymatic serum works while you dream and is clinically proven to gently exfoliate while reducing spots, and provide an overnight skin glow up. The best part? It's non-irritating and it brightens, smoothes, exfoliates and treats acne. 
Hydration for acne-prone skin
Another thing that acne-prone skin needs ( and any skin type) is hydration. Lots of it. There is a misconception on hydrating skin that's prone to suffer from acne, and that is: never use moisturizers because they clog pores. That's nonsense. The proper non-comedogenic moisturizer will not only help your skin be more plump and clear but also will contribute to your brightness and overall appearance.
Choose hydrating gels that are formulated for oily to combination skin that hydrates without oiliness and feels light and soft on the skin. We recommend you try the Pacific Ocean Moisturising gel.  
A pack that has it all? Bye bye acne pack to keep blemishes, pores and acne under control. 
It includes the Rose Quartz Cleanser, the Blue Radiance Enzymatic serum and the  Azelaic facial treatment. 
We at Freshly Cosmetics create natural cosmetics (all of our formulas contain over 99% natural, sustainable and vegan ingredients) based on scientific knowledge and studies. We aim to make people aware of the effect cosmetics have on their skin. We are scientists with a strong desire to change things and help people take better care of themselves, consciously.
Would you like to join this adventure? Subscribe to our newsletter to receive news and articles like this one and become a cosmetics expert... and more!