Saponins soap, the best alternative for sensitive skin
---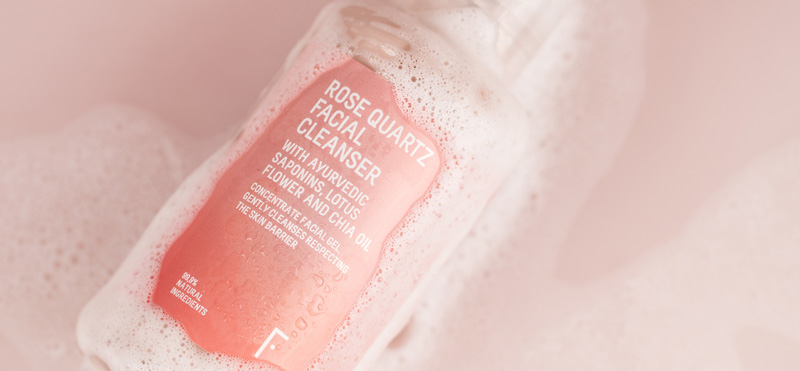 WHY DOES MY SKIN FEEL DRY AFTER CLEANSING? CHOOSE A VEGAN FACE WASH. 
Skincare 101: Cleansing it's the most important part of the whole thing. 
Let us rephrase that: Cleansing with products that don't strip your skin mantle and respect your PH is the most important part of the whole thing. 
We're sure you've heard it a million times, but a little reminder never hurt nobody. A good cleansing routine is the first essential step to take care of our skin, as it preps our complexion for the other treatments and creams to be applied nicely. 
But do all cleansers actually respect our skin barrier? Well, not all of them, some can disrupt the natural oils of our skin barrier, making our complexion red, irritated and dry, the so-called " squeaky clean".
It's important to choose the right products to use on our skin. With cleansers,  the number one rule is: they should be gentle enough for all skin types yet highly effective and provide a deep cleanse. 
Meet Rose Quartz Facial Cleanser, a soap-free cleansing gel that deeply cleanses our skin respecting everything that's meant to stay. Curious? Read on!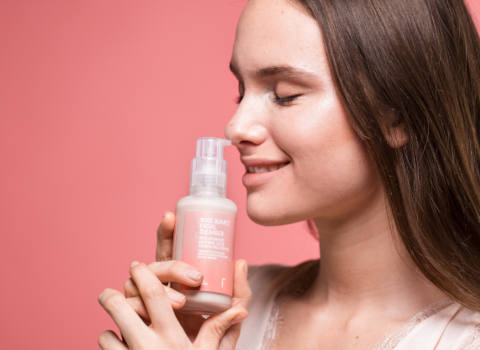 Rose Quartz Facial Cleanser: Deep cleanse and luminosity in one formulation.
How to get clear skin with saponins 
Saponins have an antioxidant effect on the skin and protect against UV damage. Saponins are also great with acne-prone complexions, as they have antiseptic properties that help slow down the growth of bacteria.   
The Rose Quartz cleanses in depth respecting the skin barrier thanks to its high concentration of natural saponins. It contains acacia extracts, Desert Date Palm extracts, and Gypsophila Paniculata extract, which are all sources of natural glycosides with similar properties to soap, but the difference is that they don't dry out nor irritate the skin. Cleanse your face both in the morning and at night to wake up to softer clear skin. 
The formulation contains lotus flower concentrate. This ingredient significantly reduces sebaceous secretion and helps with congested skin. Thanks to the concentration of the lotus flowers, the lipids that cause acne diminish, achieving uniform skin, keeping shine and oil at bay.
How to clear your face naturally
Rose Quartz includes in its formulation a natural cosmetic complex that combines two powerful components: Sapindus mukorossi (SMAS) and Caesalpinia spinosa galactomannan to provide an extraordinary energising cleansing effect on the skin, revitalizing and unifying the skin tone. 
Why is my skin so dry even when I moisturize
Probably because you're not using a cleanser that respects your dermal barrier and it's stripping all of your "good oils". To cleanse while hydrating the skin is the number one rule of a good face wash. This one contains excellent vegetable oils such as almond oil and chia seeds, rich in vitamins, minerals, Omega3 and Omega6 that provide skin nutrition, elasticity and firmness. The key is clean, fresh, even, moisturised, and luminous skin.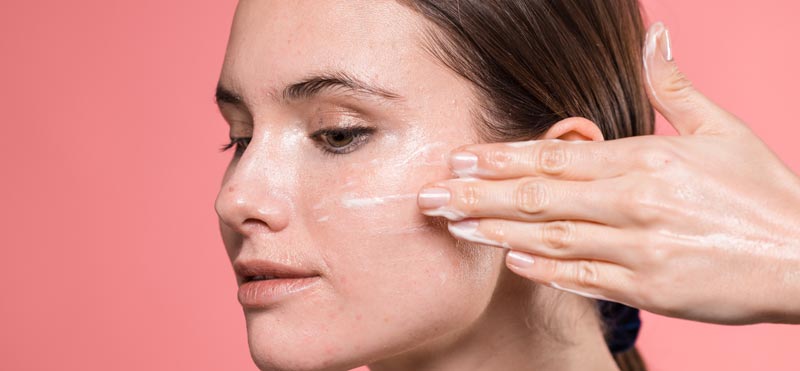 Always cleanse during your AM/PM routine to give your complexion a fresh start and allow the rest of your skincare routine to layer properly.
How to use Rose Quartz Gel Facial Cleanser
Follow this double cleansing routine for a deep cleanse:
1- Apply the Fresh Green Micellar Water on the face with a reusable cotton pad to remove makeup and other impurities.
2- Moisten your face and apply 2 pumps of Rose Quartz to cleanse thoroughly. Then rinse with plenty of water.
3- Finally, apply the Lime Purifying Facial Toner to close pores and balance the skin's pH, leaving your skin ready for hydration.
Freshly wants to tell you something! At Freshly we keep on learning every day how to make decisions that bring us closer to a better future. Sometimes we are called dreamers, but what we really have is an optimistic vision and clear path for reaching that tomorrow.
Would you like to join this adventure? If you're here, it's because you are a demanding person when it comes to taking care of your body and the planet. By subscribing to the newsletteryou will receive articles like this one to continue learning, as well as news and exclusive discounts. Are you up for it?