Rose Quartz, the natural facial cleansing gel to cleanse and spoil your skin
---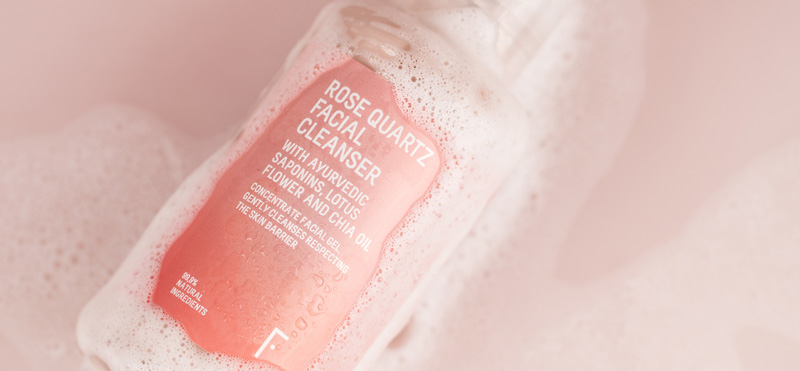 A good cleansing routine is the first essential step to take care of our skin, hence we need to give special attention when it comes to remove makeup and impurities in order to get a radiant and healthy skin. How to do so? It's important to choose the right products to use on our skin, meaning that these should be suitable for our skin type and, above all, that they respect our skin barrier to avoid any possible irritation.
This is exactly what we have achieved with our Rose Quartz Facial Cleanser, our new soap-free cleansing gel that deeply but gently cleanses our skin. Curious to know more? keep on reading.
Rose Quartz Facial Cleanser key properties: innovation, cleansing and luminosity in one formulation.
Achieve clean and soft skin
Rose Quartz cleanses in depth respecting the skin barrier thanks to its high content in natural saponins. It contains acacia extracts, Desert Date Palm extracts, and Gypsophila Paniculata extract, which are all sources of natural glycosides with similar properties to soap, but that they don't dry out nor irritate the skin. The advantage of using these ingredients is that they respect the skin. This makes the Rose Quartz Facial Cleanser suitable for all skin types, even the most sensitive.
Control excessive sebum production and open pores
This innovative product contains lotus flower concentrate. This ingredient significantly reduces sebaceous secretion and unaesthetic open pores. Thanks to this concentrate, the lipids that cause acne diminish, achieving a uniform skin, without shines or blemishes.
Fight against the symptoms of fatigued skin
Rose Quartz includes in its formulation a natural cosmetic complex that combines two powerful components: Sapindus mukorossi (SMAS) and Caesalpinia spinosa galactomannan to provide an extraordinary energising effect on the skin, successfully fighting against fatigued skin. Revitalise your skin and get the radiant and healthy look you are looking for.
Cleanse and moisturise naturally
A deep cleansing is not enough. Rose Quartz also has excellent vegetable oils such as almond oil and chia seeds, rich in vitamins, minerals, Omega3 and Omega6 that provide the skin nutrition, elasticity and firmness. The key is a clean, fresh, even, moisturised, and luminous skin. We shouldn't forget that these oils give Rose Quartz the creamy and pleasant texture that you will fall in love with.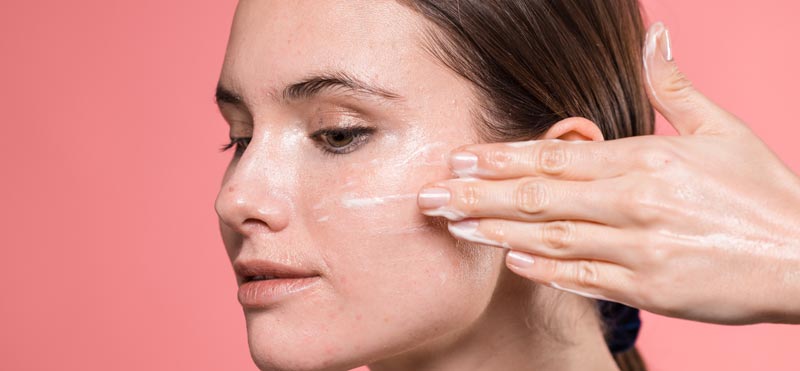 We have worked on this innovative formulation to create a facial cleansing product that works on its own. You can use it daily, morning and evening, individually or in combination with other products. This way, you will achieve a double cleansing routine.
How to use Rose Quartz Gel Facial Cleanser
If you decide to use Rose Quartz in combination with the Fresh Green Micellar Water following a double cleansing routine, we recommend following these simple steps:
1- Apply the Fresh Green Micellar Water on the face with a reusable cotton pad to remove makeup and other impurities.
2- Moisten your face and apply 2 pumps of Rose Quartz to clean thoroughly. Do not forget to spread the product with a gentle massage. Then rinse with plenty of water.
3- Finally, apply the Lime Purifying Facial Toner to close pores and balance skin's pH, leaving your skin ready for hydration.
First sensations...
The Rose Quartz Facial Cleanser has been very well-received by the Freshly Team and these have been some of the opinions of those who have tried it:
"I like the feeling of cleanliness and freshness that it leaves on my skin", "I'm amazed by how lovely are its smell and texture!", "I love this cleanser, it's leaves your face feeling soft and smooth, and it does not dry out your skin!".
What are you waiting for to get the facial cleansing gel that cleanses and takes care of your skin? Don't wait any longer and buy the Rose Quartz Facial Cleanser here.
Leave a comment on this post or on our Blog, and share your impressions and your Freshly Experience with us. Your opinion is very important! Come back soon to our blog, new content comes every week.
What do you think about it? We'd love to read your opinion!
---