Avocado: a source of nutrients for your skin and hair!
---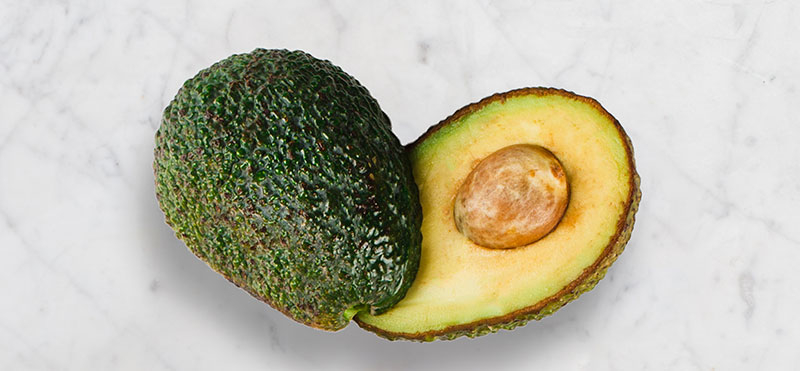 Avocado is a source of benefits for your skin and hair and we wish to tell you about all its properties, so you can enjoy this wonderful fruit at its best. Do you know where to find it?
The origins of avocado 
The origin of avocado takes place in the cloudy forests of Mesoamerica, where it's also called Persea and has 90 different species spread throughout Mexico and Central America. The fruit of avocado comes from one of the oldest flowering plants from the Lauraceae family and is produced mainly in tropical or Mediterranean climates.
Avocado properties
Some of the most outstanding properties of avocado are its healthy monounsaturated fats. Avocado is also a rich source of vitamin E that protects the membrane of our cells, making it ideal for protecting skin from free radicals. It also contains minerals and vitamins, such as vitamin C that act as an antioxidant, vitamin A with anti-acne properties, and a variety of minerals such as potassium, calcium, magnesium, phosphorus, iron, copper and zinc.
A source of nutrients for your skin
Avocado is found in cosmetic products for its great skin benefits. Oleic acid hydrates the skin, preventing wrinkles and expression lines. In addition, vitamin C and E combat the free radicals caused by oxidative damage, and treat the skin after exposure to UV, UVA and UVB rays. Vitamin A and linoleic acid has an anti-acne effect, treating imperfections, irritations, inflammations and redness. Avocado oil has a high content of vitamin B12, great for treating psoriasis that can present as eczema, redness or scabs on certain parts of body and face.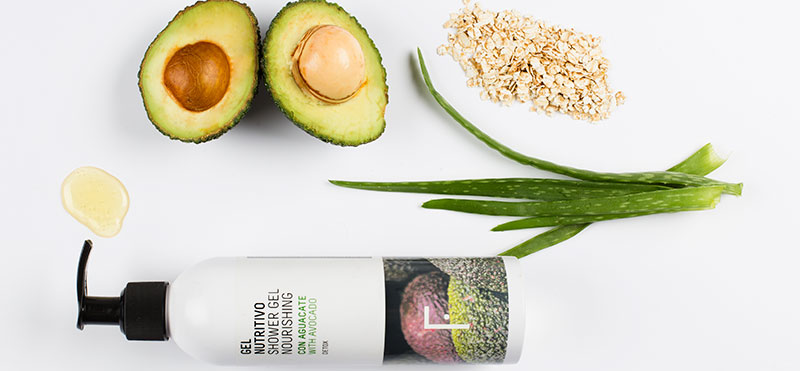 The perfect revitaliser for your hair 
The plant-derived fats and water contained in avocado deeply moisturise the hair, avoiding it from drying out and repairing even the most damaged areas. Vitamin E stimulates hair growth and prevents hair loss. Avocado is also ideal for protecting hair from the heat and ending frizz. For all these reasons, it is one of the top ingredients in hair masks and serums.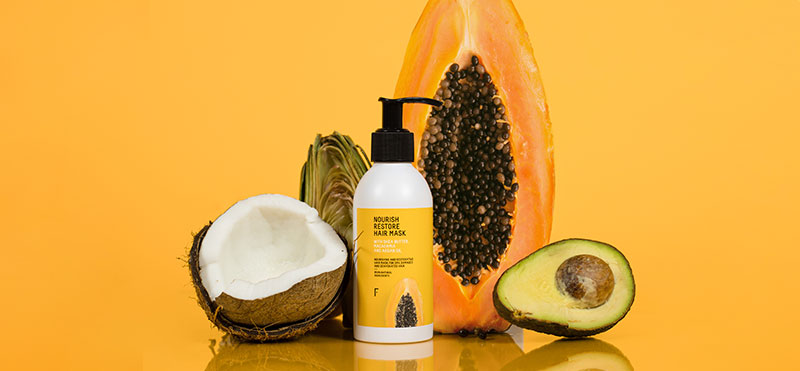 Enjoy all the benefits of Freshly Cosmetics! 
At Freshly we love to offer beneficial products for your skin, hair and body, so you can enjoy the benefits and properties of avocado oil in many Freshly products. For your body you will find it in the Biodegradable Raspberry Body Scrub, in the Detox Nourishing Shower Gel, the Golden Radiance Body Oil and the Healthy Protection Body Sunscreen. For your face you'll enjoy avocado in the Healthy Protection Facial Sunscreen, for your hands in the Pro-Repair Hand and Nail Treatment. For your baby in the Happy Avocado Diaper Cream and Dream Peach Body Oil and for your hair in the Intense Recovery Hair Serum and in the Nourish Restore Hair Mask. Do you have so much to choose...you can't do it? Try them all, they will surely surprise you!
Enjoying the brilliant benefits of avocado oil is not difficult if you do it with us. Remember that in Freshly Cosmetics we believe in a natural cosmetic full of nutrients and antioxidants for you. Are you joining the change?
Leave a comment on this post or on our Blog, and share your impressions and your Freshly Experience with us. Your opinion is very important! Come back soon to our blog, new content comes every week.
We at Freshly Cosmetics create natural cosmetics (all of our formulas contain over 99% natural, sustainable and vegan ingredients) based on scientific knowledge and studies. We aim to make people aware of the effect cosmetics have on their skin. We are scientists with a strong desire to change things and help people take better care of themselves, consciously.
Would you like to join this adventure? Subscribe to our newsletter to receive news and articles like this one and become a cosmetics expert... and more!