Calendula and other plant-derived oils good for baby's skin
---
You may have heard about jojoba, calendula and rosehip oils, but do you know what their benefits are? In this post we will explain you why they are perfect for taking care of the skin of babies. These beneficial ingredients, contained in our Kids cosmetics, nourish and pamper your child's skin, helping them to calm down and relax.
CHOOSE NATURAL OILS
Natural oils are the best choice for babies' delicate skin because they do not clog the pores and allow their skin to breathe. These plant-derived oils are obtained by cold pressing, to ensure that their properties and benefits remain unaltered.
Would you like to know which oils are the most recommended for treating, caring for and soothing babies' skin? We'll tell you right now!
- Calendula oil: this oil is obtained by macerating the calendula flower in plant-derived oil. It is one of the most suitable oils for the sensitive skin of babies and children, thanks to its soft and delicate formulation that soothes and calms irritation, itching and redness. It also stimulates the production of collagen, accelerating the healing of wounds, irritations and eczema. But that's not all, it also has anti-inflammatory, protective, moisturising and nourishing properties. It is one of the most complete plant-derived oils, perfect for calming the baby.
- Jojoba oil: this oil has moisturising and emollient properties. It contains the same ceramides that cover the cells of the epidermis, so it helps the skin to regulate its hydration. Jojoba oil also contains linoleic acid, an effective natural restructuring and regenerating agent. Its vitamin E content protects the skin against free radicals. This plant-derived oil does not remain greasy and absorbs quickly, as its structure is very similar to that of the natural oils generated by our skin.
- Rosehip oil: it is one of the essential plant-derived oils to take care of babies' skin. It is rich in fatty acids such as Omega-3, Omega-6 and linoleic acid, it also contains vitamins A, C and E, and natural antioxidants. It deeply nourishes the skin, protecting it from external factors that can damage it, it also treats signs and scars, accelerating the restoration of the skin barrier.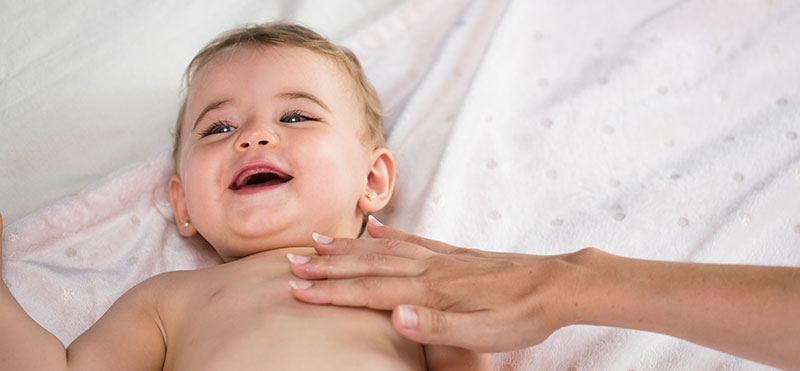 HOW THESE OILS IMPROVE THE BABY'S WELL-BEING?
Did you know that?
using this combination of oils to massage your baby's skin, in addition to hydrating it, you will relieve in a simple and gentle way some of the most common discomforts in children
Massaging your baby can help you:
- Improve their rest: the most common moments to give a massage to your baby are after the bath and before dinner, to enjoy together a very special moment of relax. How to do it? Just warm a small amount of oil in your hands and start gently massaging the entire body of the baby, with slow and circular movements. These massages calm the baby and help him to rest better.
- Relieving colic: many babies suffer from colic in the first months of life, which is why they cry often. To calm them down and soothe their pain, we recommend massaging the baby's tummy with the plant-derived oils we're talking about. How to do it? Just pour the oils between your hands and massage their belly from side to side with circular movements, with a certain pressure. Bending their legs alternately can also help.
- Improve digestion: the changes in your baby's diet can cause them stomachaches, which is why it is very useful to massage them. How to do this? After pouring the plant-derived oils to your hands, massage your baby's stomach from top to bottom, without applying too much pressure. You can also alternate the movement of your hand with your fingertips, making circular movements from right to left to follow the food's path through their stomach. This way you will avoid the formation of gas and constipation.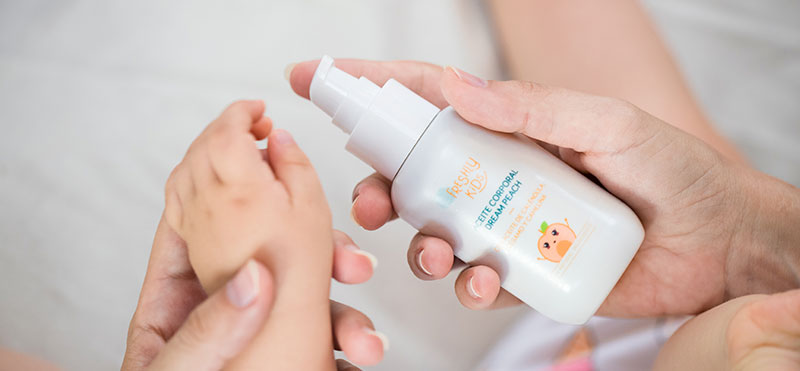 DISCOVER THE KIDS DREAM PEACH BODY OIL
To get all the benefits of a nice massage for your baby, Freshly Kids has created a 100% natural product that combines quality plant-derived oils, such as calendula, jojoba, rosehip, rice and sesame oils that nourish, pamper and soothe the skin of the little ones from their day one. The Dream Peach Body Oil also contains the natural active ingredients of oats and quinoa, which help to treat sensitive and atopic skin. Its light, fast-absorbing texture has a delicate fruity and floral scent, very relaxing for the baby.
What are you waiting for? Get your Dream Peach Body Oil now to nourish, treat and soothe your baby's delicate skin!
Leave a comment on this post or on our Blog, and share your impressions and your Freshly Experience with us. Your opinion is very important! Come back soon to our blog, new content comes every week.
What do you think about it? We'd love to read your opinion!
---
COMMENTS
Lucía

21 July 2019

Para qué edad está indicado?

Tengo un bebé de 1 mes, querría saber si ya lo puede utilizar.... hago la pregunta extensible a los productos de kids. Muchas gracias!

Freshly 21 July 2019 ¡Hola, Lucía! ¡Qué bien que quieras probar nuestro aceite corporal kids! Comentarte que todos nuestros productos Freshly Kids están formulados para bebés y niños desde el primer día de vida, con ingredientes que respetan las necesidades de la piel de los más pequeños de la casa, por lo que puedes usar el aceite corporal desde su primer baño. Además contienen un 100% de ingredientes naturales, todos son aptos para pieles sensibles y atópicas, están testados dermatológicamente y probados clínicamente. ¡Te animamos a probar los productos Kids, os van a enamorar! ¡Un abrazo!

Maribel Moral

21 July 2019

Aceite corporal Dream Peach

Hola!!! Estoy utilizando algunos de vuestros productos y me van genial, os quería preguntar, mi sobrino de 4 años tiene dermatitis atópica, podría utilizar este aceite o me podríais recomendar algún otro de vuestra línea? Muchas gracias!!!

Freshly 21 July 2019 ¡Hola, Maribel! Nos encanta saber que estás haciendo tu #freshlyroutine y que estás tan feliz con ella. Te confirmamos que sí, todos los productos de Freshly Kids, incluyendo el nuevo lanzamiento del Aceite Corporal Dream Peach, son aptos para pieles atópicas y están testados dermatológicamente. ¡Esperamos que se anime a probarlos, le van a encantar! ¡Un abrazo!

Diana

21 July 2019

Edad nuevo producto

Buenos días, Mi hija tiene 5 años. Puede utilizar en nuevo producto? Un saludo

Freshly 21 July 2019 ¡Buenos días! Por supuesto, los productos Freshly Kids están formulados para bebés pero también para niños, e incluso los usan muchos adultos. El Aceite Corporal Dream Peach nutre, trata y calma la piel gracias a una excelente combinación de 9 aceites vegetales de alta calidad y activos naturales suaves y respetuosos con su delicada piel. ¡Te animamos a probarlo, seguro que os va a encantar! ¡Muchas gracias por tu comentario, un abrazo!

Laura

16 July 2019

Aceite Dream Peach

Hola!! Utilizo todos vuestros productos y estoy encantada, fueron todos un gran descubrimiento para mi, sobre todo los de freshly kids, ya que mi niña tiene piel atopica y mejoró gracias a vuestros productos. Pero tengo una amiga que tiene una niña con ictiosis, sería recomendable el aceite Dream Peach? Gracias por todo.

Freshly 16 July 2019 ¡Hola, Laura! Nos hace mucha ilusión saber que os están gustando tanto nuestros productos, y que a tu peque le estén ayudando tanto, ¡son geniales para pieles atópicas! Comentarte que el Dream Peach no está formulado para tratar pieles con ictiosis, pero es genial para pieles sensibles también así que estamos seguras que le puede ir bien. Aún así, le recomendaríamos siempre que previamente lo consulte con el profesional que ha diagnosticado y sigue su caso. ¡Mil gracias!