Here's why everyone is talking about the Blue Radiance Enzymatic Serum
---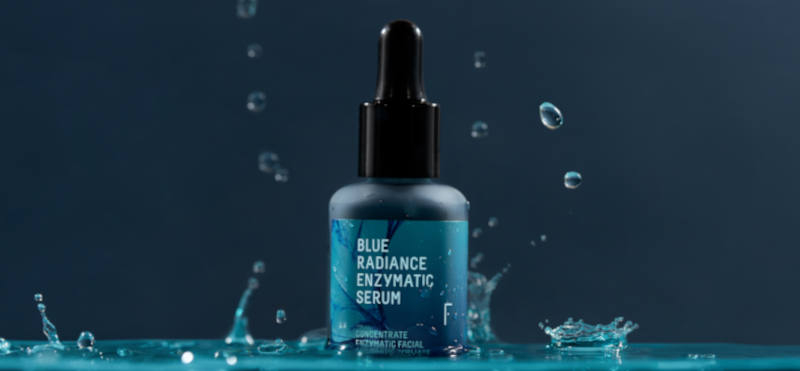 The Blue Radiance Enzymatic Serum is such a real revolution, so much so that on the first day of launch a Blue Radiance was sold every 12 seconds. This new concept of exfoliation is such a great innovation in the world of cosmetics, that will completely change the idea you have about exfoliating. This product contains the maximum concentration of 12 natural technologies to eliminate dead cells, combat acne, blackheads, open pores, wrinkles, imperfections and redness, achieving a more smooth and radiant skin, with an evened out skin tone.
The goal? Get a natural non-irritating alternative to acid exfoliants, thanks to an enzyme-based exfoliation, more homogenous, more respectful to the skin, suitable for all skin types and ages and, at the same time, be able to use it daily, including it in our skincare routine at night. This enzymatic exfoliating serum slowly degrades dead cells and acts while we sleep night.
In this post we'll tell you everything you need to know about the Blue Radiance Enzymatic Serum.
Discover the Blue Radiance Enzymátic Serum key characteristics
1- First, we start from the fact that this enzymatic exfoliating serum contains no physical particles to remove dead cells by friction, nor acids that can irritate the skin. The Blue Radiance Enzymatic Serum is composed of molecules found in nature, and it contains potent active ingredients, such as papaya and pomegranate enzymes, probiotic lactococcus and Australian lime caviar that favor cell renewal  and the elimination of dead cells, respecting the dermal skin barrier.
2- On the other hand, thanks to the incorporation of natural salicylate technologies obtained from the black willow bark, and the natural alternative to Retinol we use, obtained from the coastal plant Criste Marine, we are able to achieve important improvements in the treatment of acne, black spots, pores open, blemishes and redness.
3- It also has powerful anti-ageing properties thanks to baicalina root complex, griffonia complex and moisturenzyme protect, which help to reduce wrinkles, increase smoothness and provide a deep hydration, giving our skin a radiant look.
Clinical test results of the enzymatic face serum Freshly
The Blue Radiance Enzymatic Serum has been clinically tested by a laboratory totally independent from Freshly Cosmetics. Curious to find out the results of the volunteers who tested it? Here they are.
After two weeks:
100% of people who tested it said they noticed an improvement in their skin and that it looks smoother, renewed and rejuvenated.
After 4 weeks:
100% of people who tested it told they see an improvement in the appearance and texture of their skin.
95% of people who tested it said they notice that their skin is more hydrated.
85% of people who tested it told they see renewed skin.
90% of people who tested said they see their skin more even, smooth and firm.
80% of people who tested it confirmed that they see brighter and more radiant skin.
Blue Radiance Enzymatic Serum; the natural active ingredients you should know about
The great benefits that your skin can obtain with this enzymatic exfoliating serum are achieved thanks to the maximum concentration of 12 natural technologies. Here are some of the most important ones:
Willow Bark Active
This active ingredient is obtained from the black willow bark. It has a high content of tannins and salicin, a natural source of salicylic acid, which acts by softening, dissolving the keratin and helping the dead skin to break off so that the skin is renewed more easily. In addition, it helps to reduce the secretion of sebum, so it also serves to treat acne problems.
Pomegranate Enzyme
It is extracted from the pulp of the pomegranate and provides a gentle exfoliation thanks to the action of proteolytic enzymes that leave the skin fully revitalised. It acts by removing the outer layer of dead skin where sebum and pathogenic bacteria can accumulate. Studies on the efficacy of this compound indicate that it also accelerates cell renewal by 26%.
Prorenew Probiotics
This probiotics complex is obtained from the bacterium Lactococcus Lactis and it works by stimulating the skin cellular renewal. This ingredient increases the production of transglutaminase 1, filaggrin and caspase-14, key compounds that makes the skin look healthy. It also has antimicrobial properties and defends our skin from the impact of environmental pollution.
Lime Caviar
According to different studies, this ingredient stimulates the process of elimination of dead skin. It provides a gentle exfoliation that it is noticeable in the first 30 minutes of application, but it has also been proven that this exfoliation is long lasting, even after a month of application.
Gardenia Blue
This ingredient extracted, from the fruit of the Gardenia Jasminoides, is characterised by its high antioxidant activity, combating free radicals, and providing important benefits by working as anti-ageing. In addition, this is the ingredient that acts as a natural pigment and gives Blue Radiance Enzymatic Serum that unique blue color.
We know you can't wait to use this enzymatic exfoliating serum, but first, we want to give you some small indications so you can get the most out of it.
How and when should I use it?
Include it in your routine every night! As we mentioned at the beginning, this is a serum that will change the idea you have on exfoliants, and so you can apply the Blue Radiance Enzymatic Serum every day. Apply a few drops on the face before going to sleep, avoiding the areas around the eyes.
You have to always use last in your routine, that is, every night, after you followed your usual skincare routine (cleanse your face, hydrate it with your serum and/or your facial moisturiser), wait a few seconds for your skin to absorb these products and immediately apply the Blue Radiance Enzymatic Serum. It is compatible with other facial care products, so you are free to match it with your own routine products.
How does it work?
Apply it like a cream and enjoy its nice texture, wait until your skin absorbs it and that's it! No need to do anything else. There's no need to rinse it. This enzymatic exfoliating serum will slowly break down dead skin cells and renew your skin during the night. Once awake in the morning, you will notice straight away how your skin has improved from the night before.
Finally, let us give you some small tips: always shake the product before using to evenly mix the natural ingredients, and the appropriate amount to apply is a half dropperful, spread between the front and the cheeks.
Results: radiant skin in 4 weeks!
If you follow these steps you will begin to notice the results from the first application. You will feel your skin much more evened out and hydrated, without blemishes or redness, radiant and smooth. In other words, after a continued use, your skin will rejuvenate and will be completely transformed in 4 weeks.
Hear the first impressions after using the Blue Radiance Enzymatic Serum
Our team was the first to try this enzymatic exfoliating serum and these were some of their impressions: "I noticed my skin to be much healthier and softer especially in the mornings, and it is helping me with excess sebum." "My skin has improved, it looks smoother, softer, less shiny and with less blemish." "Amazing. I think it's one of those products that you can easily introduce in your skincare routine because you see results straight away and you just want more. "
And you, have you tried the Blue Radiance Enzymatic Serum yet? What are you waiting for? Get it at freshlycosmetics.com and find out why everyone is talking about this enzymatic exfoliating serum that it is now a must-have, and see for yourself its amazing results!
Leave a comment on this post or on our Blog, and share your impressions and your Freshly Experience with us. Your opinion is very important! Come back soon to our blog, new content comes every week.
What do you think about it? We'd love to read your opinion!
---
COMMENTS
Eva Jurečková

16 March 2020

Blue Radiance Enzymatic Serum

Hola, I have bought Blue Radiance Enzymatic Serum and I would like to ask you if I can combine it with some products from Ordinary like Ascorbic Acid and Alpha Arbutin, Granactive retinoid, Alpha lipoic Acid, Amino Acid and B5 and Natural Moisturizing Factors + HA. Thank you very much for your reply.

Freshly 16 March 2020 Hi Eva, it's Aïda from Freshly team, we're happy to help you! The Blue Radiance is a natural substitute for all these chemical peels, performs an enzymatic exfoliation. In this case we recommend you not to use the products together. You can use them on alternate days, but you gonna fall in love with Blue Radiance and you will not want to change it. Have a nice day!

CARMEN MAYOR MAZA

8 March 2020

Blue Radiance Enzymatic Serum

Buenas noches, he comprado los serum red velvet y el blue radiance enzymatic, aún no he notado nada especial en mi piel, imagino que aún es pronto, llevo una semana usándolos en mi rutina de noche, es lo único q utilizo, me hago la limpieza de cara, me aplico el red velvet, y a los 15-20 minutos me aplico el azul, agitándolos antes como indicáis, pero con el azul cuando me lo estoy extendiendo se me ve en la piel como manchas azules (imagino x el color) y al intentar extenderlo me salen como unas pelotillas, es normal?

Freshly 8 March 2020 ¡Hola, Carmen! Soy Aïda, del equipo Freshly, ¡encantada de saludarte! ¡Nos alegra saber que te has sumado a la #freshlyroutine, es genial! Comentarte que, como tu misma dices, todavía es prontito para notar sus beneficios, verás que si les das un poquito más de tiempo, aplicándolos de forma constante, ¡pronto tu rostro estará radiante! En cuanto a lo que comentas sobre el Blue Radiance, nos sorprende mucho ya que no es nada habitual. Recuerda que recomendamos aplicar solo media pipeta del producto, repartida entre mejillas, frente y mentón. Sería genial si puedes escribirnos a [email protected] o a través de Instagram a @freshlycosmetics, para que podamos conocer mejor tu experiencia y ayudarte. ¡Un abrazo!

Andrea

19 December 2019

Blue enzimatic

Hola!! Llevo usando el serum blue enzimatic cómo unas dos semanas, y he notado que me están saliendo bastante granos. En la zona de la barbilla antes me solían salir pero sólo ahí, ahora ya es por toda la cara. No he cambiado nada en mí rutina de antes, sólo he añadido el serum. Gracias.

Freshly 19 December 2019 ¡Hola, Andrea! Sería genial si nos puedes mandar un mail, o escribirnos por redes, contándonos un poco tu rutina y los productos que utilizas, ya que el Blue Radiance Enzymatic Serum no contiene ningún ingrediente que pueda generar la aparición de granitos, y a veces se debe a una incorrecta combinación de productos o un exceso de ellos. Aún así, comentarte que al principio la piel puede experimentar cambios debido al proceso detox, por ello te recomendamos que le des una oportunidad durante un poquito más de tiempo. ¡Ya verás que pronto tu piel empieza a lucir radiante! De todas formas, estamos pendientes de tu caso. ¡Muchas gracias!

Cristina

2 April 2019

Me han salido granitos

Yo nunca he tenido granitos, pero llevo usándolo 3 semanas y desde entonces me han salido granitos por el rostro, ¿puede ser normal? Gracias!!

Freshly 2 April 2019 ¡Hola, Cristina! El Blue Radiance no debería producirte la aparición de granitos, ya que no contiene ningún ingrediente que pueda ocasionarlo. ¡Será genial si nos puedes escribir a [email protected]! Muchas gracias

Ari

28 February 2019

Dermatitis

Buenas tardes, Tengo dermatitis seborreica, lo cual me provoca descamaciones y manchas, tambien tengo piel mixta y rojoces en la cara, podría utilizarlo?? O me podríais indicar que producto me iría bien??

Freshly 28 February 2019 ¡Hola, Ari! Por supuesto, te puede ir genial ya que es un producto formulado específicamente para pieles sensibles. Además, sabemos de clientas con dermatitis a las que les va genial. Además de ayudarte a renovar tu piel de forma saludable a través de enzimas, también te ayudará a tratar imperfecciones y rojeces. ¡Te encantará! Un abrazo

Estela

14 February 2019

Después de aplicarlo salen granitos

Buenas! Lo compré hace dos meses y me pasa que yo no suelo tener acné, pero después de este tiempo aplicándolo he notado que m salen algunos granos, a veces internos. No son muchos, dos o tres por semana.... ¿Se debe a la limpieza que hace? ¿Es normal?

Freshly 14 February 2019 ¡Hola, Estela! No debería causar la aparición de los granitos que nos comentas. ¡Nos irá genial que nos cuentes tu rutina a través de [email protected] para poder asesorarte! Un abrazo

Nerea

13 February 2019

Blue radince enzymatic serum

Tengo manchas en la cara creo q hormonales y me gustaría saber si las quitaría este serum. También estoy tomando unas pastillas para tratar el acné concretamente dercutane. Sería compatible? Gracias

Freshly 13 February 2019 ¡Hola, Nerea! Aunque te puede ayudar mucho el Blue Radiance Enzymatic Serum, creemos que para las manchas te puede ir mejor el Multi-Antioxidant Concentrate Serum, que está específicamente formulado para ello. ¡El Blue Radiance te irá genial para tratar el ancé! Puedes consultar todas las claves de ambos en el apartado de producto de la web. ¡Hasta pronto!

Belén

19 January 2019

Tipo de piel

Hola, he leído que elimina el exceso de grasa y de brillos en la piel, así que entiendo que va bien para piel grasa, pero no es mi caso, yo tengo la piel seca. ¿me irá bien o la resecará más?

Freshly 19 January 2019 ¡Hola, Belén! Te irá genial, no hay ningún inconveniente en que lo apliques en piel seca, además de contribuir a la renovación celular, también te ayudará a aportar un plus de hidratación. ¡Es apto para todo tipo de pieles! Un abrazo

Sheila

7 December 2018

Compatibilidad con ácido glicólico, aceite de jojoba y minerales de azufre y zinc

Hola, he comprado este serum y quería preguntar si es compatible con los productos que actualmente estoy usando o es mucho todo junto, después de la cara uso el tónico y a continuación un mineral de azufre y zinc, después un gel de ácido glicólico y a continuación aceite de jojoba para hidratar. ¿Puedo mantener la rutina o debería quitar alguno de los productos? en caso de tener que eliminar algún paso , ¿cuál de ellos? Gracias y saludos.

Freshly 7 December 2018 ¡Hola, Sheila! No hay ningún inconveniente en que continues aplicando tu rutina como hasta el momento. Únicamente debes recordar que el Blue Radiance Enzymatic Serum debe ser siempre el último paso de tu rutina de noche para que el resultado sea el más efectivo. ¡Esperamos que te vaya genial y te encante! Un abrazo

Lola

14 November 2018

Compatibilidad con ac retinoico

Hola me gustaría saber si se puede utilizar junto con el ac retinoico,ya que yo por la noche Me aplico ac retinoico Gracias

Freshly 14 November 2018 ¡Hola, Lola! No hay ningún inconveniente en que lo combines con el ácido retinoico. El Blue Radiance Enzymatic Serum utiliza una alternativa natural al retinol no fotosensibilizante, pero no presenta incompatibilidad con productos que lo incluyan. ¡Un abrazo!

Marisa

11 November 2018

Cupon promocional

Buenos días, al hacer pedido del serum blue no me deja pegar el cupon del 15% que he copiado al inscribirme. Gracias

Freshly 11 November 2018 ¡Hola, Marisa! Agradeceremos que trates de escribirlo sin copiar el cupón. Si de esta forma continua sin funcionarte, agradeceremos que nos contactes de nuevo a través de [email protected] ¡Mil gracias!