Here's why everyone is talking about the Blue Radiance Enzymatic Serum
---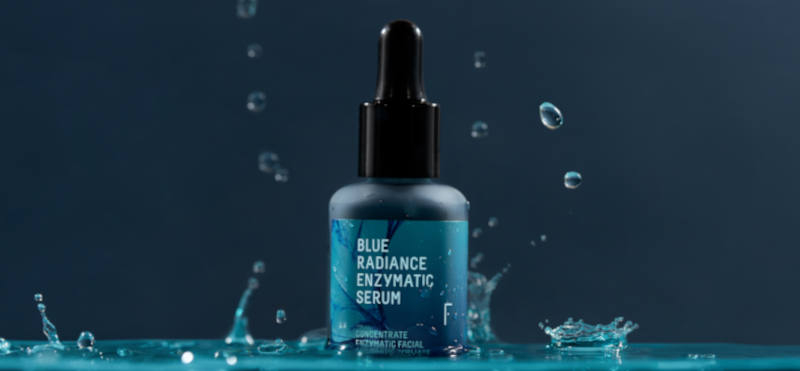 The Blue Radiance Enzymatic Serum is such a real revolution, so much so that on the first day of launch a Blue Radiance was sold every 12 seconds. This new concept of exfoliation is such a great innovation in the world of cosmetics, that will completely change the idea you have about exfoliating. This product contains the maximum concentration of 12 natural technologies to eliminate dead cells, combat acne, blackheads, open pores, wrinkles, imperfections and redness, achieving a more smooth and radiant skin, with an evened out skin tone.
The goal? Get a natural non-irritating alternative to acid exfoliants, thanks to an enzyme-based exfoliation, more homogenous, more respectful to the skin, suitable for all skin types and ages and, at the same time, be able to use it daily, including it in our skincare routine at night. This enzymatic exfoliating serum slowly degrades dead cells and acts while we sleep night.
In this post we'll tell you everything you need to know about the Blue Radiance Enzymatic Serum.
Discover the Blue Radiance Enzymátic Serum key characteristics
1- First, we start from the fact that this enzymatic exfoliating serum contains no physical particles to remove dead cells by friction, nor acids that can irritate the skin. The Blue Radiance Enzymatic Serum is composed of molecules found in nature, and it contains potent active ingredients, such as papaya and pomegranate enzymes, probiotic lactococcus and Australian lime caviar that favor cell renewal  and the elimination of dead cells, respecting the dermal skin barrier.
2- On the other hand, thanks to the incorporation of natural salicylate technologies obtained from the black willow bark, and the natural alternative to Retinol we use, obtained from the coastal plant Criste Marine, we are able to achieve important improvements in the treatment of acne, black spots, pores open, blemishes and redness.
3- It also has powerful anti-ageing properties thanks to baicalina root complex, griffonia complex and moisturenzyme protect, which help to reduce wrinkles, increase smoothness and provide a deep hydration, giving our skin a radiant look.
Clinical test results of the enzymatic face serum Freshly
The Blue Radiance Enzymatic Serum has been clinically tested by a laboratory totally independent from Freshly Cosmetics. Curious to find out the results of the volunteers who tested it? Here they are.
After two weeks:
100% of people who tested it said they noticed an improvement in their skin and that it looks smoother, renewed and rejuvenated.
After 4 weeks:
100% of people who tested it told they see an improvement in the appearance and texture of their skin.
95% of people who tested it said they notice that their skin is more hydrated.
85% of people who tested it told they see renewed skin.
90% of people who tested said they see their skin more even, smooth and firm.
80% of people who tested it confirmed that they see brighter and more radiant skin.
Blue Radiance Enzymatic Serum; the natural active ingredients you should know about
The great benefits that your skin can obtain with this enzymatic exfoliating serum are achieved thanks to the maximum concentration of 12 natural technologies. Here are some of the most important ones:
Willow Bark Active
This active ingredient is obtained from the black willow bark. It has a high content of tannins and salicin, a natural source of salicylic acid, which acts by softening, dissolving the keratin and helping the dead skin to break off so that the skin is renewed more easily. In addition, it helps to reduce the secretion of sebum, so it also serves to treat acne problems.
Pomegranate Enzyme
It is extracted from the pulp of the pomegranate and provides a gentle exfoliation thanks to the action of proteolytic enzymes that leave the skin fully revitalised. It acts by removing the outer layer of dead skin where sebum and pathogenic bacteria can accumulate. Studies on the efficacy of this compound indicate that it also accelerates cell renewal by 26%.
Prorenew Probiotics
This probiotics complex is obtained from the bacterium Lactococcus Lactis and it works by stimulating the skin cellular renewal. This ingredient increases the production of transglutaminase 1, filaggrin and caspase-14, key compounds that makes the skin look healthy. It also has antimicrobial properties and defends our skin from the impact of environmental pollution.
Lime Caviar
According to different studies, this ingredient stimulates the process of elimination of dead skin. It provides a gentle exfoliation that it is noticeable in the first 30 minutes of application, but it has also been proven that this exfoliation is long lasting, even after a month of application.
Gardenia Blue
This ingredient extracted, from the fruit of the Gardenia Jasminoides, is characterised by its high antioxidant activity, combating free radicals, and providing important benefits by working as anti-ageing. In addition, this is the ingredient that acts as a natural pigment and gives Blue Radiance Enzymatic Serum that unique blue color.
We know you can't wait to use this enzymatic exfoliating serum, but first, we want to give you some small indications so you can get the most out of it.
How and when should I use it?
Include it in your routine every night! As we mentioned at the beginning, this is a serum that will change the idea you have on exfoliants, and so you can apply the Blue Radiance Enzymatic Serum every day. Apply a few drops on the face before going to sleep, avoiding the areas around the eyes.
You have to always use last in your routine, that is, every night, after you followed your usual skincare routine (cleanse your face, hydrate it with your serum and/or your facial moisturiser), wait a few seconds for your skin to absorb these products and immediately apply the Blue Radiance Enzymatic Serum. It is compatible with other facial care products, so you are free to match it with your own routine products.
How does it work?
Apply it like a cream and enjoy its nice texture, wait until your skin absorbs it and that's it! No need to do anything else. There's no need to rinse it. This enzymatic exfoliating serum will slowly break down dead skin cells and renew your skin during the night. Once awake in the morning, you will notice straight away how your skin has improved from the night before.
Finally, let us give you some small tips: always shake the product before using to evenly mix the natural ingredients, and the appropriate amount to apply is a half dropperful, spread between the front and the cheeks.
Results: radiant skin in 4 weeks!
If you follow these steps you will begin to notice the results from the first application. You will feel your skin much more evened out and hydrated, without blemishes or redness, radiant and smooth. In other words, after a continued use, your skin will rejuvenate and will be completely transformed in 4 weeks.
Hear the first impressions after using the Blue Radiance Enzymatic Serum
Our team was the first to try this enzymatic exfoliating serum and these were some of their impressions: "I noticed my skin to be much healthier and softer especially in the mornings, and it is helping me with excess sebum." "My skin has improved, it looks smoother, softer, less shiny and with less blemish." "Amazing. I think it's one of those products that you can easily introduce in your skincare routine because you see results straight away and you just want more. "
And you, have you tried the Blue Radiance Enzymatic Serum yet? What are you waiting for? Get it at freshlycosmetics.com and find out why everyone is talking about this enzymatic exfoliating serum that it is now a must-have, and see for yourself its amazing results!
Leave a comment on this post or on our Blog, and share your impressions and your Freshly Experience with us. Your opinion is very important! Come back soon to our blog, new content comes every week.
Freshly wants to tell you something! At Freshly we keep on learning every day how to make decisions that bring us closer to a better future. Sometimes we are called dreamers, but what we really have is an optimistic vision and clear path for reaching that tomorrow.
Would you like to join this adventure? If you're here, it's because you are a demanding person when it comes to taking care of your body and the planet. By subscribing to the newsletteryou will receive articles like this one to continue learning, as well as news and exclusive discounts. Are you up for it?
COMMENTS
Eva Jurečková

16 Marzo 2020

Blue Radiance Enzymatic Serum

Hola, I have bought Blue Radiance Enzymatic Serum and I would like to ask you if I can combine it with some products from Ordinary like Ascorbic Acid and Alpha Arbutin, Granactive retinoid, Alpha lipoic Acid, Amino Acid and B5 and Natural Moisturizing Factors + HA. Thank you very much for your reply.

Freshly 16 Marzo 2020 Hi Eva, it's Aïda from Freshly team, we're happy to help you! The Blue Radiance is a natural substitute for all these chemical peels, performs an enzymatic exfoliation. In this case we recommend you not to use the products together. You can use them on alternate days, but you gonna fall in love with Blue Radiance and you will not want to change it. Have a nice day!
No se han podido cargar las demás opiniones