What is Dehydrated Skin and How to treat it?
---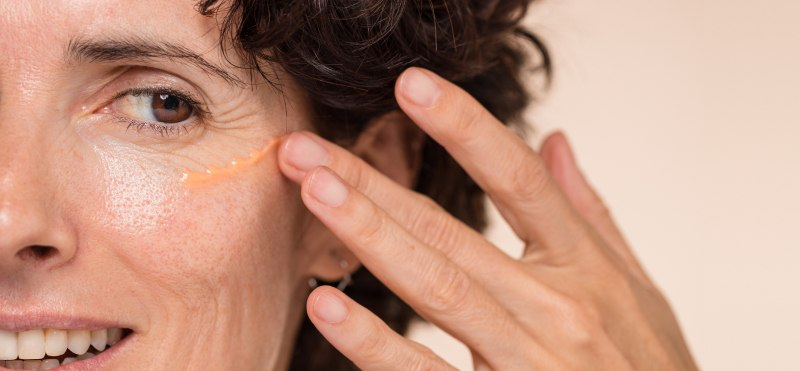 You've surely heard about oily, dry, combination and sensitive skin, haven't you? They're usually used to define a person's skin type. This means that your skin is of one type or another depending on genetics, however, your skin may temporarily change and become, for example, dehydrated.
What is dehydrated skin?
Dehydrated skin is a temporary state of the skin and can be affected whether you have dry or oily skin. You heard right: you can have dehydrated skin even if it's oily. Don't worry, we haven't gone crazy! Unlike dry skin that, as we have said before, is usually due to a genetic issue and is characterised by a lack of lipids, any type of skin can dehydrate because of external factors. Extreme temperatures, aggressive cosmetics, medications, lack of humidity in the environment, stress, prolonged exposure to the sun etc. can cause the skin to be dehydrated. So is very important to know what products can help you to increase the level of moisture you need to achieve a healthy, shiny and elastic skin.
How to detect dehydrated skin?
The main symptoms of dehydrated skin are usually a lack of shine, tightness and desquamation.
- Lack of shine: more than once you have noticed that your skin looks dull, tired and without vitality? Well, this is due to dehydration of skin. Our skin loses water throughout the day, so it is important to help it to restore the water levels it needs. Drink between 1 and 2 liters of water a day and use cosmetics that promote hydration.
- Tightness: everyone has had the feeling of tight skin on any occasion. This is due to a significant lack of water in the skin that may be also caused by aggressive cosmetic products. Remember, it is very important to choose products that pamper your skin.
- Roughness and desquamation: another symptom that will help you to identify dehydrated skin is the lack of softness. The skin may begin to flake as if it were being peeled, and can sometimes even itch. This causes uneven and rough skin. 
But don't panic! Dehydrated skin can be treated and here are some tips to make it better.
How to treat dehydrated skin?
One of the main recommendations for treating dehydrated skin and restoring the water levels it needs is to well hydrate our body by increasing fluid intake and adding water-rich foods such as watermelon, pineapple or cucumber to our diet.
Another aspect to bear in mind when treating dehydrated skin is to maintain a correct cleansing routine. In the case of dehydrated skin, the use of products with high astringent power is not recommended as they can dry out the skin even more. The best option is to cleanse your skin with natural products that encourage water retention, such as Fresh Green Micellar Water. Thanks to natural micelles, it gently removes all impurities and traces of makeup, respecting the skin's dermal barrier. It also contains cucumber, an excellent ingredient to repair, moisturise and bring vitality to our skin.
To moisturise the skin after cleansing, we recommend you to apply products that provide extra hydration, such as the Vitamin C Concentrate Serum. This facial serum increases subcutaneous hydration through the action of vegan hyaluronic acid, which also provides firmness and elasticity to skin.
You can combine this facial serum with the Bloom Orchid Face Cream, the facial moisturiser that contains the latest natural hydrating technology to reduce the skin stress. You can apply these two products daily after your cleansing routine, to restore the water levels that your skin needs. If you wish to combine the facial serum and the moisturiser, you can try them both in the Vitamin Complex Facial Plan.
We also recommend you to apply a face mist throughout the day to rehydrate your skin at any time, since you can apply it even over your makeup. The Superoxide Dismutase Face Mist increments firmness and elasticity, and reduces the roughness of the skin thanks to the innovative active complex of lichen, polypodium and Icelandic moss.
If you need an extra hydration we recommend you to try the revolutionary Red Velvet Oil Serum, the innovative 100% natural, fast-absorbing oil serum that combines the top 15 plant-derived oils and 5 natural active ingredients to moisturise your skin. Include it in your night skincare routine to nourish your skin, giving it firmness, elasticity, radiance and vitality.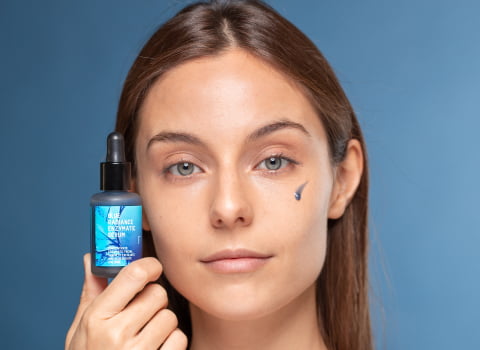 If you need to fight desquamation and eliminate dead skin we recommend you to exfoliate your skin with an enzymatic serum, to avoid irritations. The Blue Radiance Enzymatic Serum deeply exfoliates and increases skin renewal, achieving a younger and radiant look, without irritating. It contains powerful active ingredients such as probiotic lactococcus, pomegranate and papaya enzymes or Australian lime caviar.
Follow these tips and you'll see your dehydrated skin quickly improving. If you use the products we have been detailing in this post, you will also be able to prevent dehydrated skin.
Leave a comment on this post or on our Blog, and share your impressions and your Freshly Experience with us. Your opinion is very important! Come back soon to our blog, new content comes every week.
Freshly wants to tell you something! At Freshly we keep on learning every day how to make decisions that bring us closer to a better future. Sometimes we are called dreamers, but what we really have is an optimistic vision and clear path for reaching that tomorrow.
Would you like to join this adventure? If you're here, it's because you are a demanding person when it comes to taking care of your body and the planet. By subscribing to the newsletteryou will receive articles like this one to continue learning, as well as news and exclusive discounts. Are you up for it?