Discover the best natural ingredients your body will thank you for
---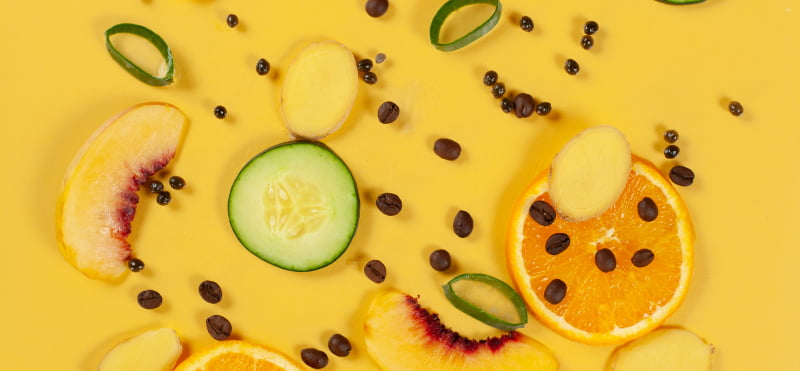 Women all over the world have been using natural skincare products for centuries and have some of the most admirable skin to show… Have you ever wondered why? Natural ingredients are key! There are more natural skin care products available now than ever, and their long list of benefits might come as a surprise to you. When you regularly use natural cosmetics, you will achieve a healthier look, and you'll also absorb antioxidants.
Curious to discover the most effective ingredients for you skin and hair? Keep reading, you'll be amazed!
VEGAN HYALURONIC ACID
It's a plant-derived hyaluronic acid. Since it can be found in our skin, its application on our body skin can't irritate nor damage it.
Did you know?
As we age, our skin can lose the ability to preserve moisture, resulting less firm. Vegan hyaluronic acid has a great anti-ageing property: increases the level of hydration of skin, providing firmness and elasticity, besides providing antioxidants.
Where can I find it?
Discover its benefits in our multi-antioxidant facial serum and cream for the morning and night skincare routine. Add the Vitamin C Concentrate Serum to your morning and night skincare routine, using it after cleansing your face and before moisturising it. Thanks to its vegan hyaluronic acid, this serum will help you to prevent the skin ageing by activating the SOD enzyme, responsible for the cell repairing mechanism. This magic ingredient also increases hydration, reducing wrinkles and providing firmness and elasticity to the skin. In the morning, after the Vitamin C Concentrate Serum, apply the Bloom Orchid Face Cream for a 24-hour hydration. Its content of vegan hyaluronic acid reduces the skin water loss and increases the moisturising by 115%. Want to try and combine them in in your skincare routine? Try the Vitamin Complex Facial Plan .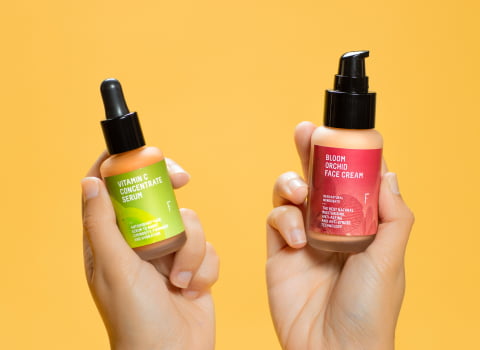 ROSE HIP OIL
This plant-derived oil is extracted from the seeds of a shrub called Rosa moschata, cultivated in Chile and Argentina. It is full of vitamins, antioxidants, and essential fatty acids, good for our skin.
Did you know?
Rosehip oil works as a great natural alternative to moisturise, it's rich in vitamins E and K and has a high content of polyunsaturated fatty acids. What does it mean? It means it is hydrating, antibacterial and anti ageing.
Where can I find it?
Experience its amazing results on your skin and hair! Nourish your skin with the Golden Radiance Body Oil, the 100% natural body oil that moisturises and prevents and treats scars and stretch marks, precisely thanks to the rosehip. If you wish to use the rosehip oil to protect your hair fibre and increase hair shine, try the Nourish Restore Hair Mask. Use this to products to
ALMOND OIL
Obtained by cold pressing the nuts of the Almond tree, the Almond oil has been used for centuries in both medicine and cooking for its numerous properties. It is composed of healthy monounsaturated fats, oleic acid and linoleic acids (such as Omega 3 and 6). It is also full of vitamins, protein, potassium, and zinc.
Did you know?
You probably already know about the many nutrition benefits of almonds, but maybe you're new to using almond oil on your skin. Almond oil not only smells great, but it also has anti-inflammatory, reparative and healing properties that protect the skin's natural barrier. It stimulates the production of collagen and elastin, providing firmness and elasticity.
Where can I find it?
Take care of your skin with this precious oil during your shower, using our Detox Revitalizing Body Scrub that hydrates and exfoliates your skin, stimulating the collagen production. It will leave your skin smoother than ever. After the shower, keep enjoying the almond oil hydrating your skin with the Body Flame Firming Cream, the body lotion that deeply moisturises, firms, improves and tonifies your skin.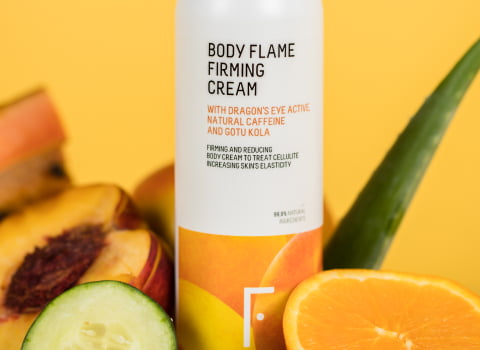 Don't wait any longer, discover the benefits of the natural ingredients contained in our healthy and vegan products!
Leave a comment on this post or on our Blog, and share your impressions and your Freshly Experience with us. Your opinion is very important! Come back soon to our blog, new content comes every week.
Freshly wants to tell you something! At Freshly we keep on learning every day how to make decisions that bring us closer to a better future. Sometimes we are called dreamers, but what we really have is an optimistic vision and clear path for reaching that tomorrow.
Would you like to join this adventure? If you're here, it's because you are a demanding person when it comes to taking care of your body and the planet. By subscribing to the newsletteryou will receive articles like this one to continue learning, as well as news and exclusive discounts. Are you up for it?