How To Care For Your Colour-Treated Hair
---

Although these looks are really beautiful, the conventional dyes include very aggressive chemical substances with synthetic ingredients and petrochemical derivatives. An example is ammonia, widely used for its high oxidation power, that ends up damaging and weakening the hair. Therefore, if you are thinking about colouring your hair, our recommendation is to choose natural henna dyes with plant-derived oils and extracts that respect the health of your hair.
How does dyed hair work?
Keep in mind that colour-treated hair is chemically modified and works differently than normal hair. Hair dyes, especially the permanent ones, remove the natural pigment to let the colour penetrate into the capilar fibre. This process can cause:
- More sensitive hair that is exposed to external aggressions such as sun rays, pollution, chlorine, sea salt or the chemicals contained in many shampoos.
- Hair that is more prone to cuticle breakage.
- Hair that is  drier than usual, as the days go by it may lose its luminosity and become rougher. 
What's the best way to care and keep your coloured hair healthy? Protect them from external factors and discover who your allies are!
When we talk about colour-treated hair care we focus on protecting the hair against external aggressions, but we should also mention the daily use of irons or the type of shampoo you use. A product that you apply regularly, such as the shampoo, can be an enemy for colour-treated or stranded hair, especially if it contains sulphates.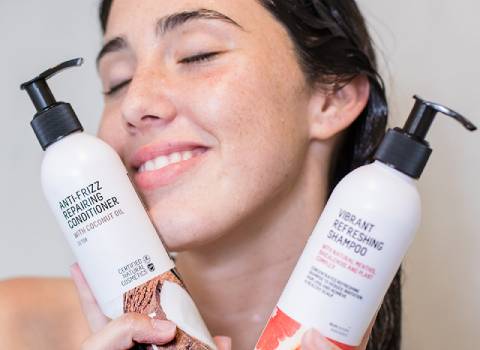 Sulphate-free shampoo for dyed hair
Our first tip: don't use hair products containing sulphates or silicones. Sulphates are sulfuric acid salts that remove all the grease and dirt from the hair, but they also drag the pigments from dyed hair, affecting its colour. Sulphates can also weaken it more than usual and, in many cases, cause irritation. To keep the colour longer and respect the hair fibre, we recommend using shampoos without sulphates and silicones. If dyed hair already tends to dry out, sulphate will only worsen the situation.
Smoothness, volume and strength
Removing sulphates from the washing routine means cleaning the hair gently, giving volume and strength to it. A sulphate-free shampoo will not only help to protect colour-treated hair, but it will also care for sensitive scalp. In addition, a sulfate-free shampoo will keep your hair cleaner for longer because it doesn't leave silicone residue in it.
Adapt your routine to your colour-treated hair and switch from the shampoo you were using to a sulphate-free one. Strengthen your root and reduce the hair loss, reduce scalp irritations, and keep your hair soft and shiny.
Our Freshly hair line is suitable for colour-treated hair as it is sulphates, silicones and salts free. The Vibrant Refreshing Shampoo detoxifies the hair from the silicone residues that our hair may accumulate, thanks to aloe vera, horse chestnut and rooibos tea that give your hair shine and energy. When you choose a sulphate-free shampoo, it is also important that it contains natural ingredients that hydrate your colour-treated hair.
Hydrate your colour-treated hair with the help of a conditioner and a capillary serum!
The coconut oil of the Anti-frizz Repair Conditioner nourishes and hydrates, repairing the damaged hair and increasing its resistance. Thanks to Shea Butter and Arctic Polar Rose, it will reduce the very common frizz effect of dry hair. Apply the conditioner and leave it on for a few minutes, then rinse normally. It will hydrate your hair and make it easier to brush.
Does your hair need extra hydration? Once a week (more often in summer) apply a natural, nourishing and repairing hair mask. It will deeply hydrate your hair, repairing the damage on the fiber, caused by free radicals. Let it work for 5-10 minutes, then rinse with plenty of water.
Do you use a hair serum in your routine? The serum is a good ally for colour-treated hair, especially for the most damaged one, because it nourishes, repairs and protects from external aggressions. The serum is a very versatile product that can be used on all hair types.
In dyed hair we recommend its use after the conditioner, without rinsing, to achieve a protective and recovery effect that will provide shine and soft hair. Thanks to its non-greasy oils and its creamy texture you will take it with you everywhere this summer, even on the beach. Apply the hair serum on dry hair for a healthy finish and protection against the sun's rays and the frizzy effect. This finishing treatment is suitable for colour-treated hair that needs extra nutrition.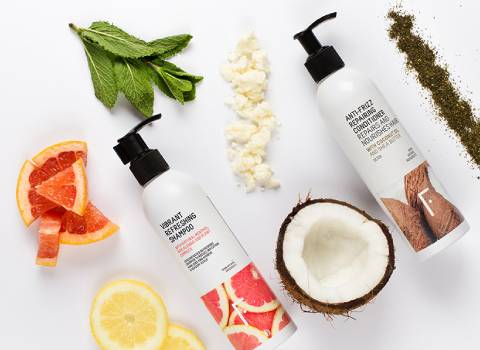 Care for your keratin treated hair
Just as colour-treated hair, keratin-treated hair too requires special care. With the keratin treatment you can strengthen your hair's keratin, eliminate frizz and make it shine and smooth. The experts recommend to use products without sulphates and salts to take care of the hair during this treatment, since they could increase the frizz, remove the keratin and dry the hair.
What are the benefits of a sulphate- and salts-free shampoo on keratin-treated hair?
- Makes the result of the treatment long-lasting.
- Reduces scalp irritation and natural hair oils work better.
- Makes your hair stronger and healthier.
In our online store you will find the perfect hair products to care for your coloured-hair health. The Haircare Intense Detox Plan  by Freshly Cosmetics is the most intense detox plan for healthy hair. It has everything you need for your daily care: Vibrant Refreshing Shampoo, Anti-Frizz Repair Conditioner  - Give life to your hair!
Leave a comment on this post or on our Blog, and share your impressions and your Freshly Experience with us. Your opinion is very important! Come back soon to our blog, new content comes every week.
Freshly wants to tell you something! At Freshly we keep on learning every day how to make decisions that bring us closer to a better future. Sometimes we are called dreamers, but what we really have is an optimistic vision and clear path for reaching that tomorrow.
Would you like to join this adventure? If you're here, it's because you are a demanding person when it comes to taking care of your body and the planet. By subscribing to the newsletteryou will receive articles like this one to continue learning, as well as news and exclusive discounts. Are you up for it?