GET FREE SHIPPING ON ORDERS FROM 20€* | 24/48 HOUR DELIVERY
Haircare Intense Detox Plan
The most intense detox plan to get healthy hair and scalp. It includes the Vibrant Refreshing Shampoo, the Anti-Frizz Repairing Conditioner and the Intense Recovery Hair Serum. They work together to free your hair from silicones and sulphates, using the best natural technology to make your hair healthier. This detox plan will make your follicles healthier, take care of the fibre and protect your cuticles from external aggressions such as UV rays and pollution. This plan also contains a step-by-step guide with all the instructions to get the most of these three products. Dermatologically tested | Non-comedogenic products | Suitable for all hair types
The most intense detox plan to get healthy hair and scalp. It includes the Vibrant Refreshing Shampoo, the Anti-Frizz Repairing Conditioner and the Intense Recovery Hair Serum. They work together to free your hair from silicones and sulphates, using the best natural technology to make your hair healthier. This detox plan will make your follicles healthier, take care of the fibre and protect your cuticles from external aggressions such as UV rays and pollution. This plan also contains a step-by-step guide with all the instructions to get the most of these three products. Dermatologically tested | Non-comedogenic products | Suitable for all hair types
Haircare Intense Detox Plan
42,00 €
Why do you need this pack?
The the Vibrant Refreshing Shampoo frees your hair from silicones and sulphates. It strengthens the root, stimulates hair growth, and reduces hair loss up to 60%, thanks to the new active baicalensis and the horse chestnut and rooibos tea.
The Intense Recovery Hair Serum protects hair fibre, seals cuticles and prevents keratin degradation caused by harmful UV rays and pollution thanks to the antioxidant properties of astaxanthin.
The Anti-Frizz Repairing Conditioner combats frizz, improves shine, nourishes and softens your hair, thanks to the rosehip extracts and non-fatty plant-derived oils, such as jojoba, avocado and coconut oils.
AN INNOVATIVE PLAN TO GET HEALTHY HAIR EVERYDAY
Silicones, sulphates, UV rays and pollution can damage your hair, affecting the health of its fibre and follicle. That's why we've created this natural intense plan, to help your hair to grow healthy from root to tips.
The Vibrant Refreshing Shampoo is perfect for detoxifying your hair from silicones and sulphates. It contains the innovative active baicalensis, and combines natural menthol, a powerful concentrate of 12 plants, and a complex of rooibos tea and horse chestnut. All these ingredients regulate sebum secretion and simultaneously treat dandruff, itching, irritations and hair loss.
The concentrated formulation of the Detox Anti-Frizz Repairing Conditioner restores hair's protective layer and elasticity. Coconut oil and shea butter are deeply nourishing and make hair look healthier. Its natural anti-frizz technology controls hair styling and frizz in any climate.
The Intense Recovery Hair Serum protects the hair fibre sealing the cuticles, and prevents keratin degradation caused by UV rays. Its 100% natural formulation combines the action of non-fatty acids such as jojoba, rice, macadamia, avocado and camellia, together with the effective astaxanthin antioxidant. The multi-use formulation of the Intense Recovery Hair Serum ensures excellent results when combined with the Vibrant Refreshing Shampoo and the Anti-frizz Repairing Conditioner.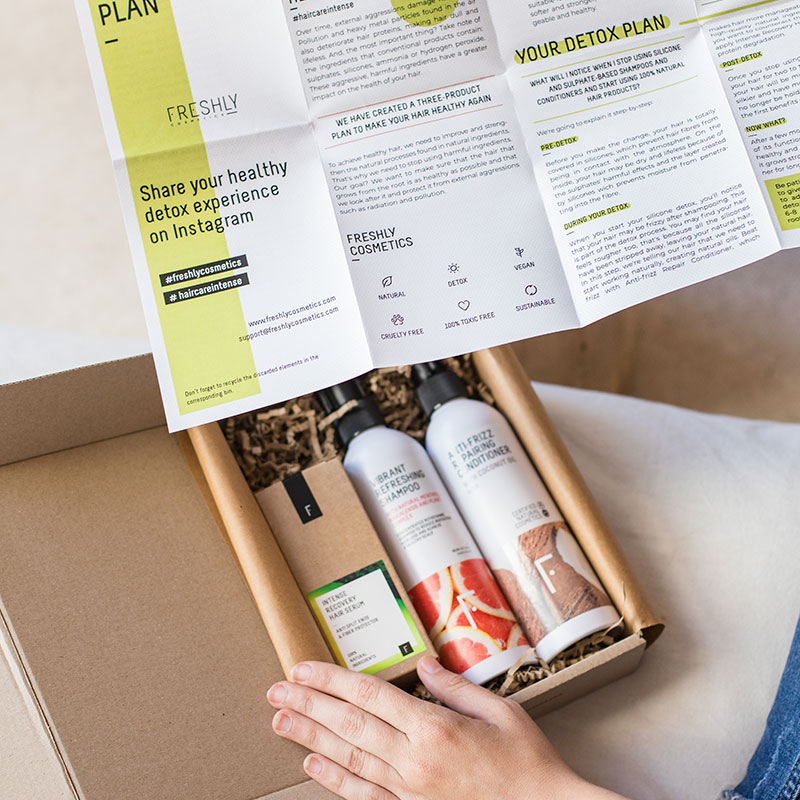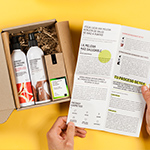 HAIRCARE INTENSE DETOX PLAN GUIDE
This guide you will give you all the steps and tips necessary to get the most out of your Freshly products.
Complete your routine