Morning routine with natural cosmetics: Which products to apply?
---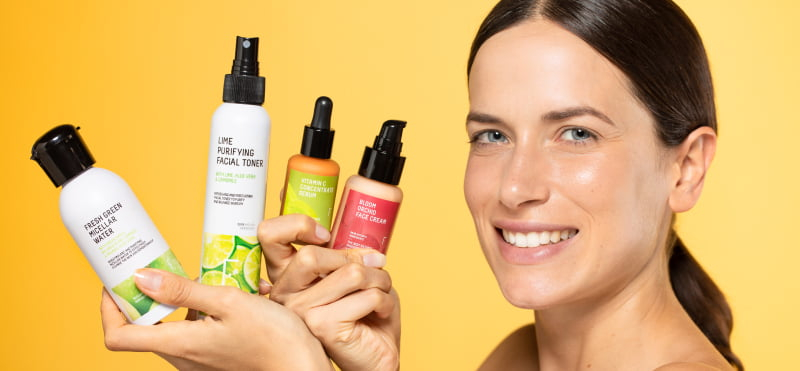 We hear a lot about morning and night-time skincare routines, these are the best ways to care for and pamper our skin. The products we use are important to start the day with a clean, healthy face. The key point is a good balance between different healthy habits such as sleeping enough, eliminating stress and following a good diet, but in this post we will also focus on which essential cosmetic products you should include in your morning skincare routine to achieve healthier skin.
Washing and cleansing are not the same! 
The alarm sounds and you walk like a zombie through the corridor until you reach the bathroom? It's time to open your eyes and wake up. In order to do this, washing your face with water may be enough, but if you want to cleanse it, it is not enough. You may wonder, why cleansing my skin if I just got up? Because at night your skin continues working, generating excessive sebum and accumulating sweat. We recommend using a facial cleansing gel or a micellar water to cleanse your face. The micellar water acts with natural micelles and does not need to be rinsed. It is important that you know what micellar water is in order to use it correctly. In addition to cleansing, it will also help you to refresh your face during the day, for example, after doing sport.
Tones, removes impurities and closes pores
Continue your morning routine with a purifying facial toner that restores pH after cleansing. The toner revitalises and rejuvenates skin tissues, regulates sebum and closes pores. This is an essential product for mixed and oily skins. Cleansing your face correctly will allow the following products you'll apply to penetrate deeper into your skin and to work more efficiently.
Fight dark circles and give elasticity to your skin
Increase hydration to the deepest layers of your skin with a Green Vitamin Concentrate Serum that block the pollution and provides firmness and elasticity. At the same time, effective antioxidants and active ingredients reduce, reverse and prevent the signs of skin ageing. If you want to focus on your eye contour area to combat dark circles, then you will need a eye-contour serum.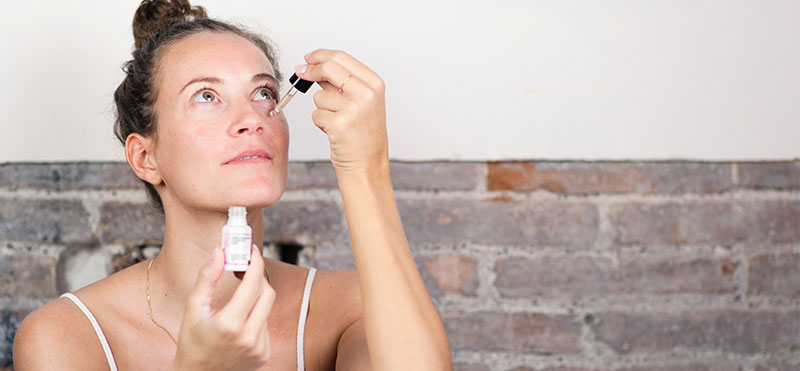 Cold temperatures and dry skin? You need a daily moisturiser!
Low temperatures may directly affect your skin, leaving your skin drier and more sensitive than usual. The cold can also irritate skin leaving small red patches and a feeling of tightness on your face. Let's include a Bloom Orchid Face Cream in your morning skincare routine to provide your skin the hydration it needs. The best choice? A natural moisturising facial cream that you can apply after your facial serum.
Healthy hair finish
Don't forget to take care of your hair too during your morning routine! If you want to get a finishing treatment for your hair, apply 1 pump of hair serum to dry hair. What does hair serum do? You will manage to steal split ends and prevent frizz. With the 100% natural concentrate of the Intense Recovery Hair Serum you will be able to nourish and soften your hair, giving it more vitality and shine. Do you iron your hair every morning? Apply the protective serum before ironing to reduce the damage of the hot hair straighteners.
Hydrate your hands and nails, and you'll be ready to go!
A basic essential that also fits inside your bag is a hand cream. This is an essential element especially during the winter, when it's important to hydrate your hands and nails daily to protect them from the external agents. We recommend an easy-to-absorb hand cream to save time in your morning routine, try the Pro-Repair Jojoba Hand Treatment. Its innovative formulation boosts hydration with nourishing plant-based oils such as shea butter, cotton seeds and avocado oil.
Adapt your morning routines to your skin type
Here's a little secret… one of the most important factors in a skincare routine is the order in which you apply your products. Apply them in order of density, from lowest to highest. This will allow the active ingredients to best absorb into your skin. Regarding skin type, remember that you must adapt each routine to your skin. For oily skin types you must look for non-comedogenic products, and for sensitive skins choose products that are free from synthetic perfumes, to avoid irritations. Discover all the products mentioned in this post in Freshly Cosmetics online store. You will find your skincare essentials to start your morning routine in the most natural and healthiest way possible!
Leave a comment on this post or on our Blog, and share your impressions and your Freshly Experience with us. Your opinion is very important! Come back soon to our blog, new content comes every week.
We at Freshly Cosmetics create natural cosmetics (all of our formulas contain over 99% natural, sustainable and vegan ingredients) based on scientific knowledge and studies. We aim to make people aware of the effect cosmetics have on their skin. We are scientists with a strong desire to change things and help people take better care of themselves, consciously.
Would you like to join this adventure? Subscribe to our newsletter to receive news and articles like this one and become a cosmetics expert... and more!