Facial toner: What is it and how should it be applied?
---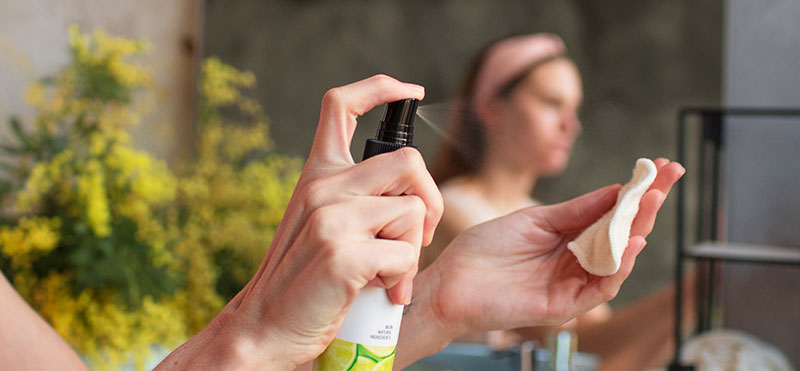 You may have never thought to include a facial toner as part of your daily routine because you most likely don't know its function or the benefits it has on your skin. Cleaning, toning and moisturising moisturising the skin are the three main steps in skin care, especially for the face, one of the most delicate parts of the body. Toning is an intermediate step between cleaning and moisturizing. The daily use of a natural facial toner is very important if you want to have a healthy skin. Through this post we'll explain why you should include it in your beauty routine.
What is a natural facial toner?
It's not just a cleaner to remove makeup; it helps to remove impurities and dust particles accumulated on your skin. Furthermore, it stimulates the production of collagen and elastin which provide flexibility and resistance to the skin. The toner also prepares the skin for the hydration treatment (the third step). We prefer a natural toner, in order to improve skin functions with horsetail, burdock, chamomile and lime extracts. The toner protects the skin from infections, has anti-inflammatory properties, and works to both soothe and hydrate the skin.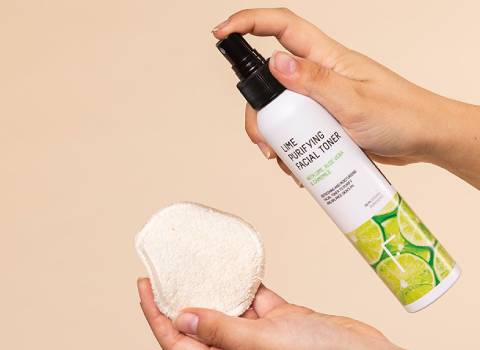 Toner main benefits:
Helps balance skin's pH after cleaning.
Acts as a sebum regulator, sealing pores and regulating skin functions
Removes oily build-up, residues and dead skin cells
Increases blood flow to the area where it has been applied
Revitalizes and rejuvenates the skin tissues and homogenizes skin tone
Reduces skin inflammations and redness.
When to apply the facial toner?
Use the toner minimum two times per day, once in the morning and one at night before going to sleep. Always apply it after cleaning your skin.
If you have an oily skin, you know ho important it's to focus on cleaning routine, for this reason you'll need a Micellar Water to deeply cleanse a Lime Purifying Facial Toner to removes impurities, seal pores and regulate sebaceous secretion. Once the face is washed and after applying the Micellar Water, spray the toner 3 or 4 times and help distribute evenly with the help of cotton pad.
It's a small and practical product so you can put in on your gym bag and use it after training or after any outdoor activity. You would be surprised by the amount of dirt in the air that accumulates on your skin without you even realizing it.
Step-by-step guide for a complete facial routine
Before applying the facial toner, remove makeup and cleanse your skin soap and water (you can use the Citrus Nourishing Shower Gel) or with a cleansing cream or micellar water which also works to removes make-up and refreshen your face.
With your face perfectly cleaned, you can apply the facial toner. We recommend using a cotton pad. Spray the toner 3 times on a cotton pad and rub it evenly over your face and neck making sure to massage the product in circular motions.
After applying the facial toner, just wait until your skin absorbs the product completely before applying the next product
Use a serum to even out skin tone, reduce excess sebaceous secretion and improve skin's firmness, elasticity and hydration.
Finally, add a moisturiser to increases skin hydration and, reduce water loss and redness especially in sensitive or rosacea-prone skin types.
Check out the Antiox Facial Plan for a complete facial routine that includes cleansing and hydration.
Which products?
When choosing a facial toner, you should look for it to be as natural as possible, providing freshness and smoothness to your skin and preventing damage and irritation. The natural facial toner from Freshly Cosmetics will be your best partner for all your beauty daily rituals. You'll love its refreshing lime scent and your skin will stay fresh in the natural way possible. Are you thinking about adding a toner to your facial routine? You can get it now in Freshly Cosmetics online store.
If you are thinking of a more complete facial routine, the Antiox Facial Plan will help you to clean, purify, regulate and moisturise your skin. This plan includes the Fresh Green Micellar Water, the Lime Purifying Facial Toner, the Green Vitamin Concentrate Serum and the Bloom Orchid Face Cream. Suitable for sensitive skin and non-comedogenic. Are you ready for healthy glowing skin?
Leave a comment on this post or on our Blog, and share your impressions and your Freshly Experience with us. Your opinion is very important! Come back soon to our blog, new content comes every week.
We at Freshly Cosmetics create natural cosmetics (all of our formulas contain over 99% natural, sustainable and vegan ingredients) based on scientific knowledge and studies. We aim to make people aware of the effect cosmetics have on their skin. We are scientists with a strong desire to change things and help people take better care of themselves, consciously.
Would you like to join this adventure? Subscribe to our newsletter to receive news and articles like this one and become a cosmetics expert... and more!