Revitalise your whole body with a body serum
---
Tired, swollen, heavy legs at the end of the day?
All of this can be due to bad circulation, perhaps caused by long periods of time spent sitting or, on the contrary, long periods of time on our feet, both of which can generate an accumulation of liquids and water retention. This accumulation of water is usually concentrated in the legs, knees and ankles and is called edema. Another cause of that heavy-leg feeling can be due to a change in skin microcirculation, this is responsible for the thermal regulation and supply of oxygen to the skin s, when there is such a change, varicose veins or cellulite can be a result. But no need to panic, there is a remedy for everything: there are natural products that can prevent and eliminate swelling, improve microcirculation, fight varicose veins, reduce inflammation and fat, tone and sculpt the whole body.
How to prevent heavy legs?
By following a healthy diet, doing daily exercise and applying a revitalising body serum to reactivate the circulation and drain fluids, we can reduce swelling and relieve water retention. These 3 things will become your allies to combat the feeling of heavy, tired legs.
What's a body serum and what is it for?
Just like facial serums, body serums contain natural active ingredients that can deeply penetrate into the skin, much more than a cream is able to. A light texture makes it a fast-absorbing product that acts on the deepest skin layers.
A body serum not only moisturises and smoothes the skin, but also improves circulation, directly resolving related problems such as swelling, varicose veins, the accumulation of localised fat or water retention. At Freshly, we're super excited to introduce you to our powerful Hyaluronic Energy Body Serum a serum that restores energy to your entire body, relieving fatigue, heaviness and swelling. All this thanks to +99% natural ingredients and natural active ingredients. A real revolution to revitalise your body at the end of the day!
This body serum is suitable for all skin types and all ages. It's ideal to fight tired legs after long periods of time spent sitting or standing, an ally to relieve the feeling of heaviness during pregnancy or for revitalising your body after exercise.  A serum of many talents!
What makes Freshly's body serum so special?
Freshly's body serum revitalises the skin providing instant relief from heaviness and swelling, reactivating the circulation and draining accumulated fluids. But let's take a deeper look into all of the benefits and results it has to offer:
Stimulates circulation and treats varicose veins
It improves microcirculation by 30% thanks to red algae and goldenrod.
Prevents and fights the swelling and relieves heaviness
Thanks to its gel texture, it gives an immediate feeling of relief and freshness, ideal at the end of the day before going to sleep.
Tones and has an anti-inflammatory effect
It increases skin tone by 23% and elasticity by 9.4%.
Reduces localised fat and sculpts the silhouette
Thanks to the ultramarine active, this body serum has a reducing effect on abdomen, legs and arms.
Prevents and reduces water retention
Its ability to activate microcirculation promotes the drainage of accumulated liquids, with the consequent reduction of swelling.
Exfoliates, soothes and moisturises the skin
Thanks to Mauritius triple active and a rhaponticin complex, this body serum increases skin hydration by up to 19% as early as 30 minutes after its application. The exfoliating Australian lime caviar, combined with 2 types of hyaluronic acid, renews and regenerates skin  and makes it up to 90% brighter.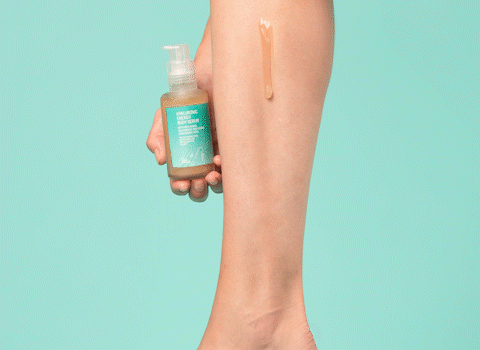 How to apply a the Body Serum and how to combine it with the Body Oil and the Body Flame?
The ideal time to use this body serum is just before bed. After showering, apply the Golden Radiance Body Oil to damp skin. Once absorbed, pump the Body Flame Firming Cream all over your body massaging into skin in circular motions. Finally, as the last step and before you go to bed, apply the Hyaluronic Energy Body Serum again massaging into skin in gentle circular motions to promote circulation.  Paying attention  to the most swollen or tired areas of your body.
Tip! For best results, you can also apply it in the morning.
What are you waiting for? Try the Hyaluronic Energy Body Serum now to get 100% revitalised skin. Also suitable during pregnancy.
Leave a comment on this post or on our Blog, and share your impressions and your Freshly Experience with us. Your opinion is very important! Come back soon to our blog, new content comes every week.
We at Freshly Cosmetics create natural cosmetics (all of our formulas contain over 99% natural, sustainable and vegan ingredients) based on scientific knowledge and studies. We aim to make people aware of the effect cosmetics have on their skin. We are scientists with a strong desire to change things and help people take better care of themselves, consciously.
Would you like to join this adventure? Subscribe to our newsletter to receive news and articles like this one and become a cosmetics expert... and more!
COMMENTS
LaRonJam Raji

21 Agosto 2021

Body serum

I absolutely love the sound and benefits of this body serum. Looks like its something my body will benefit from. Being that I'm living with diabetes, my skin is affected in so many ways - dryness, dull, wrinkles, slow healing of wounds etc. I would love to try this product and hope that you have samples for potential customers to try. Thank you for taking the time to read my message and for your confirmation of this matter. I look forward to hearing from someone soon. Kind regards LaRonJam Raji

Freshly 21 Agosto 2021 Thanks for writing us, LaRonJam! :D At this moment we do not have samples of this product, but we do not doubt that once you try it you cannot live without it! ;) Have a nice day! :D
No se han podido cargar las demás opiniones