How to tan safely and effectively!
---
Tips for tanning safely and keeping skin hydrated and radiant
Hydrate, a lot, multiple times a day. 
During the summer, sun exposure can dry your skin out, which is why you need to deeply moisturise your skin to maintain your tan for longer.
Now, there is a misconception when it comes to hydration and oily skin. Some think that oily skin doesn't need hydration and that is far from the truth. All skin types benefit from added hydration, not just visibly dry skin. That's the skincare number one rule. Now, during summer if your skin is feeling kind of dry after the beach or a day out, we recommend these two gems: 
For combination and oily skin, your best ally is the Pacific Ocean, formulated to regulate sebum production and gently treat breakouts. 
For dry skin, you should go with the Bloom Orchid face cream, perfect to soothe skin, provide firmness and reduce redness. 
Oh and apart from that you should always wear sunscreen, we repeat: always! To prevent the signs of ageing and to protect our complexion from UV rays. 
How to prevent sun spots and have an even tan?
For your face: To prevent sun spots you need an antioxidant serum, we suggest the Green Vitamin Concentrate Serum, the facial serum that prevents and reduces the signs of skin ageing and reduces sun spots.
For your body: If you are tanning with a self-tanner, you'll want to exfoliate your body first to get an even tan. One of the best ways to prep for your tan is to exfoliate fully. Exfoliation helps remove dead skin cells, which then reveals the fresh skin underneath. This fresh skin is ready to absorb the tanning cream evenly and deeply. 
Try our Biodegradable Raspberry Body Scrub formulated with biodegradable natural particles with high hydrating properties, which promote cell renewal and improve the appearance of the skin.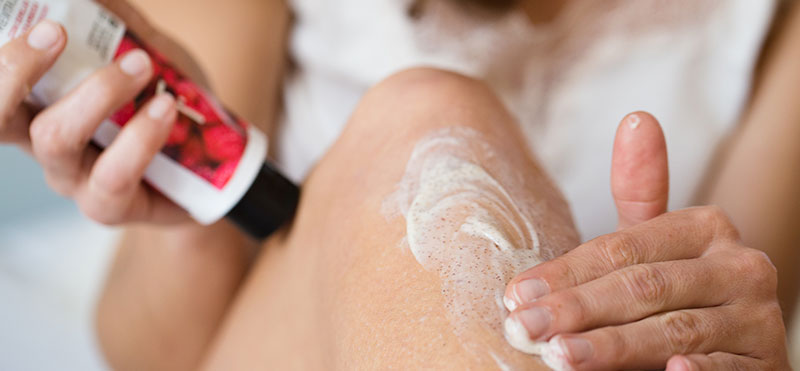 How do you keep your tan from fading?
Natural self-tanning cream
That's a great question! With the Bronzing radiance Face and body self-tanning cream. We're talking about a tan booster without the faff as it not only provides that natural bronzy "I've been on holidays" look but also increases melanin production so your tan lasts longer. Also, it hydrates your skin, so it's quite fantastic. 
Food
Don't forget the essential role of food! Eating healthy food will make your tan nicer and long-lasting. What nutrients are we talking about? Especially beta-carotene, a great source of vitamin A and antioxidants that will help you to protect your skin from free radicals and keep it healthy. We're talking about carrots, tomatoes, melon, pumpkin...generally, we find beta-carotene in yellow or orange fruits and vegetables, and green leafy vegetables.
By following these simple tips you will get healthy skin and a long-lasting tan! 
Freshly wants to tell you something! At Freshly we keep on learning every day how to make decisions that bring us closer to a better future. Sometimes we are called dreamers, but what we really have is an optimistic vision and clear path for reaching that tomorrow.
Would you like to join this adventure? If you're here, it's because you are a demanding person when it comes to taking care of your body and the planet. By subscribing to the newsletteryou will receive articles like this one to continue learning, as well as news and exclusive discounts. Are you up for it?